Ford Teases Electric Mustang Again After Tesla Model Y Reveal
2
After years of anticipation, Tesla has announced its new vehicle that will be added to the all-electric line-up: The Model Y. The Tesla Model Y will be 10 percent bigger in size, and will cost about 10 percent more than the Model 3, but noticeably smaller and more affordable than the Tesla Model X. It will be able to cover between 230 and 300 miles of range. The internet has been abuzz with the news, as if it's the first time anybody's ever seen an electric vehicle before.
Just two minutes into the Tesla reveal, Ford Motor Company teased an electric pony in a tweet for what we suspect will be the badging for the electric Mustang-inspired crossover and/or the hybrid Mustang.
Back in January we reported about a new patent application that was filed with the United States Patent and Trademark Office which provided a bit of insight into the new Ford Mustang Hybrid. In February we reported about the Ford electric crossover with several "Mustang-inspired" elements is on the way. Now, Ford has taken the fight to Tesla, and has given us more info – well, a photo of what we think to be the logo or badging for the upcoming electrified Mustang (or electric crossover).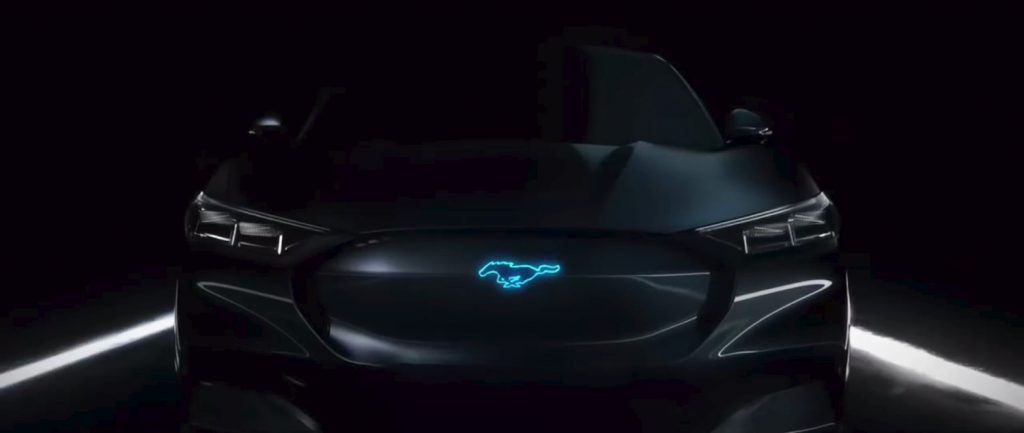 On Thursday Ford tweeted "Hold your horses" with the iconic pony logo outlined in an electric blue color against a black backdrop. As we mentioned, the tweet (see below) was posted at 8:02 p.m. on the West Coast, just two minutes after Tesla began the Model Y electric SUV reveal.
The Tesla Model Y will no doubt be a strong contender in the segment – should Tesla keep to a schedule – but Ford, and its 100-plus years of experience, is looking to enter the fray shortly. Additionally, the electric Mustang-inspired crossover could spawn an electric Lincoln, too. These new EVs would be the establishing vehicles in Ford's attempt to compete in the electric crossover and luxury electric marketplace.
The Mustang-inspired electric crossover could arrive by as early as next year, and could debut in early 2020 as a 2021 model year vehicle, around when the Tesla Model Y is anticipated to launch. Don't hold your breath, though.