Chameleon Colorshift Ford Mustang Is A Rainbow
0
Paints that change color depending on the light that hits them aren't new. Ford coated the infamous 2004 Ford Mustang SVT Cobra with a color called Mystichrome Clearcoat Metallic. It has been a long time since we saw a factory Ford Mustang wearing a color-changing paint, but the aftermarket is making cars that use color-changing pigments. A German tuner called M&D Exclusive car design has a Ford Mustang that wears a custom color changing paint.
The paint slathered onto the convertible Ford Mustang is called "Chameleon Colorshift," and like the Mystichrome we talked about before, it changes color depending on the angle you see it at. The Ford Mustang changes between dark green, purple, and gold, among other colors. It's an interesting look that some may not like.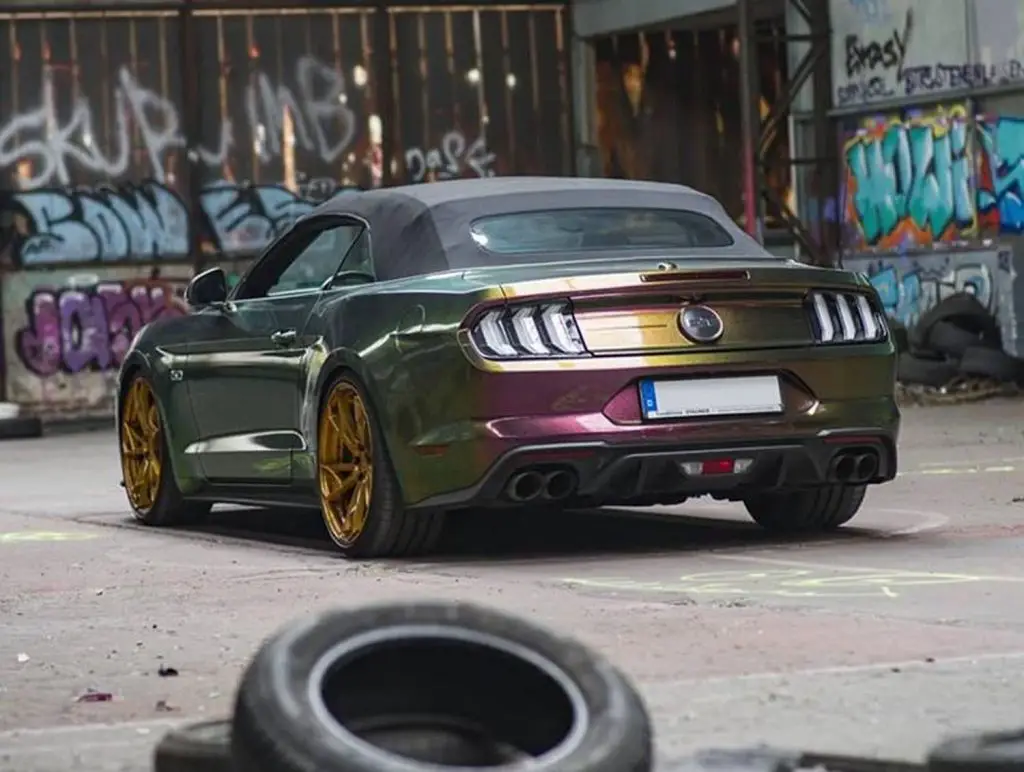 The special Mustang has ZP.Forged 14 21-inch multi-piece wheels made by Z-Performance. The design is very different from wheels we've seen on Mustangs before and they are a gold/bronze color. The car is lowered using H&R lowering springs.
The front end and sides of the car wear a matte black splitter and side skirts. The convertible Mustang also has upgraded roll bars and a sports exhaust system to improve the driving feel and increase the noise from the 5.0-liter Coyote V8 engine under the hood. There appear to be no power adders, just upgrades in the looks department. There is no indicator of what the car might sell for, but color-changing paint jobs aren't the cheapest.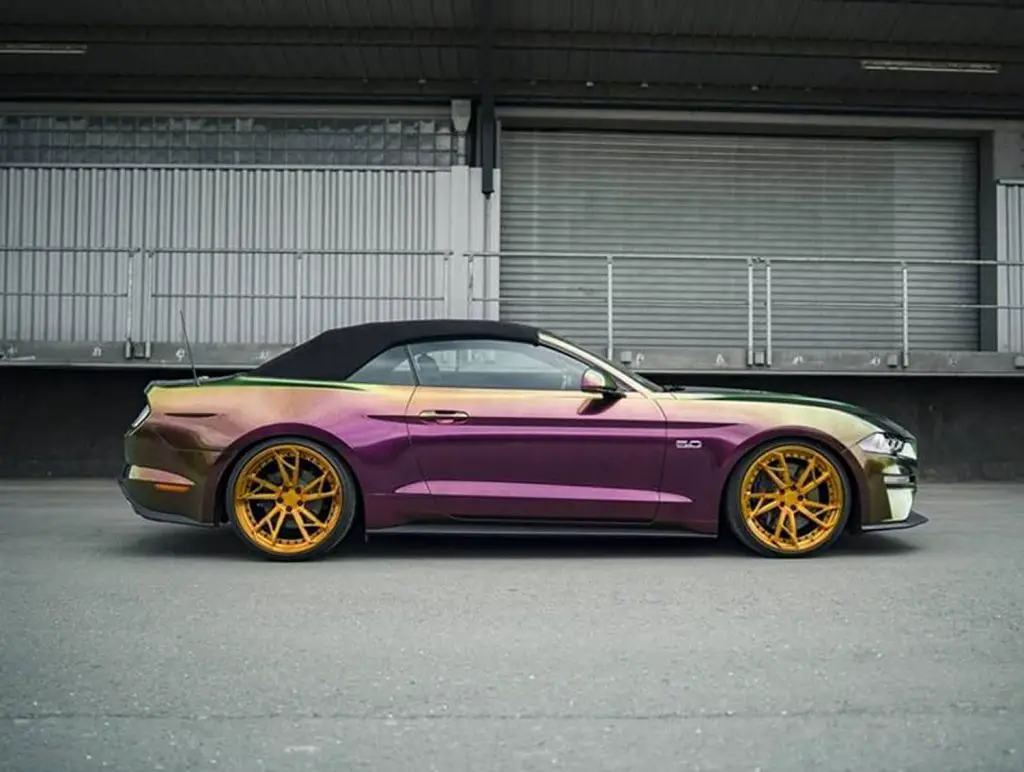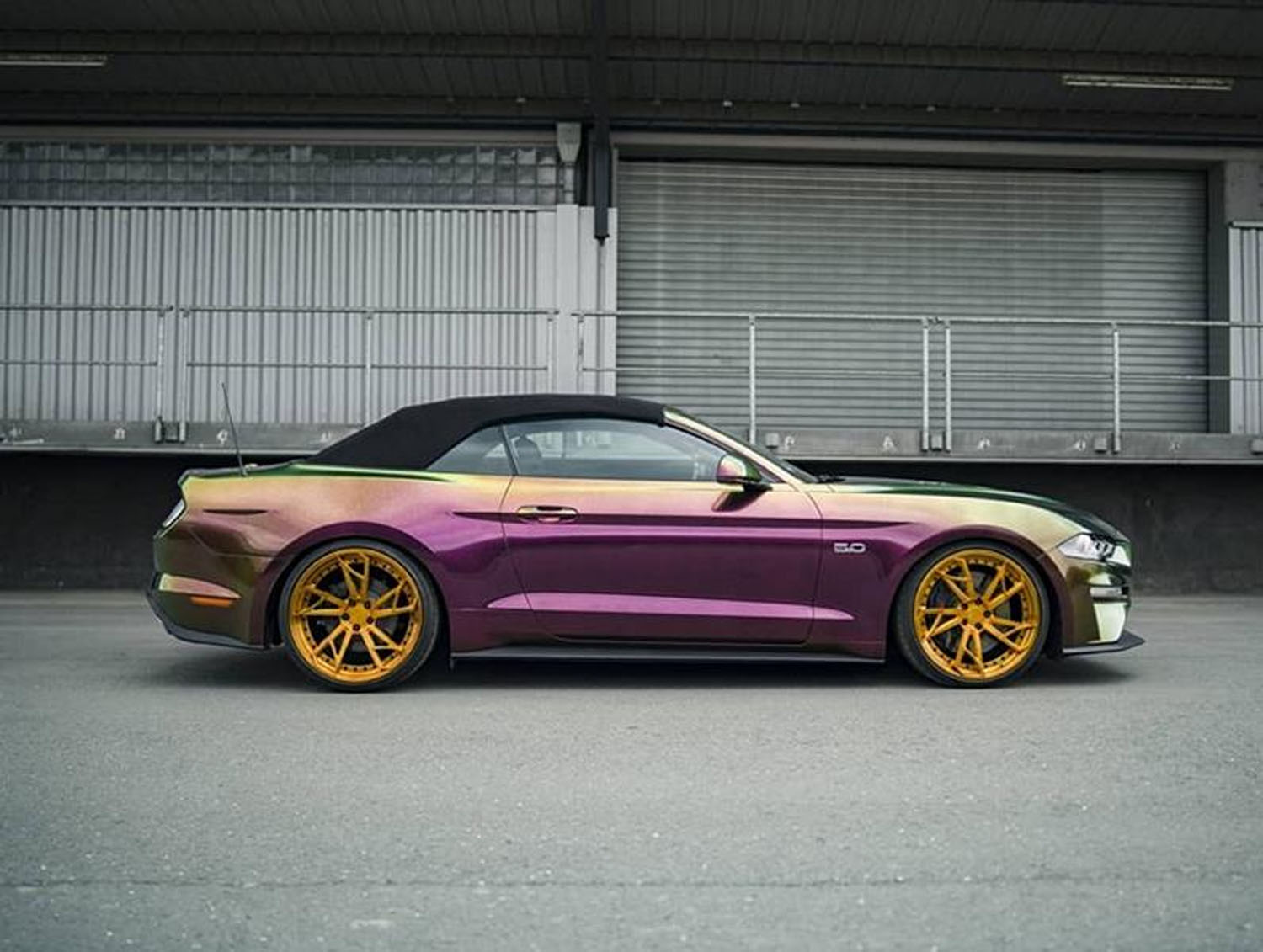 We'd rather have the Gulf livery like the 2019 Gulf Heritage Edition Mustang we talked about recently. That car has the iconic blue and orange painted Gulf racing livery but is every expensive. That special edition Mustang sells for about $140,000, but it did include some significant performance upgrades, including a Roush supercharger under the hood.
Subscribe to Ford Authority for more Mustang news and around-the-clock Ford news coverage.
Source: FormaCar