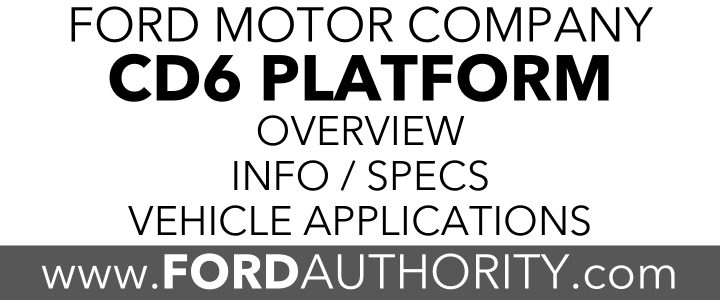 Ford CD6 Platform
CD6 is the name of a Ford Motor Company automotive vehicle architecture designed to be highly flexible in order to underpin midsize and full-size cars and crossovers as well as of various drivetrain configurations, including rear-drive, front-drive, and all-wheel-drive.
The CD6 platform is believed to be the replacement of various Ford platforms, including D3, D4, CD3, and CD4.
Overview
The CD6 platform is an all-new architecture that represents a new way of building and designing vehicles for the Ford Motor Company. In that regard, CD6 is not so much a platform as it is a flexible vehicle set – a characteristic that allows it to share many parts in what would traditionally be disparate vehicles and platforms.
Notably, the CD6 architecture is capable of supporting vehicles of the "midsize" size class and larger, with the following drivetrain layouts:
Front, transversely-mounted powertrain placement with front-wheel-drive or all-wheel-drive
Front, longitudinally-mounted powertrain placement with rear-wheel-drive or all-wheel-drive
Another vital distinction between CD6 and prior Ford platforms is that CD6 is an all-new architecture. By comparison, the platforms it replaces have been derived from other architrectures, namely the Volvo P2 platform, derived from the time when Ford owned Volvo Cars.
Specifications
Ford Motor Company CD6 Platform Vitals

| | |
| --- | --- |
| Type: | Unibody welded steel body |
| Size: | Mid-Size, Full-Size |
| Supported vehicle type: | Passenger Car, Crossover SUV |
| Layout 1 – Transverse: | Front-Engine, FWD and FWD-based AWD |
| Layout 2 – Longitidunal: | Front-Engine, RWD and RWD-based AWD |
| Predecessor: | CD3, CD4, D3, D4 |
| Successor: | None |
Engines
It is believed that the CD6 platform supports various four- and six-cylinder Ford Motor Company engines, including:
2.0L Turbo EcoBoost I4
2.3L Turbo EcoBoost I4
2.7L Turbo EcoBoost V6
3.5L Duratec-Cyclone V6
3.7L Duratec-Cyclone V6
3.5L Twin-Turbo EcoBoost V6
It is believed that the Ford CD6 platform is capable of supporting the following transmissions:
Ford 6F 6-speed automatic (transverse applications)
Ford 10-speed automatic (longitudinal applications)
Ford 8-speed automatic (transverse applications)
Vehicle Applications
Lincoln
2020 Lincoln Aviator (second generation, 2020 – ?)
2022 Lincoln Continental (rumored to be canceled)