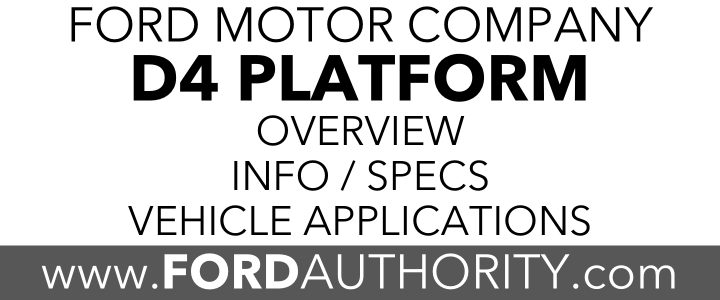 Ford D4 Platform
D4 is the name of a Ford Motor Company vehicle architecture designed to underpin full-size crossover SUVs such as the Ford Explorer, Lincoln MKT and Ford Flex.
The D4 platform is the crossover variant of Ford's D3 unibody platform, and is not considered to be a direct replacement for any one existing FoMoCo platform.
Overview
The D4 platform is a revision of the D3 platform for crossover utility vehicles, often called high-roof derivatives. The architecture is adaptable to various wheelbases, while the suspension system is modified for towing and off-road driving.
Both the D4 and D3 platforms are derived from the Volvo P2 architecture, which developed from the time when Ford owned Volvo Cars.
In the D4 platform, the engine is positioned transversely (east-west) under the hood. Front-wheel-drive is standard, while all-wheel-drive based on a Haldex system (shared with the Volvo S80 and XC90) is available as an option.
Specifications
Ford Motor Company D4 Platform Vitals

| | |
| --- | --- |
| Type: | Unibody welded steel body |
| Size: | Full-Size |
| Supported vehicle type: | Crossover SUV |
| Layout: | Front-Engine, FWD and AWD |
| Powerplant layout: | Transverse |
| Predecessor: | None |
| Related: | Ford D3 platform |
| Successor: | Ford CD6 platform |
Engines
The D4 platform supports various four- and six-cylinder Ford Motor Company engines, including:
2.0L Turbo EcoBoost I4
2.3L Turbo EcoBoost I4
3.5L Duratec-Cyclone V6
3.7L Duratec-Cyclone V6
3.5L Twin-Turbo EcoBoost V6
All engines are mated to the Ford 6F six-speed automatic transmission.
Vehicle Applications
Ford
Ford Flex (first generation, D471, 2009 – 2018)
Ford Explorer (fifth generation, U502, 2011 – 2019)

Also branded as Ford Police Interceptor Utility
Lincoln
Lincoln MKT (first generation, D472, 2010 – 2017)