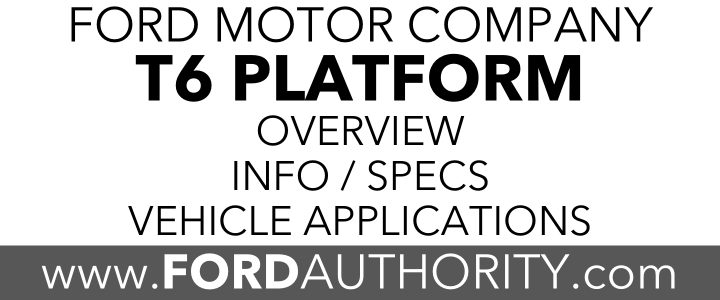 Ford T6 Platform
The T6 platform is a Ford Motor Company vehicle architecture designed to underpin midsize pickup trucks and SUVs such as the Ford Ranger, Ford Bronco and Ford Everest/Endeavour.
Overview
The Ford T6 platform was all-new from the ground up when it launched in 2011 on the Ranger T6. It replaced two Ford Motor Company light-truck platforms:
Third-generation Ford Ranger (1998 – 2002) developed by Ford North America and sold across the Americas, and
First-generation Mazda BT-50 (2006 – 2011) developed by Mazda and rebadged as the Ford Ranger sold in the markets of Latin America, Europe, and Asia-Pacific
In the T6 platform, the engine is positioned longitudinally (north-south) under the hood. Two-wheel-drive sends power to the rear wheels is standard, while all-wheel-drive is available as an option.
Specifications
Ford Motor Company T6 Platform Vitals

| | |
| --- | --- |
| Type: | Body-on-frame |
| Size: | Mid-Size |
| Supported vehicle type: | Pickup Truck, Sport Utility Vehicle (SUV) |
| Layout: | Front-Engine, RWD or 4WD |
| Powerplant position: | Longitudinal |
| Drive: | Left-hand drive, Right-hand drive |
| Predecessor: | 1998-2002 Ford Ranger platform, 2006-2011 Mazda BT-50 platform |
| Related: | None |
| Successor: | None currently |
Engines
The T6 platform supports various four- and five-cylinder Ford Motor Company engines, including:
2.3L Turbo EcoBoost DOHC I4 gasoline engine mated to Ford 10-speed automatic transmission
2.5L Duratec 25 DOHC I4 (Mazda L5-VE) gasoline engine mated to 5-speed manual transmission
2.2L Duratorq TDCi (ZSD-422) DOHC I4 turbo-diesel mated to 6-speed manual or 6-speed automatic transmissions
3.2L Duratorq TDCi (P5AT) DOHC I5 (ZSD-422) turbo-diesel mated to 6-speed manual or 6-speed automatic transmissions
2.0L EcoBlue (EcoBlue 2.0) DOHC I4 turbo-diesel mated to Ford 10-speed automatic transmission
Update For USA & Canada
Ford made several updates to the T6 platform to launch vehicles based on it in the U.S. and Canadian markets, specifically for the 2019 Ford Ranger and 2020 Ford Bronco.
Believed to have been made to better meet U.S. crash test standards and to increase the payload ratings, the updates consisted of:
Redesigned frame rails, which became fully boxed
Redesigned front fascia integration, which was separated from the body and instead became mounted to the frame
Adaptation for left-hand-drive
Vehicle Applications
The T6 platform was introduced with the Ford Ranger (often referred to as the Ford Ranger T6), which went into production in the 2011 calendar year as a 2011 model year vehicle in markets outside the United States and Canada. The platform was also used for the 2011 Mazda BT-50 that was developed by Ford for Mazda in conjunction with the Ranger T6, therefore essentially being a badge-engineered Ranger T6.
The T6 also underpins several sport utility vehicles (SUVs), including the 2015 and newer Ford Everest (Ford Endeavour), 2020 Ford Bronco, and the Troller T4 off-road vehicle.
Ford
2011 Ford Ranger and newer (International markets, Ranger T6, 2011 – present)

2019 Ford Ranger Raptor (International markets, Ranger T6, 2019 – present)

2015 Ford Everest and newer (International markets, 2015 – present)

Ford Everest is sold as Ford Endeavour in India

2019 Ford Ranger (USA and Canada, 2019 – present)
2020 Ford Bronco (USA and Canada, 2020 – present)
Other
Troller T4: produced in Brazil by Ford subsidiary Troller Veículos Especiais S/A, the Troller T4 has been in production since 2004. It uses a similar body and chassis configuration as the Jeep Wrangler and Toyota FJ Cruiser. In 2014, Troller updated the T4 by equipping it with a new T6 chassis frame that has been shortened to fit the T4 body.