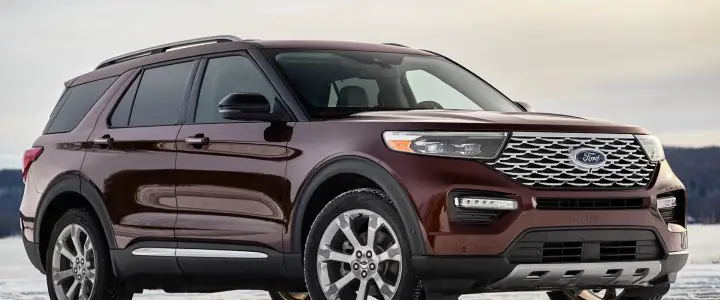 2020 Ford Explorer
The 2020 Ford Explorer received a complete overhaul, consisting of a redesign and re-engineering, representing the first model year of the sixth-generation Explorer.
Changes, Updates, New Features
The 2020 Ford Explorer will be all-new from the ground up. Here's what we expect from the 2020 Explorer:
Exterior:

All-new exterior design that is similar to, but still substantially different from the current Ford Explorer
Larger dimensions, with overall length growing about 10 inches, resulting in greater cabin space and cargo space
Rather than switching to aluminum body panels like Ford's body-on-frame models (F-Series, Expedition, Navigator), the 2020 Explorer will continue to use steel for its panels

Interior:

All-new interior, delivering a more space-efficient design, greater comfort, and more space for passengers and cargo
All-new in-vehicle technology, including the new Ford infotainment system, 4G LTE with Wi-Fi, and more

Drivetrain and Chassis:

All-new drivetrain configuration, with a longitudinally-placed engine and transmission for better front-rear weight distribution, delivering improved driving and handling characteristics
Carry-over engines (2.3L EcoBoost I4) and introduction of new engines, including 2.7L EcoBoost V6 and 3.0L EcoBoost V6 mated to the new Ford 10-speed automatic transmission
Introduction of new Explorer Hybrid model
Reduced weight over current model, roughly by 200 pounds, resulting in improvements in fuel economy and handling

Models:

Introduction of new Explorer ST model to replace the Explorer Sport variant from its predecessor
Following is speculative and unconfirmed information about the 2020 Ford Explorer. This page is a continuous work-in-progress and will be updated on a regular basis as we await official details from Ford Motor Company.
If you notice any inaccuracies about the information provided, or have edits to suggest, please let us know here.
Evidence
Body Styles
The 2020 Ford Explorer will be offered as a full-size, five-door crossover utility vehicle (CUV).
The vehicle will be offered for police duty as the 2020 Ford Police Interceptor Utility.
Platform
Like all sixth-generation units of the Ford Explorer, the 2020 Explorer will ride on the Ford CD6 platform shared with the following vehicles:
Powertrain
The 2020 Explorer is expected to carry some engines from the 2018-2019 model, while introducing a few new powertrain options:
The 2020 Explorer engine lineup is expected to consist of:
Naturally-aspirated 3.3L V6 making around 300 horsepower 265 pound-feet of torque
2.3L EcoBoost I4 gasoline engine making around 280 horsepower and 320 pound feet of torque
3.0L EcoBoost V6 gasoline engine making around 400 horsepower and 400 pound-feet of torque
Hybrid and/or plugin hybrid gasoline
Standard Features
Contents of this section will be filled out when Ford release details about the 2020 Explorer.
Available Features
Contents of this section will be filled out when Ford release details about the 2020 Explorer.
Available Packages
Contents of this section will be filled out when Ford release details about the 2020 Explorer.
Trim Levels
The 2020 Explorer is expected to be offered in the following trim levels:
Explorer (base)
XLT
Limited
Explorer ST
Platinum
Production
The 2020 Explorer will be assembled at the Ford Chicago Assembly Plant in Chicago, Illinois, USA. A plant in China will assemble the vehicle for the Chinese domestic market.
Availability
The 2020 Ford Explorer is expected to launch in the summer of the 2019 calendar year as a 2020 model year vehicle.
Beyond 2020
We expect that 2020 model year will be the first year of production for the all-new, sixth-generation Explorer, and that an all-new, future Ford Explorer will launch well into the future.
Sales Numbers
See our running Ford Explorer sales tracker.
Discussion
Discuss the 2020 Ford Explorer in our Ford forum.
News
Follow our coverage of Ford Explorer news.
Specs
2020 Ford Explorer specs will be published here when released by Ford.
Photos
2020 Ford Explorer