The Ford Mustang is as American as apple pie.
That's an absurd analogy, of course; it's not as though we Americans ingest so much apple pie on a daily basis that it's become a cultural institution on par with hot dogs or Lady Gaga. Even still, it's an apt description.
But keeping an icon alive over so many years – fifty, to be exact – bears its own set of problems. For instance, how does one remain faithful to the spirit and design of the original Ford Mustang, while ensuring that the car is still competitive in a contemporary market? In other words, in evolving with the times, how is every semblance of the original 1964 Ford Mustang not simply lost in the march toward modernity?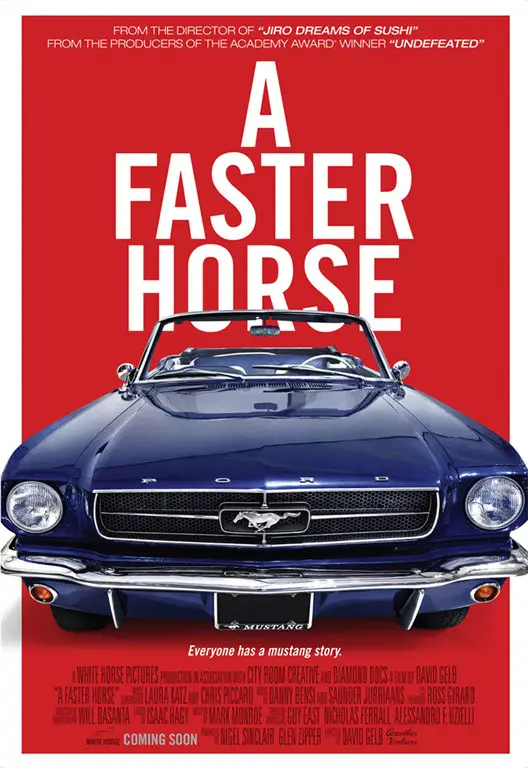 It's this question that the film A Faster Horse attempts to answer. Directed by David Gelb (Jiro Dreams of Sushi), A Faster Horse tells the story of the sixth-generation Ford Mustang, and each of the ponies that came before it. The film debuted at the Tribeca Film Festival earlier this year, and started showing in select theaters nationwide on October 9th.
But if you don't live in one of the cities where the film is showing in theaters, fear not; October 9th also marked the film's launch date online. Those interested can watch the full movie for a small fee at Vimeo OnDemand.
Cities where A Faster Horse, the Ford Mustang documentary, is showing:
Phoenix, Arizona
Los Angeles, California
New York, New York
Detroit, Michigan
Boston, Massachusetts
Miami, Florida
Houston, Texas
Philadelphia, Pennsylvania
Tampa, Florida
Sacramento, California