If you haven't yet had the occasion to hear the flat-plane crank, 5.2-liter V8 of the 2016 Ford Shelby GT350 Mustang, do yourself a favor and head over to Motor Trend; the folks at that publication recently got one on the dynamometer, and the sound from the resulting video clip is nothing short of world-shattering.
Of course, noise isn't the primary reason to put something on the dyno; testing is. Let's talk about that. Motor Trend performed a series of dyno runs in the Shelby GT350, posting the data from their best run online. They observed a staggering 467 horsepower and 374 lb-ft at the wheels, meaning before parasitic losses from the drivetrain had been taken into account. Assuming the standard 15 percent loss, give or take, that equates to nearly 550 horsepower and 440 lb-ft of torque at the crank, well above Ford's claimed 526 HP and 429 lb-ft.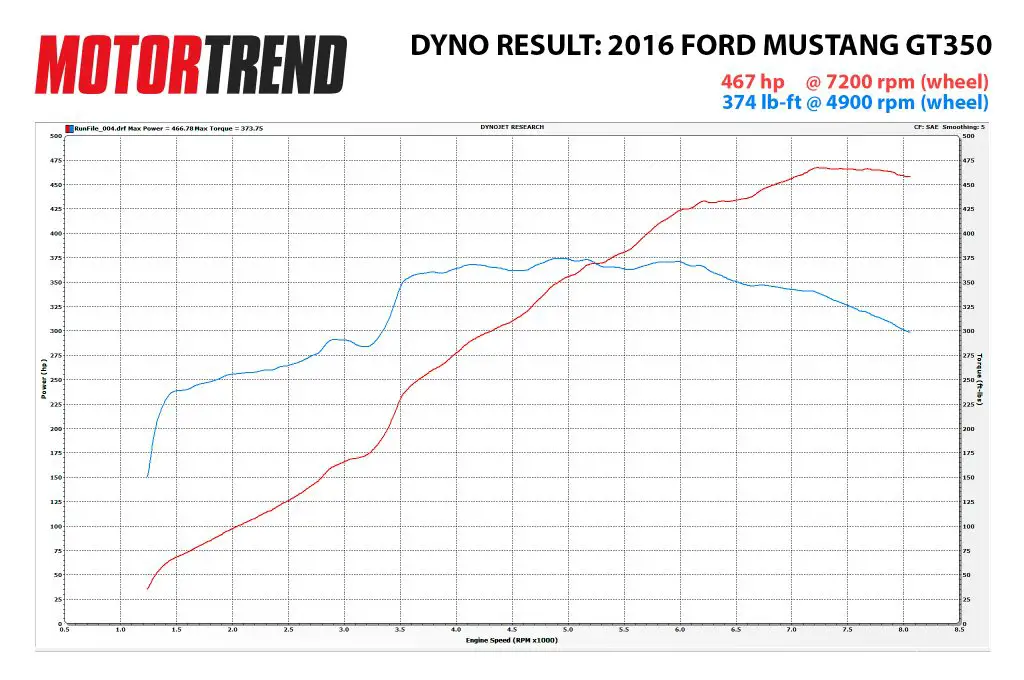 So, did Ford intentionally underrate the 2016 Shelby GT350's peak engine output? Not necessarily. It seems more likely that the hot new 'Stang simply manages less than the standard assumed 15 percent loss: more like 11 percent, to be exact. Still, rear-wheel horsepower is what actually motivates the car, and it's worth noting that the ambient air temperature on the date of testing was more than 100o Fahrenheit. That's important because hot air is less dense than cool air, meaning that during each combustion event, the intake charge has fewer oxygen molecules to combust.
In other words, cooler days generally produce hotter results.
The 5.2-liter "Voodoo" V8 in the new Shelby GT350 is nothing short of an engineering marvel, and notably, it represents Ford's first-ever production flat-plane crank V8. For more details from Motor Trend's recent dyno test of the 2016 Ford Shelby GT350 Mustang, head over to that publication's website.