If the 2015 Specialty Equipment Market Association show this month has made one thing clear already, it's that this is a splendid time to be a fan of Ford Motor Company. The automaker has the biggest presence at the show of any OEM, with each the Mustang, Focus, and F-150 winning "Hottest Vehicle" awards from SEMA organizers in their respective categories.
But alas, while it would be nearly impossible to assert that any of the 50 vehicles at the Ford Motor Co. stand is in any way "bad" or even lackluster, some stars shine brighter than others. Here are our top 5 favorite Ford vehicles at this year's show, in no particular order:
Allstar Performance 2016 Ford Explorer Sport
We'll start our list off with arguably the most "pedestrian" of our top picks: the 2016 Ford Explorer Sport by Allstar Performance. See, plenty of the custom concepts showing at the SEMA show this month will be based on inherently cool Ford Motor Company products – the Fiesta ST, the Ford Mustang, the F-150 (everyone loves a pickup). It's how the folks at Allstar Performance managed to take a comparatively less-cool, civilian ride like the Ford Explorer and turn it into something fierce that stands as a testament to that aftermarket shop's prowess.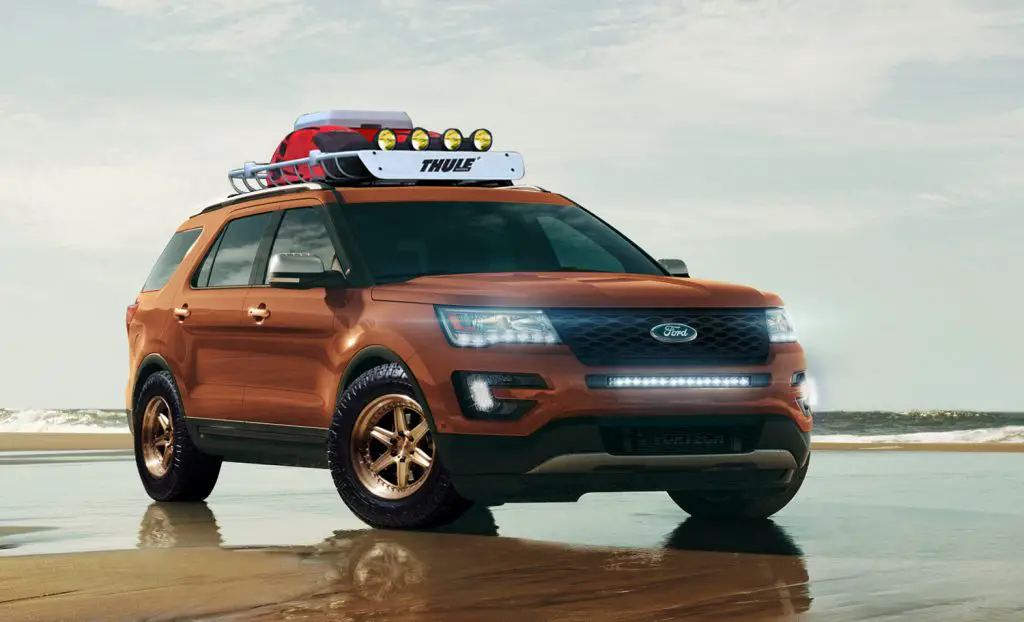 The Allstar Performance Ford Explorer Sport concept is the result of a "go-anywhere" mentality and plenty of functional aftermarket parts. A 2.5-inch Traxda lift kit raises the ride height for better stance and offroad versatility, and the Vortech intercooler and MagnaFlow performance exhaust system add some desirable grunt and growl, respectively. The Thule roof-mounted carrier basket and Wurton front and rear LED light bars not only expand on the SUV's practicality in a huge, meaningful way, but also conspire to make this ute look like a serious business.
Next on the list, DSPORT's track-ready Ford Fiesta ST managed to take Ford Motor Company's junior hot-hatch and turn it into something decidedly un-junior: a potent, race-ready monster.
While the Ford Focus ST continues to be a marvellously fun-tastic little hatchback, and is singularly responsible for getting the proverbial ball rolling for this current generation of Ford Motor Company hot-hatches, the Fiesta ST presents arguably an even more attractive proposition by virtue of its smaller size and lighter weight; the only replacement for displacement is diet. DSPORT took that base and ran with it, boosting the car's pint-sized 1.6-liter EcoBoost I4 to an absolutely breathtaking 400+ horsepower with an extensive list of serious engine upgrades. The chassis and rolling stock have all been expertly upgraded to cope, and the 8-point roll cage and racing seats make this DSPORT Ford Fiesta ST ready for the grid.
Ice Nine Group Ford Mustang EcoBoost
Say, speaking of inherently cool machines being made even better, next up on our list of Ford Motor Company favorites is the Ice Nine Group 2015 Ford Mustang EcoBoost.
The standard recipe for making an all-out Ford Mustang supercar these days tends to be starting with the new Coyote V8-equipped GT model, and supercharging to taste. It's not that there's anything particularly wrong with this strategy, of course, but we do like a little creativity, and maintaining a lower weight under the hood lends itself to better weight bias, and therefore, handling.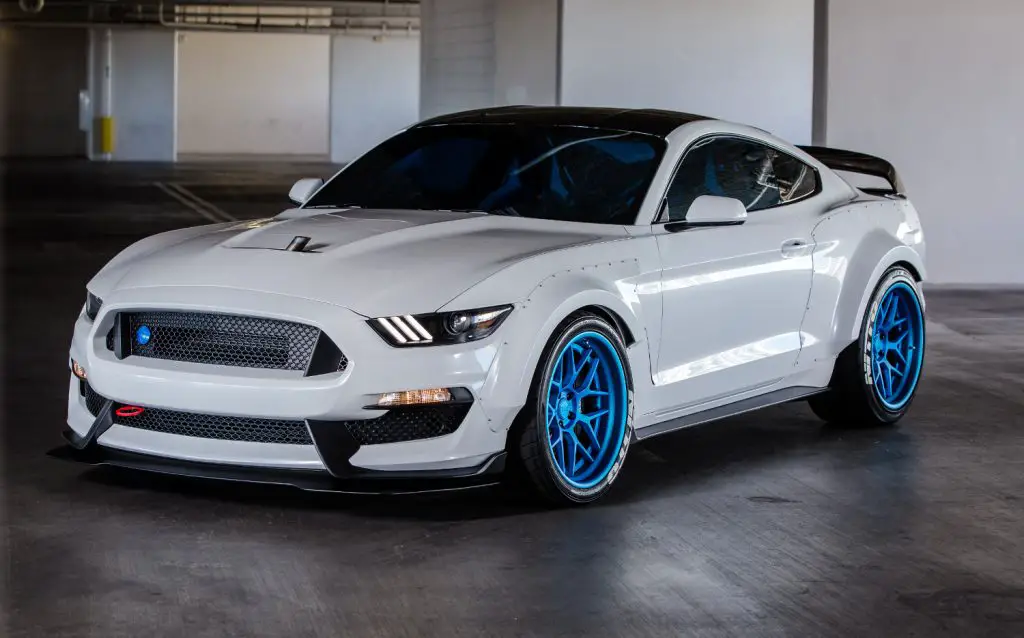 Ice Nine's riveting pony car was inspired by the Deutsche Tourenwagen Meisterschaft (DTM) racing series, and pushes the 2.3-liter EcoBoost engine up to 475 horsepower at the wheels. That's thanks to a Garrett turbo, Vortech intercooler and blow-off valve, Corsa Performance prototype exhaust, and about half-a-dozen other engine modifications. And, like the DSPORT Ford Fiesta ST, this Ford Motor Co. SEMA concept is ready for the grid with a full roll cage.
Maybe we just like roll cages…
We'll be perfectly honest; MRT probably could have stopped this build straight away after the Tremec Magnum 6-speed manual was installed and we still would've sung its praises. Instead, MRT's 2015 Ford F-150 boasts plenty of additional enhancements, like that company's own MRT brand stainless exhaust, custom induction, custom shifter, metal hood heat extractors, rear spoiler, etc.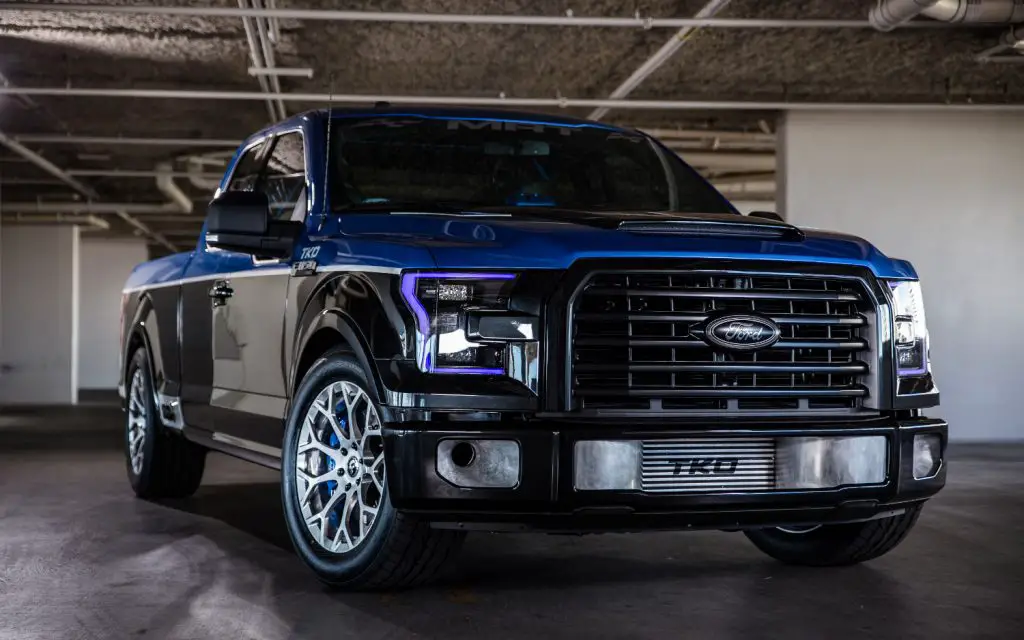 The truck also boasts an equally long list of parts from other brands, like an SCT custom tune, Wilwood performance brakes, lightweight driveshaft and limited-slip differential from Drive Train Specialties, and the list goes on, and on, and on. This may not be the most overtly wild-looking Ford Motor Company build at the show – not by a longshot – but the list of unobvious performance modifications likely make it an absolute blast to drive.
Last, but certaintly not least, of course we have to mention the reveal of the 2016 Ford Mustang Cobra Jet. Unlike the custom, one-off concepts listed before it, the Cobra Jet will actually be built in limited numbers, albeit solely for drag racing duty, as the car is completely, utterly illegal for street use.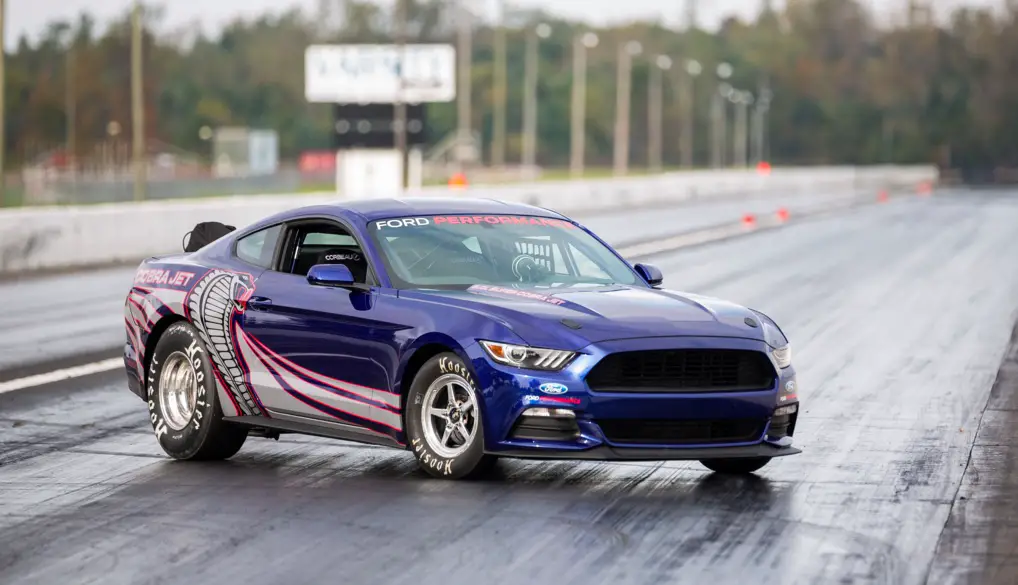 The 2016 Ford Mustang Cobra Jet is the only current Mustang model to be offered from the factory with a solid-axle rear suspension – a setup which lends itself quite well to launching in a straight line. Seventy-five percent of the engine's content is unchanged from that of the 2015-and-later Ford Mustang GT, as well, making it that much easier for teams to keep spare parts on-hand for the inevitable engine failure. Additionally, the engineers at Ford Performance have seen to upgrading the brakes, fuel management, and seating, and have taken the liberty of installing an 8.50-certified roll cage.
That's a lot of headaches they've just taken off your plate.