Since its humble beginnings in 1948, the Ford F-Series has exploded to become far and away one of the most successful passenger vehicles in American history.
But of course, the Ford F-Series of today bears little – if any – resemblance to the one that came out of the middle of last century. Nearly seven decades of evolution have molded the Ford F-Series into myriad different shapes and proportions like so much putty. And now, thanks to an animated GIF image from website partcatalog.com, we can see the entirety of the Ford F-Series evolution in one image, over a brief 15 seconds.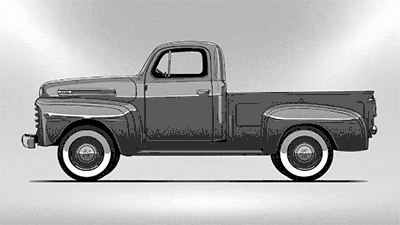 And yet, despite the multitude of ways that the Ford F-Series has morphed over the decades, it's always looked indefinably "Ford." Of course, the latest generational redesign introduced military-grade aluminum to the pickup for the first time in 67 years, demonstrating once again Ford Motor Company's commitment to leading the pack in terms of intelligent solutions to the problems of fuel economy and performance.
We can't wait to see what changes the next 7 decades bring.
(Source: Popular Mechanics)