The eighth instalment of Ken Block's popular Gymkhana video series is little less than a week away now, and already we've seen the fresh, sweet new Toyo livery that will adorn the celebrity driver's Ford Fiesta ST RX43.
All that's left to do now is tease.
And tease Mr. Ken Block did, sharing the following tweet on his official Twitter account: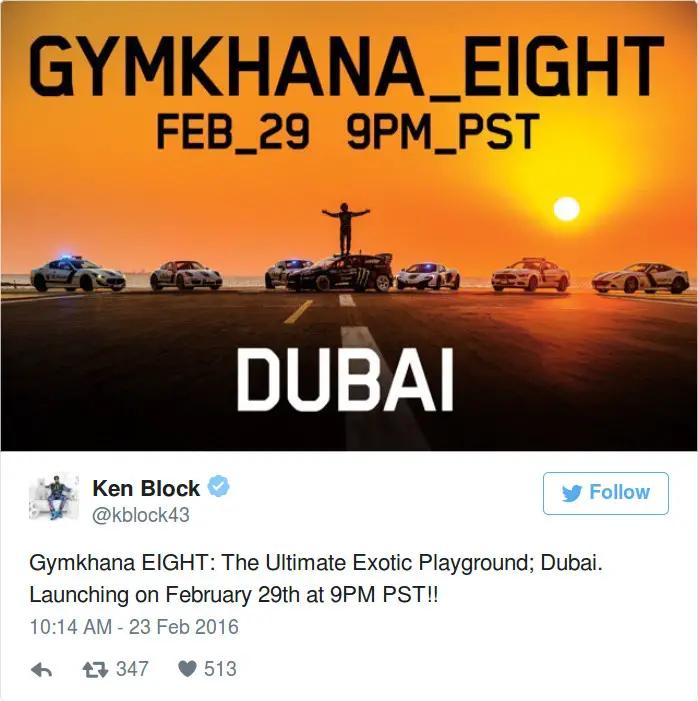 Vague as it is, Ken Block's tweet tells us several important things. First, evidently, the city of Dubai in the United Arab Emirates is to serve as the location for the driver's latest bout of death-defying urban stunt driving. Second, as far as we can tell, some of Dubai's famous supercar pursuit vehicles will be involved.
From left to right, these supercars look to include a Maserati GranTurismo, Porsche 911, Nissan GT-R, a McLaren (likely the 12C, or possibly a 570S/650S), a Ford Mustang, and a Ferrari 599. We can only hope that each of these high-performance pursuit vehicles figures prominently into Ken Block's forthcoming Gymkhana 8 video, running alongside (or more likely, behind) our star's Ford Fiesta ST RX43.
Gymkhana 8 is scheduled to go live at midnight on February 30th (9pm Pacific Standard Time).