As Ford advances into the 2017 model year of the F-150 full-size pickup, it will introduce a new powertrain combination consisting of a revised, second-generation 3.5-liter EcoBoost V6, and the world's first volume-production 10-speed automatic transmission.
A more potent version of the very same powertrain will propel the all-new F-150 Raptor when it launches later this year.
But apart from a couple of extra forward drive ratios, what really sets the new 10-speed auto apart from its 6-, 7-, and 8-speed peers? Let's take a look.
Weight-Savings As A Virtue
The Ford F-150's new 10-speed automatic transmission has been designed to contribute little more to the truck's mass than a comparable unit with fewer speeds. It's the first Ford transmission not to use any cast-iron components, for example, favoring "advanced materials and alloys." The decision to integrate the torque converter alone helps save 2-pounds, according to Ford, and the design is such that it shouldn't be significantly less-compact than a similar 8-speed transmission.
Small, of course, often means light. That transmission housing doesn't weigh nothing, after all.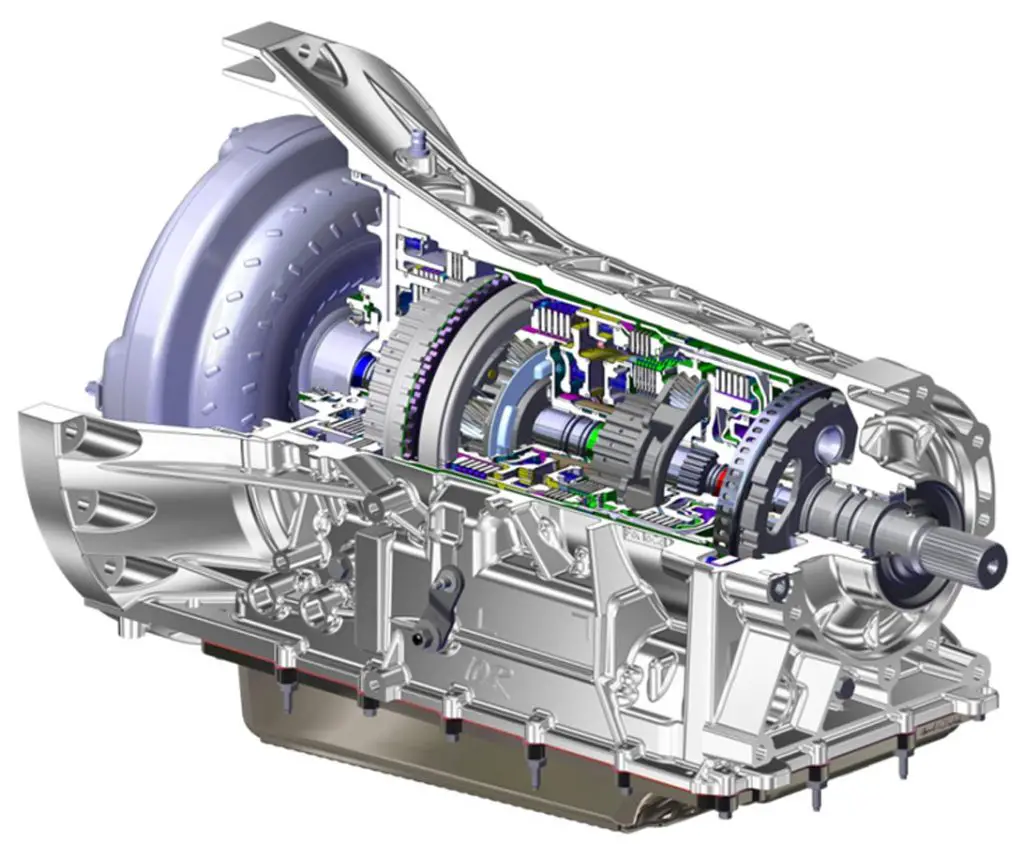 Improved Driveability And Efficiency
Speaking of similar 8-speed units, The Truth About Cars did a deep-dive into the Ford 10-speed's patent drawings back in late-2014, concluding that Ford's new transmission has the same number of planetary gear sets – just four – as the ZF 8HP and the GM 8L 8-speed autos. It has one more shift element than those transmissions, but regardless, should offer roughly the same shift performance and comparable frictional losses.
However, unlike those 8-speed units, Ford's new 10-speed has an additional two gear ratios, of course! One of those is an additional underdrive speed (for a total of six), and one is an additional overdrive (for a total of three; the gearbox has one direct-drive ratio, as well). This should result in better acceleration in the lower gears, and more efficient highway cruising at the top end, as the gearbox simply has more ratios to work with.
And as we explained, all this comes with little to no weight/friction penalty.
Software Matters
Making it all work is Ford's new-and-improved transmission software, with "real-time-adaptive shift-scheduling algorithms" that help guarantee the 2017 Ford F-150 is always in the proper gear for the time and circumstance. More than a dozen powertrain signals and driver inputs are monitored constantly to inform the gearbox-controller's decision-making, with a tow/haul mode, a sport mode, and more.
The 2017 Ford F-150 with 3.5-liter EcoBoost and 10-speed automatic goes on sale this fall, as does the all-new F-150 Raptor.