Last week, website BoldRide stumbled upon the mother of all rare eBay finds: a 1995 Ford Mustang SVT Cobra prototype that, by all means, should not still exist today.
According to the original eBay listing, this car was plucked from the assembly line to test Ford's new 32-valve, 4.6-liter V8 – the engine that would go on to power the next iteration of the SVT Cobra – a year before the mill was released. It also received Ford's new T-2R racing differential and a T-45 manual 5-speed transmission.
Today, this Ford Mustang SVT Cobra has just over 96,000 miles on the odometer, most of them accumulated during testing. But after testing was over, somehow, this Cobra evaded the crusher and left Dearborn, getting picked up by John Ames of Colorado. It was run in the Sports Car Club of America (SCCA) before retiring to receive a full, top-to-bottom restoration. The car is shod in Crystal White paint with a beige leather interior, both of which look clean enough to eat off of.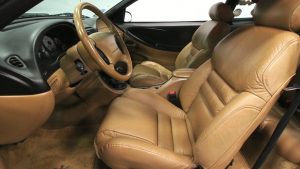 Now, the bad news; someone has apparently already scooped up this rare and irreplaceable classic SVT Cobra for $21,995. You can still poke around the original eBay listing for additional info and high-quality photographs.