Ford is, for the first time ever, making the F-150's classic "STX" trim available on the all-new, 2017 Ford Super Duty. The brand-new trim level slots just above the base XL model, and imbues the workhorse with an added sense of style.
"STX is for customers who want the utility of an F-Series truck in a stylish, well-optioned package at a competitive price," says Ford Truck Group Marketing Manager Doug Scott.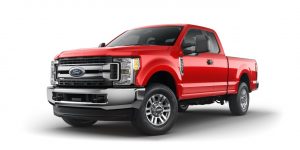 The 2017 Ford Super Duty STX is available in all cab configurations with either the 6.2-liter petrol V8 or the 6.7-liter PowerStroke diesel. It boasts a bright chrome grille and chrome step bumpers front and rear to set the truck apart, along with unique aluminum rims with bright hub covers at all four corners – although those are only available on single-rear-wheel models. Inside, buyers can look forward to a steering wheel-mounted cruise control interface, AM/FM stereo with CD/MP3 player, and an "STX" badge on the front fender vent.
Sadly, extras such as SYNC 3 infotainment and special seats – staples of the new F-150 STX – are notably absent from the equivalent Ford Super Duty.
The 2017 Ford Super Duty STX is available to order now, with pricing starting at $34,910 for the F-250, and $36,080 for the F-350.