It was only recently – perhaps more recently for some than others – that hot-hatch-lovers the world over finally bid adieu to the idea of a high-performance Ford Fiesta RS model based on the current-generation subcompact.
But as Top Gear points out in a recent piece about the 2004 Ford Fiesta RS concept that bowed at that year's Geneva Motor Show, folks back then would have had a harder time of it, as the RS-badged lightweight was already built and put out for them in prototype form.
The '04 Ford Fiesta RS concept came along just after the Blue Oval had ceased production of the Mk I Focus RS – a car which allegedly lost the automaker nearly £4500 per-unit to produce. It was based on the earlier Ford Fiesta RallyeConcept, with the same big fender arches, massive lower grille, and rear wing. The engine was rated at more than 180 horsepower, which was about 30 better than the Fiesta ST of the time, and was unveiled with an interior that looked utterly production-ready.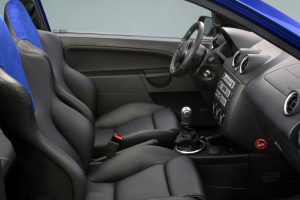 Sadly, the Ford Fiesta RS wasn't meant to be the last time around, either; perhaps because of the losses incurred in making the Mk I Focus RS, Ford simply couldn't make a business case for a smaller version of essentially the same Rallye Sport beast, despite huge levels of interest from fans. In fact, Top Gear reports that sales of the ST-badged subcompact actually slowed down markedly once the Fiesta RS concept was unveiled.
That could even be why we didn't get a Fiesta RS concept this time around; perhaps Ford had the foresight to know that the car would never reach production, and figured it best to not raise our hopes.
Alas, the damage has already been done.