A specially-outfitted, Coca-Cola-liveried 2017 Ford Escape crossover started an epic end-of-summer road trip across the United States Tuesday, with a 4,000-mile planned route incorporating 20 or more stops throughout the country.
The new Ford Escape was modified by Motor City Solutions in suburban Detroit, and was fitted with a custom cooler in the rear – presumably to house cold, refreshing bottles of Coca-Cola as the CUV makes its way from destination to destination, connecting with fans. It departed from the Coca-Cola World Headquarters in Atlanta, Georgia, followed closely by a similarly-outfitted Coca-Cola motorhome which will serve as a mobile publishing HQ on the tour.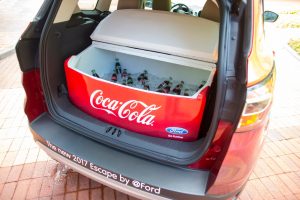 The Ford Escape's 4,000-mile journey has been given the social media hashtag "#JourneyXJourney," and is scheduled to end October 5th, when the crossover reaches its final destination of Los Angeles, California. The Escape is refreshed for 2017, featuring the first implementation of Ford's available "SYNC Connect" system, a redesigned front fascia, new active driver assists, and a pair of new EcoBoost engines.
Read more about the somewhat-new, 2017 Ford Escape compact crossover right here.