Ford Motor Company today announced work on a brand-new Global Technology and Business Center in Chennai, India, which is slated to open early in 2019. The new campus represents an investment of about $195 million, and will accommodate some 12,000 Ford employees in the country.
Of those 12,000 employees, 9,000 will be consolidated from six existing facilities nearby, while 3,000 will be new hires. The 28-acre campus, soon to become Ford's third in the Asia Pacific region, will feature 250-million-square-feet of floor space, housing Ford employees from the fields of engineering, finance, IT, data analytics, and manufacturing. When operational, it will be Ford's second-largest campus for employees after the automaker's Dearborn, Michigan headquarters.
"India is not only a vibrant market for cars and new mobility ideas, it also is rich with talent, technical expertise and ingenuity," said Ford Executive Chairman Bill Ford in Chennai during the announcement. "This new center will help us attract the best and brightest, and make Chennai a true hub of innovation for Ford around the world."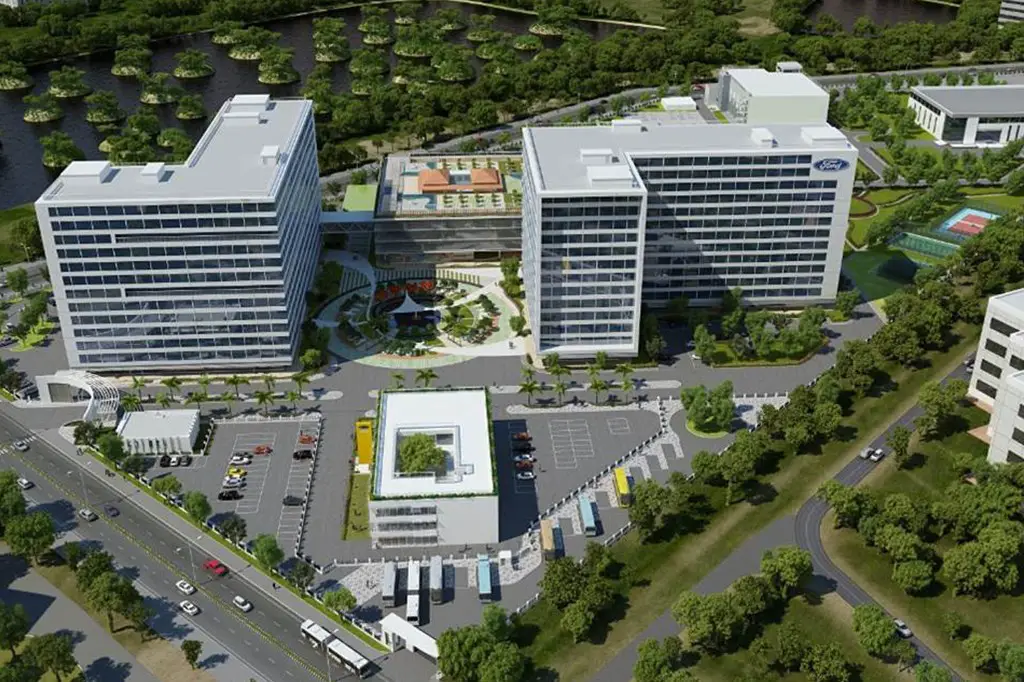 The new Ford Global Technology and Business Center in India will be home to a breadth of labs and testing facilities, allowing the campus to develop parts and vehicles, as well as Ford's second-largest IT organization. It will consist of two main office towers, as well as a separate Learning and Development Center with a canteen, fitness center, yoga center, medical facilities, and a childcare center. All three buildings will be built to comply with LEED Gold and Platinum standards for green structures, minimizing their environmental impact with LED lighting, roof-mounted solar panels, heat and water recovery systems, and a water treatment plant with rainwater tanks.
"Designing a sustainable campus is as much about protecting the environment as it is about creating a great place to work," said Bill Ford. "The Ford Global Technology and Business Center incorporates thoughtful ways to improve our environmental impact, while at the same time creating a great workplace that inspires our employees."