Buying the new Ford GT supercar is a very special, exclusive experience that few on this earth will ever know.
Ford demonstrated that it understands how to treat the ordering process with the appropriate level of flourish when it released details regarding the special, shiny new ordering kit that buyers will be receiving. The kit will arrive in a carbon-fiber case with the same weave and finish as the new Ford GT itself, with the same clasp holding it shut as can be found on the GT race car.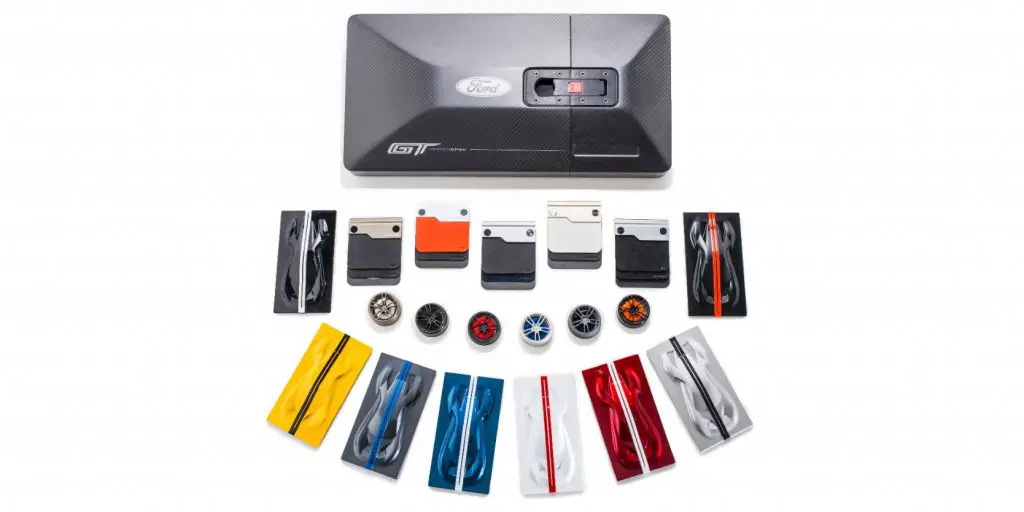 Inside, buyers will find eight different slabs with features of the Ford GT's sculpture, each finished in one of the supercar's eight available paint colors, and different stripe options that can be applied to test out a look before ordering. Scaled replicas of each of the GT's six available wheel options are also included, along with fabric swatches representing every available leather/Alcantara interior scheme, so that Ford GT customers can mix and match until they find their ideal combination of aesthetic options.
"The Ford GT ordering kit is a critical piece in the purchase process," says Ford Performance Global Marketing Manager Henry Ford III. "This high-quality kit is a hands-on tool for Ford GT customers to enhance their ordering experience. Authentic colors, finishes and materials will provide them an intimate, tactile way to discern the multitude of choices to configure their ideal supercar."