California-based design studio Zero to 60 Designs has followed up on its headline-grabbing, Mustang-based "GTT" from the 2016 SEMA Show with a brand-new custom build: a heavily-modified, off-road-ready 1975 Ford Bronco dubbed "Eleanor's Big Brother."
What inspired the name? Zero to 60 Designs President Kenny Pfitzer says that the owner of this 41-year-old Ford Bronco had a particular liking for the 1969 Shelby GT500 – a car which appeared in the 200 remake of Gone in 60 Seconds as "Eleanor." Pfitzer said in a release: "In my 20 years of vehicle builds and development, I've never seen a modern take on 'Eleanor' reincarnated as a Ford Bronco, so I immediately became interested in taking on this unique challenge."
He went on to say: "Even though the vehicle was 41 years old, we wanted to bring a modern flavor to the Bronco, but also wanted to make sure that it was still raw, aggressive and purpose-built for the off-road."
To meet that goal, Zero to 60 Designs sought the help of some key partners. LINE-X, Yukon Gear & Axle, Skyjacker Suspension, and Wildhorses 4×4 all stepped up to the plate. LINE-X provided its ULTRA spray-on coating to armor the interior and exterior of the Ford Bronco. Yukon Gear & Axle furnished front and rear Zip Locker differentials, Hardcore Locking Hubs, Chromoly Axle Shafts, and Hardcore Driveshafts. Skyjacker Suspension provided the Bronco's lift kit, and Wildhorses 4×4 supplied the SUV's Tube Doors, "Buckaroo" Hood, and countless other parts, including the EFI gas tank, brake lines, wheel spacers, and billet trim pieces.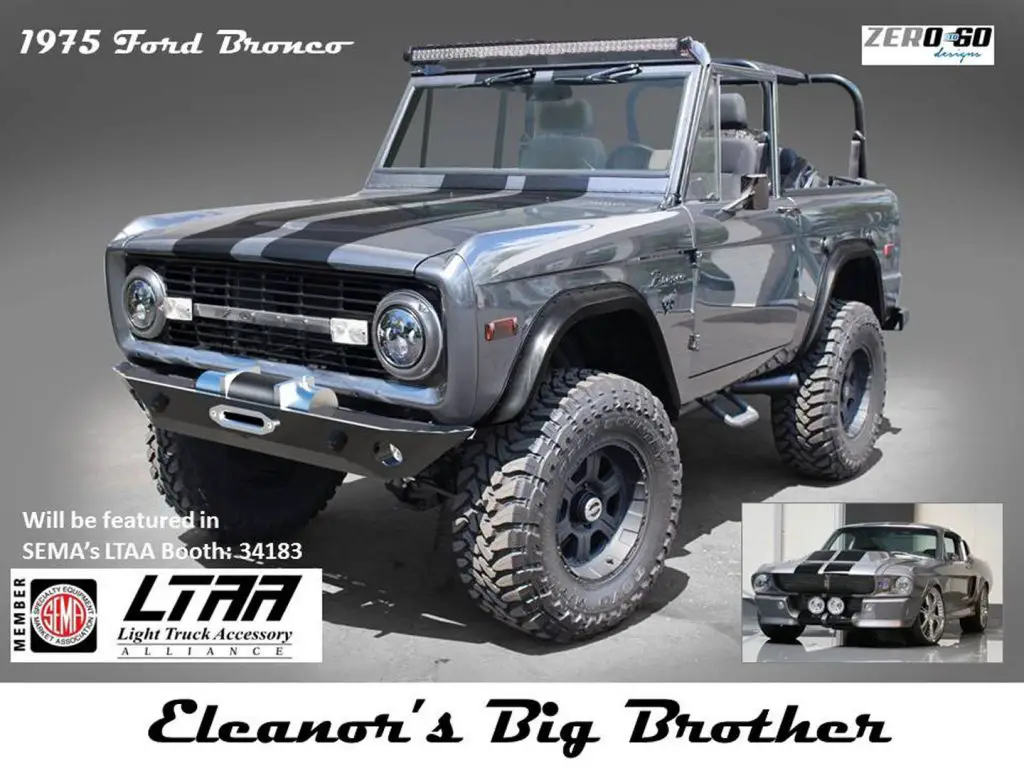 Even outside of those title sponsors, gear from numerous other sources was used. For instance, this 1975 Ford Bronco features Edelbrock's Pro-Flo 3 performance EFI system in place of the original carburetor, and five-point RaceQuip Sportsman SFI 16.1 Camlock harnesses were installed in the front and rear seats. Electricity is handled by a power source and 8-circuit switch panel from 4x4sPOD, with a Painless Performance wiring harness. A Dakota Digital VHX Instruments panel replaces the original, analog gauges, while an Atlas II Transfer Case from Advanced Adapters handles 4WD duty, and Mickey Thompson M/T Baja MTZ tires and Classic Baja Lock wheels convert the truck's power into motion.
And then, there are all the parts that Zero to 60 Designs produced internally, like the custom seats, front and rear bumpers, and roll cage system. Altogether, while still unmistakable for anything but a first-generation Ford Bronco, "Eleanor's Big Brother" has been completely transformed into a cool, capable, retro-modern off-roader.
Would that we could sweet-talk our way into some seat time.