Ford's 1.0-liter EcoBoost three-cylinder engine has won its sixth straight "International Engine of the Year" award in the category of production vehicle engines with less than one liter of displacement. The 1.0L EcoBoost has been undefeated in its category since its introduction in 2012, and has actually picked up four additional "Engine of the Year" titles in that time: one for "Best Newcomer" after its introduction, and three naming it the best engine overall, regardless of size class.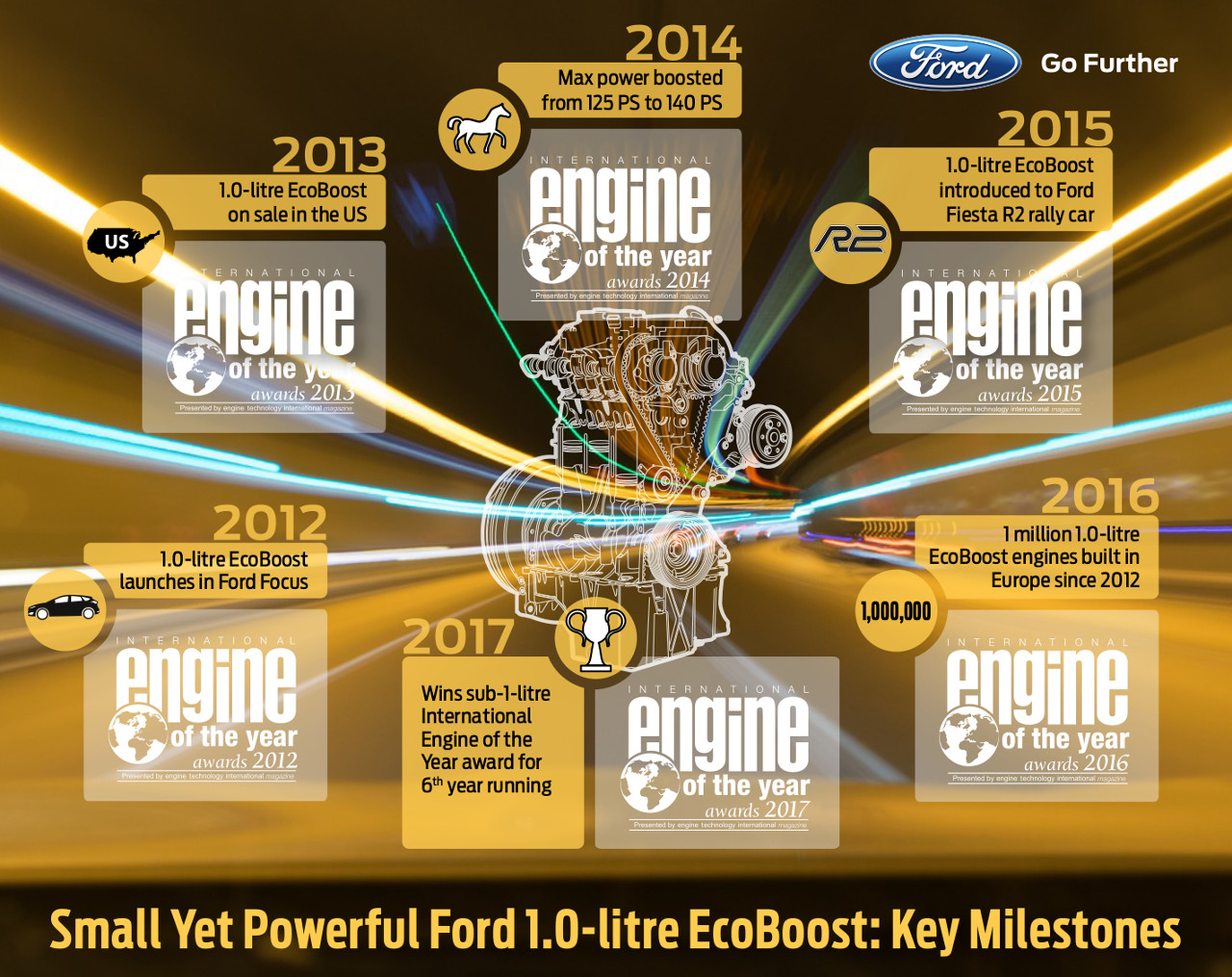 The panel of 58 automotive journalists from 31 countries who judge the awards praised Ford's smallest-displacement EcoBoost engine for its mix of performance, fuel-efficiency, and technology. Three different power levels are available, the most capable of which produces 140 peak horsepower, and from early-2018, a new cylinder-deactivation system will be available, allowing one of the engine's three cylinders to deactivate and reactivate automatically to save fuel. The process takes just 14 milliseconds.
This year, the Ford 1.0L EcoBoost I3 had to beat out 34 other engines with less than a liter of displacement – nine more than when the motor was first introduced in 2012.
"Our 1.0-litre EcoBoost engine has been a game-changer, setting the benchmark for compact, fuel-efficient engines with sophisticated EcoBoost turbocharging, direct fuel injection and Twin-Independent Variable Camshaft Timing technologies," says Ford Europe VP of Product Development Joe Bakaj. "Even with 10 International Engine of the Year awards under our belt, we're still finding ways to push back the boundaries of powertrain engineering, and deliver even more benefit to our customers from this acclaimed small engine."