Ford is now in its tenth year helping support the Experimental Aircraft Association's Young Eagles program by donating a very special, one-off performance vehicle to be auctioned in order to raise funds. Naturally, these performance vehicles always incorporate an aviation theme; last year's donated car was a 2016 Shelby GT350 inspired by pilot Bob Hoover's "Ole Yeller" P-51D Mustang, which ended up raising $295k.
We think it's safe to say that Ford has topped that one-of-a-kind "Ole Yeller" Mustang with this: the Ford "F-22" Raptor F-150. Named after the legendary Lockheed Martin F-22 Raptor fighter jet, this high-performance F-150 Raptor packs 545 peak horsepower – 95 more than stock – thanks largely to a Whipple intercooler. Custom beadlock-capable wheels, upgraded brakes, carbon-fiber body pieces, a roof-mounted LED bar, and a bespoke "F-22" graphics package help further bring the truck into its own.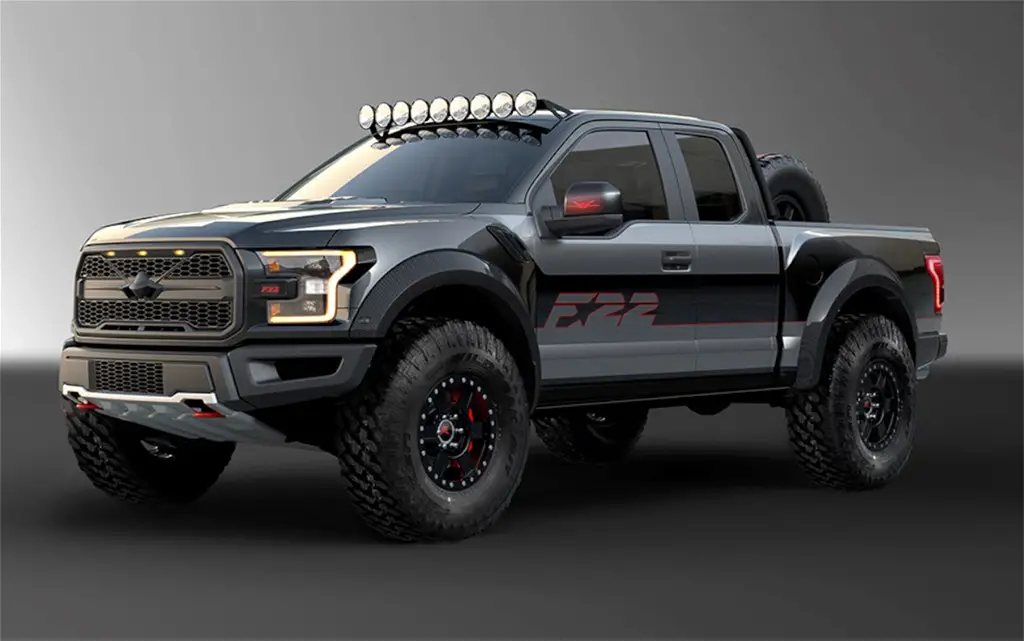 "This F-150 Raptor is a new look at Ford's tradition of building unique vehicles in support of EAA's youth aviation programs," says Ford Design Manager Melvin Betancourt. "We know this truck will create an unmatched buzz around this year's Gathering of Eagles auction."
Ford's F-22 Raptor F-150 will be auctioned off at the 2017 EAA AirVenture Oshkosh in Wisconsin on Thursday, July 27th. It will be the first non-Mustang custom vehicle from Ford to be auctioned at the event. Proceeds will benefit the EAA Young Eagles – a program dedicated to introducing youths from ages 8 through 17 to the world of aviation.