A brand-new Ford Transit plug-in-hybrid van has been unveiled in the UK ahead of its deployment in a new "Cleaner Air For London" trial program, capable of delivering as much as 50+ kilometers (31+ miles) of emissions-free, battery-electric range from an advanced new powertrain. Ford is preparing twenty of the new PHEV Ford Transit Custom vans for a 12-month fleet customer trial set to start later this year in the densely-packed city of London. Volume production is slated to initiate in 2019.
"For more than 50 years businesses have relied on Ford Transits to get the job done, and we are determined to maintain that tradition as we move into the electric age," says Ford Europe Urban Electrified Van Program Director Mark Harvey. "Seeing the PHEV Transits on the road is an exciting milestone, and we look forward to teaming up with our London partners and customers to explore how these vans can reduce emissions and operator costs in the city."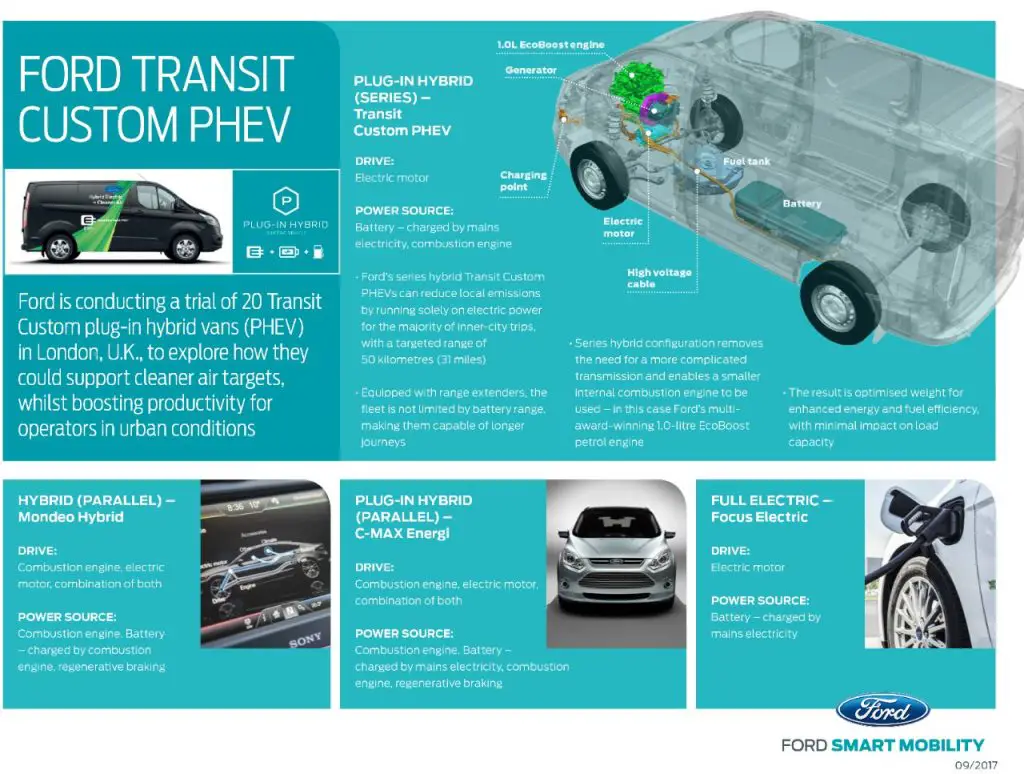 The Ford Transit plug-in hybrid features a 1.0-liter EcoBoost three-cylinder that functions as a range-extender, and delivers the full cargo space that fleet customers are used to with a liquid-cooled lithium-ion battery pack tucked neatly beneath the load floor. The new vehicle also makes use of "geofencing" technology, which allows it to automatically adjust its operation depending on current location – useful for, say, switching into electric-only mode when the van travels into a designated low-emissions zone within a city.
The Ford Transit Custom PHEV is a rather more crucial one than it might seem at first; according to Ford, some 280,000 commercial van journeys are made throughout London on a given week day, cumulatively racking up around 8 million miles. At peak times, more than 7,000 vans drive through Central London per hour.