The eBay Motors-sponsored 1967 Ford Mustang "rowdy restomod" unveiled at the 2017 Specialty Equipment Market Association Show this week, conceived by Rutledge Wood, Mike Finnegan, and KC Mathieu, was inspired by three big-budget Hollywood movies featuring the iconic pony car: Bullitt, Gone in Sixty Seconds, and the 1999 remake of The Thomas Crown Affair.
At least, that's according to eBay Motors. But outside of the car's obvious resemblance to the one featured in The Thomas Crown Affair, we find ourselves scratching our heads as to how the cars in these films informed the funky, wholly original '67 Mustang fastback shown on Wednesday.
Mike Finnegan of Roadkill and Finnegan's Garage told us a different story, saying that the eBay Motors-sanctioned build he and his friends took on was inspired primarily by a little-known sci-fi flop from the late 1980s featuring Melanie Griffith and an off-road-ready Mustang coupe. We sat down with the former Hot Rod editor at Detroit's Woodward Dream Cruise in August, back when the restomod still had some serious ground to cover, to chat about how the project came about.
The interview below has been edited slightly for brevity and clarity:
Ford Authority: How did you come up with the concept for this "rowdy restomod" Mustang?
Mike Finnegan: Well, what happened was Rutledge Wood, KC Mathieu, and I were having dinner one night – we may have been drinking – and we knew the car we were building, but we didn't want to build it kind of like everyone else. So, we didn't want to do a pro-touring car, we didn't want to do a pro-street car, we didn't want to do a drag car.
I had seen this movie from the late 80s, early 90s – a horrible science fiction movie that I shouldn't even mention, it's that embarrassing – called "Cherry 2000". In the movie, Melanie Griffith's character drove a lifted Mustang coupe with knobby tires on it, and she was basically a bounty hunter in the future, and the car just left such an impression on me that I was like, 'that's what I want to do,' like, 'let's build a rally-inspired car.'
That's where it started off; we were going to do a rally-inspired car, we were going to lift it a little bit; knobby tires, roll cage, lights, and then KC I think came up with the idea for the patriotic paint job, and then Rut just took it to another level with some of the details that he wanted on it.
That's how we ended up where we're at. We didn't want to show up to SEMA— you know, we knew we didn't have a quarter of a million dollars to build a car to compete with the cars you'd see at SEMA, so we needed something different. I think we'll pull that off.
Ford Authority: What kind of a state was the car in when you bought it?
MF: I mean, it was pretty typical stuff. It needed quarters; it needed some floor work; it had '68 fenders on a '67 body. It needed some work. It was an ex-pro-street car, so it had some pretty interesting suspension in the back, but it wasn't awful by any stretch of the imagination. It wasn't something that we looked at going, 'all right, we don't even want to attempt restoring this.'
The great thing about doing a Mustang is you could pretty much just start out with a spark plug and build an entire car around that spark plug! Whether you're restoring it, racing it, or modifying it, there's nothing you need that isn't made on the aftermarket.
Ford Authority: What's been done to raise the suspension?
MF: The shock towers were pretty well-butchered when we got the car, so we had to re-install them, and when we did, Randy Allgood's guys moved them down two inches and welded them back into the car, and then made some interesting control arm mounts. That's what lifted the front of the car.
It has a Ride Tech StreetGrip suspension, which is a fairly economical suspension for these cars, that typically you would lower the car with. We're using it and we've lifted the car slightly. It's got some cool stuff. The rear leaf springs – it doesn't have a pack of, like, five springs; it's got one composite leaf in the back. So they shave a bunch of weight off the car, and they work really well.
They're basically plastic, and they work great. I've actually got those same springs on a '69 Firebird at home, and it's amazing how much lighter they are.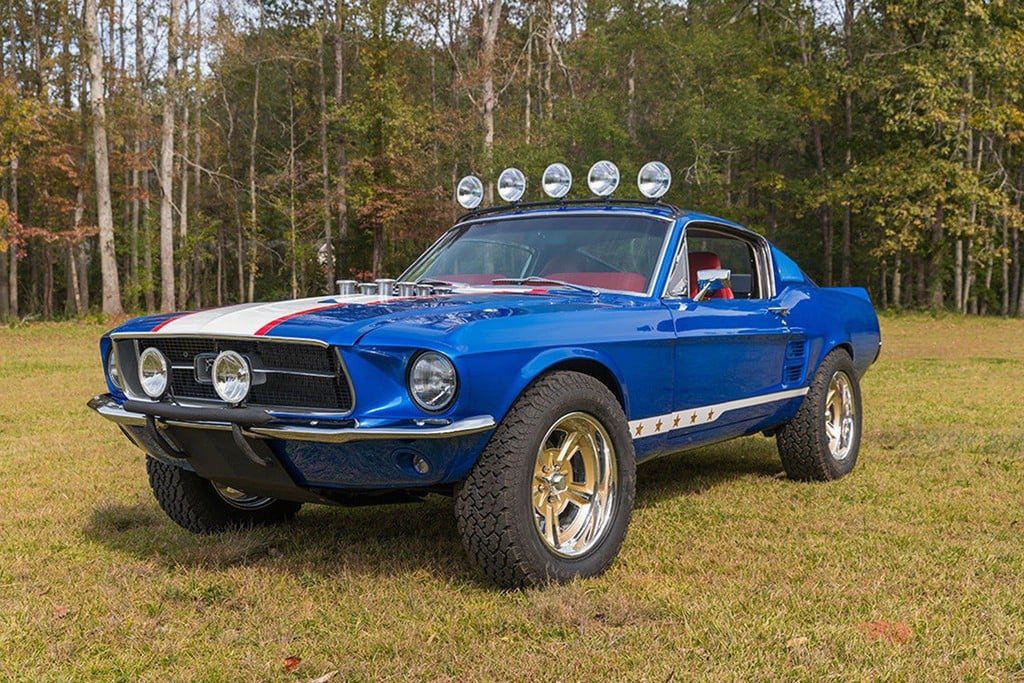 Ford Authority: How strict was the restriction to use only parts sourced through eBay Motors?
MF: Don't even think of it like [a restriction], because the great thing about eBay is: whatever you want, they have it.
Ford Authority: Was the motor from eBay?
MF: Yeah, everything. We're using Ford restoration parts, all sourced through eBay. The General tires, the American Racing wheels, everything. The great thing about it is if you start off with a project car and, you know, you've got a budget, but you've got parts on that car that you're not going to use, take them off the car, start an account, put them on eBay. You will sell them. There's an ass for every seat; there's a wallet for every part you have for sale. You will sell them, you will generate the money to buy the stuff you really want. Even if it's just really off the wall rare stuff, like a Jones cable-driven tachometer, or a magnesium supercharger case from the 60s, it's on there, more than once. There will be some cool guy like you out there selling the stuff you need.
And the great thing about eBay is it's not just a place where you can bid for parts. Most of the parts they sell these days are brand new, so the "Buy It Now" button is huge. It makes it easy.
---
The rally-inspired 1967 Ford Mustang restomod conceived by Rutledge Wood, Mike Finnegan, and KC Mathieu was unveiled in its completed form on Wednesday, November 1st, at the 2017 SEMA Show in Las Vegas. It just sold via auction on eBay Motors for $55k. For more info about the components of the build, click here.