Wisconsin custom shop Ringbrothers just made its SEMA truck debut today at the 2017 Specialty Equipment Market Association Show, unveiling a 1954/'56 Ford F-100 restomod dubbed "Clem 101". Designed and built as a shop truck by brothers Mike and Jim Ring, knowing exactly what year to assign to Clem 101 is a bit of a trick; the truck started out a rusty, 1954 Ford F-100, but the original cab was replaced with one from a 1956 model. The bed doesn't help resolve the issue, as it was custom-made from scratch, and the truck didn't source its V8 gasoline engine from either donor truck, Mike and Jim Ring instead opting to drop in a modern, 5.0-liter Coyote V8.
We suppose it doesn't much matter; all is fair in the world of restomods.
Ringbrothers made a point of retaining the original 1954 grille, but much of the body work is entirely custom. The front and rear bumpers feature a modified appearance, with chrome work by Advanced Plating, and the doors have unique, rounded corners. The wheelbase is seven inches longer than it was originally – a feat accomplished by using a Ford Crown Victoria subframe that's been narrowed by five inches. The front fenders were extended forward to accept that dimensional change, and hand-formed running boards span the distance between the front and rear fenders on either side.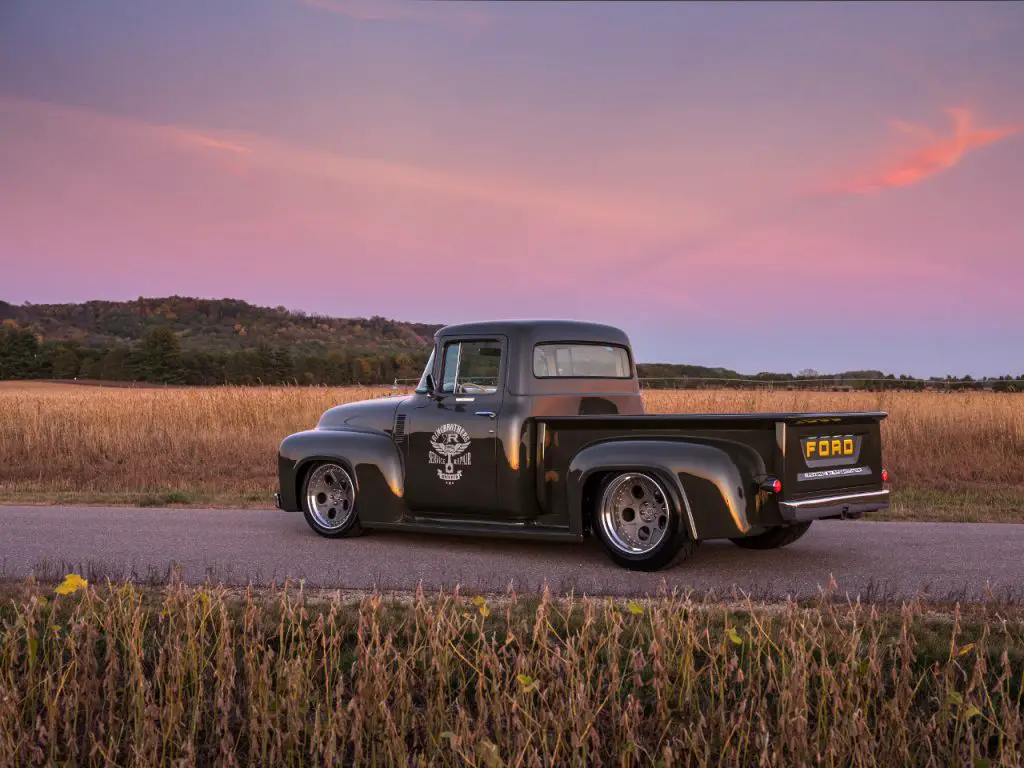 New billet hood hinges – something of a Ringbrothers specialty – were designed specially for this truck, along with custom bed tie-downs. The made-from-scratch bed is capped off by a machined tailgate, beautifully showing off the shop's craftsmanship. As for color, Ringbrothers sprayed this bespoke 1954/'56 Ford F-100 down with BASF Glasurit "Speedy P Green" paint, using the 3M Accuspray paint application system.
Inside the cabin, there's a Kicker audio system, beautiful Classic Instruments gauges, a Vintage Air Gen IV Magnum climate-control system, and a cushy, custom interior from Upholstery Unlimited.
Performance is delivered by a 415-horsepower Ford Coyote V8, fitted with Ford Racing fuel-injection and stainless Flowmaster headers and exhaust. It's lubricated and cooled with Royal Purple synthetic engine oil and Prestone coolant, and backed by a 4-speed automatic transmission that sends torque to a nine-inch rear end from John's Industries. A four-link rear suspension, RideTech coilovers, and custom QA1 front sway bar represent a dramatic improvement over the old Ford F-100's original suspension setup, while broad, forged HRE Vintage Series 545 wheels wrapped in Nitto rubber give the truck plenty of grip. Stopping power comes from Baer six-piston calipers at all four corners.
Ringbrothers' "Clem 101" Ford F-100 is on display now at the 2017 SEMA Show, alongside a few other top-notch custom builds from the Wisconsin-based shop. Stay tuned for more from the SEMA floor.