The full-size SUV market is full of buyers who demand the world: a spacious interior, respectable towing capability, high-tech creature comforts, a cozy cabin, and assuming the OEM has anything left to give, perhaps a double-digit highway MPG that doesn't start with a "1". A smaller subset of buyers keep an even longer list of demands, insisting on things like 4WD and the option of an off-road package.
What is an automaker to do?
Enter the 2018 Ford Expedition. We spent the last couple of days getting well-acquainted with the Blue Oval's big, full-frame sport utility vehicle in the California beach city of Malibu, including stints behind the wheel of a 2WD Limited model, and at the helm of the all-new FX4 off-road version. We were able to go for a leisurely drive on some resplendent mountain roads, test the full-size ute's towing mettle with a 6,500-pound Airstream trailer, and tackle a grueling, dusty trail with the redesigned SUV.
In doing that, we've concluded one thing: the 2018 Ford Expedition is more than ready to meet the demands of today's discerning full-size SUV buyer.
A GM-Dominated Market
General Motors has long kept a stranglehold on the full-size, body-on-frame SUV market in the US. Last year, Chevrolet sold 103,306 units of the Tahoe and 60,082 examples of its larger cousin, the Suburban, while Ford shipped just 59,835 Expeditions. The GM-Ford gap becomes even bigger when you take into account the 90,501 combined units of the GMC Yukon and Yukon XL the General moved last year, or the gulf between unit sales of the luxurious Cadillac Escalade (39,092) and Lincoln Navigator (10,421).
But with the introduction of the all-new, 2018 Ford Expedition, Dearborn's Blue Oval brand makes a more compelling case for its three-row SUVs than ever before, with a new powertrain consisting of the same second-gen 3.5L EcoBoost and 10-speed auto as the F-150; a lighter curb weight afforded by the use of aluminum throughout the body; and a suite of impressive new tech features that includes Ford SYNC Connect with onboard WiFi hotspot and numerous active driver assists.
The weight savings relative to the outgoing Ford Expedition max out at around 300 pounds, due to Ford's decision to reinvest much of it back into various vehicle features. This includes more sound deadening and tilt/slide-capable second-row seating – a first for the segment, which makes accessing the third row easier than ever. Output from the twin-turbocharged, 3.5L EcoBoost V6 peaks at 375 horsepower/470 lb-ft in the XLT and Limited models, and 400 horsepower/480 lb-ft in the Platinum, thanks in-part to dual-injection (the second-generation motor is both direct- and port-injected). The same independent multilink rear suspension, with available Continuously Controlled Damping, carries over from 2017.
What It's Like To Drive
On the road, we drove the 2018 Ford Expedition Limited 4×2, which is quicker than any 5,400-pound vacation-mobile has any right to be. The 10-speed automatic transmission is a willing and capable partner in this, in Sport mode keeping the engine within its power band and dispatching with shifts quickly and smoothly. Acceleration may not be all too high on the list of customer wants, and we realize there's a certain irony about putting a "Sport" mode on a big, heavy SUV, but it makes merging onto the highway a cinch.
Just as important, all that thrust comes in handy when there are so many thousands of pounds hanging behind the trailer hitch. Ford set up a demonstration with a 4×2 MAX model – that's the long-wheelbase one – and a 6,500-pound Airstream trailer. Our course was a highway route through the mountains, full of inclines, curves, and no shortage of other motorists.
The Expedition took it all in stride, never seeming to run out of breath. The Tow/Haul mode alters the 10-speed transmission's shift strategy to provide ample torque at all times, allowing all six tons to accelerate and keep up with traffic, even when faced with an uphill climb. Turning left from a stop onto a busy road? Not so anxiety-inducing as you might think.
For comparison's sake, Ford also brought along a Chevrolet Tahoe with a 5.3L EcoTec3 V8 and a lighter 5,500-pound trailer hanging off the rear. Without the aid of forced induction, and with four fewer gears to propel it along, the difference was quite dramatic. Even on level ground, the Tahoe had much more trouble getting out of its own way; uphill, the SUV's arduous struggle was on full display, the transmission downshifting multiple times, the V8 howling all the while.
Of course, even those without boats, trailers, or flatbeds to drag through the mountains will find plenty to celebrate about the new, 2018 Ford Expedition. The cabin is a truly quiet, tranquil place to be; the reinvestment of some of the weight savings into sound deadening is obvious. The dash is pure-F-150, but that's a good thing; controls are well laid-out and easy to use. The ride, even without Ford's optional Continuously Controlled Damping, is nice and plush without compromising handling.
No one's about to drive an autocross with an Expedition, but it's good to know the SUV is competent enough for emergency high-speed maneuvers. The independent rear suspension helps immensely with this.
We didn't get the chance to try out the bulk of the new Ford Expedition's long list of available high-tech features – a list that includes Enhanced Active Park Assist, adaptive cruise control with Stop-and-Go and collision avoidance, the F-150's Pro Trailer Backup Assist, SYNC Connect with mobile WiFi hotspot, B&O Play audio, and SlingPlayer live-television streaming. Maybe next time.
Taking The FX4 Off-Road
We had our doubts about the off-road-ready 2018 Ford Expedition FX4 – the first such model ever offered from Ford. The best off-roaders tend to be small, light, and agile; the new Expedition exemplifies precisely none of those adjectives.
Those doubts were quickly quelled on a dusty off-road course, where the expertly-calibrated Mud/Rut drive mode made short work of some truly hairy obstacles. The Expedition felt smaller and more nimble than its actual size would suggest, creeping through tight passages and ascending steep inclines without a hiccup. The FX4 package includes an electronic limited-slip differential in the rear, which uses clutches to limit wheel slip, all the way up to full lock-up. A hill-descent control system makes rolling down steep grades a breeze.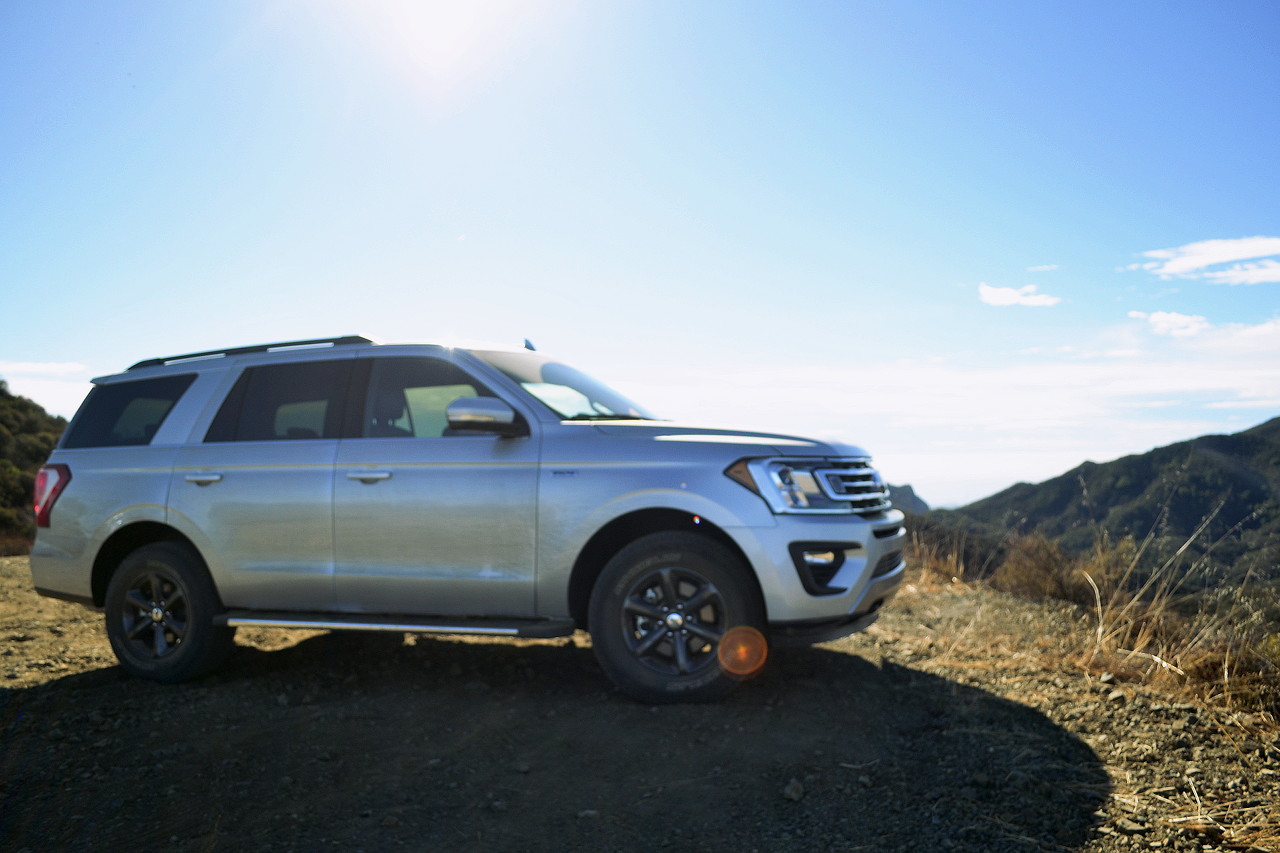 Off-road driving tends to open a vehicle up to more bumps and scrapes than usual, but here, the aluminum body oughtn't necessarily be a concern. According to one Ford representative, the automaker's aluminum bodywork certification program, rolled out for the latest-generation F-150, has brought repair costs down to the point that they are comparable to repairing a traditional steel body. Meanwhile, on the FX4, more than half a dozen skid plates protect vitals like the engine, transmission, transfer case, differentials, and fuel tank.
Like many of today's advanced, tech-heavy off-roaders, the 2018 Ford Expedition FX4 is loaded to the gills with electronic systems that evaluate conditions in real time, putting traction where you need it, when you need it. These all work inconspicuously in the background, making you feel like a hero while it performs the innumerable computations that keep the vehicle moving, even when physics says it should just entrench itself in sand. The Expedition FX4 can run with the best of the mild-mannered, family-hauling trail blazers.
---
If the desires of the full-size SUV buyer can be summed up in a single word, it's "more". Folks who gravitate toward the segment want more seating for taking their families on road trips. They want more cargo space to transport all their stuff, and more towing capacity than a crossover can provide. Just as important, they want more creature comforts to make the journey pleasant, and more entertainment options to keep the kids quiet.
We doubt there's a vehicle on the market that delivers more "more" than the all-new, 2018 Ford Expedition. It offers more fuel economy (EPA-estimated 20 mpg combined), more torque (up to 480 lb-ft, vs. 383 from the Tahoe 5.3L), more cargo space, more towing capacity (up to a best-in-class 9,300 pounds), more entertainment, and with the brand-new FX4, more off-road capability than any Expedition before it.
Chevrolet should be nervous.