The parking garage to my Detroit apartment has a clearance sign of 8-feet-four-inches from the ground that annoyingly hangs below the actual top of the entranceway. The Transit 350 EcoBoost that Ford just dropped off for a test drive is 8-feet-four-inches tall on the spec sheet, thanks to its "mid roof" configuration.
What am I gonna do? Street park a $44,475 cargo van… in Detroit?
Or… test the truth of that sign, and risk scraping a $44,475 cargo van?
The whole first level ceiling of the garage provides at least 15 feet of clearance or so, based on an eye's measure. But the damn entrance really kept anything larger than a tow truck for getting in there. I knew that if I could just squeeze the towering Transit 350 in there, I could find a spot, and park it until morning. My sister needed help moving, in Chicago.
The sign was off calculation, and I was able to pass through the entrance no problem.
Even for those used to the ride height of something like a full sized truck, the Ford Transit 350 EcoBoost is a different breed. The height is amplified by the massive windows, a conveniently short nose, low beltlines on the doors, and a strategically forward seating position.  The driver's seat is also accommodated with just about everything in arm's reach. There's cup holders to the left and the righ, totaling five. A USB port for the phone, an efficiently packaged shift lever integrated on the dash, and no shortage of steering wheel controls. Vision is nearly panoramic, complimented by heated tow mirrors (a $220 option), and the impressively loud back-up alarm (a $125 option) with the rear park assist sensors (a very necessary $295 option) minimized any risk in backing up this 19.6-foot-long container ship.
That's just a glimpse of the $8,635 worth of options tacked onto this beautifully brown behemoth. The 3.5L EcoBoost V6 engine is an $1,865 upgrade that helps make this the fastest van we've ever driven – more on that in a minute. Also contributing to maximum velocity is a 3.73 limited slip rear differential (like the Mustang GT Performance Pack!), a very sporty $320 option. Another $295 went to wheel well liners, another $250 went to sliding door side glass, and $195 went to automatic lamps and rain-sensing wipers.
We're not done yet. $95 went to the keyless entry pad, $485 for the trailer tow package, a significant $1,270 for Sync3 with navigation, $230 for the trailer brake controller, $940 for a very seamless power running board, $400 for the sliding door window tint, and $1,495 for an interior "upgrade" package that adds vinyl floor, matching sun visors, and the almighty cruise control. The six speakers, rear window defogger, lane keep assist, 50-state emission compliance, cloth seats, and 9,500-lb GVWR package are all on the house. But add the $1,195 destination charge, and this work van is over $45,000. It sounds like much, but it's one of the most superlative work vehicles we've ever piloted, trucks included.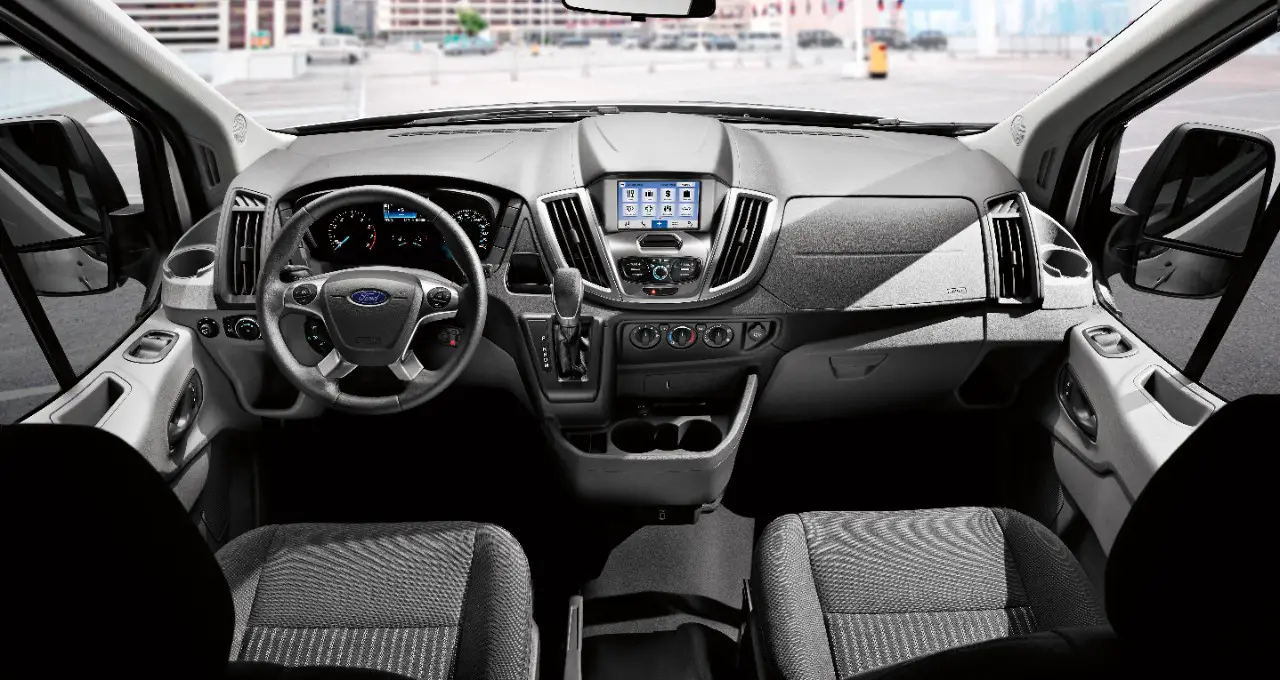 From a workhorse standpoint, its 4,230 lb payload is nothing to sneeze it. In fact, it surpasses the esteemed F-250 Super Duty. And it ultimately can fit much more. Like an apartment's worth of everything in just one go. With a pickup, it takes several trips. The tie-down loops placed strategically throughout the cargo area also helped keep everything strapped down, from an armoire, to a mirror, to a mattress. Tie-straps and rope of course are sold separately.
With an unladen 0-60 time of 6.8 seconds, the 5,423 lb Transit 350 is quicker than the Ford Fusion Titanium, based on OEM testing. This was of course, sampled immediately upon exiting the confining parking garage. This is a van built for cross-country driving, and it was appropriate to launch it off with some charisma. 310 hp and 400 lb-ft goes a long way in an empty van. Moreover, the sensation of speed is amplified from the ride height, center of gravity, skinny tires, and overall weight transfer. Naturally, the Ford Transit 350 EcoBoost pitches and rolls, and stops a lot later than anything smaller than it. But in the right environment, this thing could make for a great learning in vehicle dynamics, because every movement is so exaggerated, and yet the powertrain remains generous.
With a full load, the seemingly overflowing EcoBoost power keeps the big van from feeling too sluggish or overworked. This is enhanced by a buttery six-speed automatic transmission.
After several hours of driving – my phone providing the tunes, cruise control engaged, and the nav destination punched in, a few things became apparent on the Ford Transit 350 EcoBoost. The first is that it's way better than any stripped-down mover I could have rented from Uhaul, far and away. The second is that the van is about as driver-oriented as the Ford Mustang. Hear us out, we know it's not the same, but hear us out.
Just about every aspect of the truck is tailored to keeping the driver comfortable, alert and settled. For sports cars, this level of detail reveals itself after several laps around a track, or a few minutes around a back road. Inputs are quick and deliberate, the output intense. In a truck or a van, it reveals itself over long distances. One goal for both formulas is to minimize driving fatigue. Another way to look at it would be look at an Olympic sprinter vs a distance runner. Their events may require different styles in training and varied body types, but there's still no denying their optimized compositions.
Another facet to the Ford Transit 350 EcoBoost experience is the fuel door. Most of us may be used to one of those flimsy ports popping open several feet from the driver's door. But if you're from Oregon, this filling-up experience may be new to you.
By intention, the Ford Transit has the fuel door literally right next to the cockpit. Like a semi truck. So, either make a wider berth when at the fueling station, or just make sure the fuel nozzle hose has some length to it. I'm the type to try and park close to the pump, but have my door swing open just past the bollards, which can be a bit far from the fuel nozzles. It never was ultimately a problem, more of just a surprise as to where it was, at first.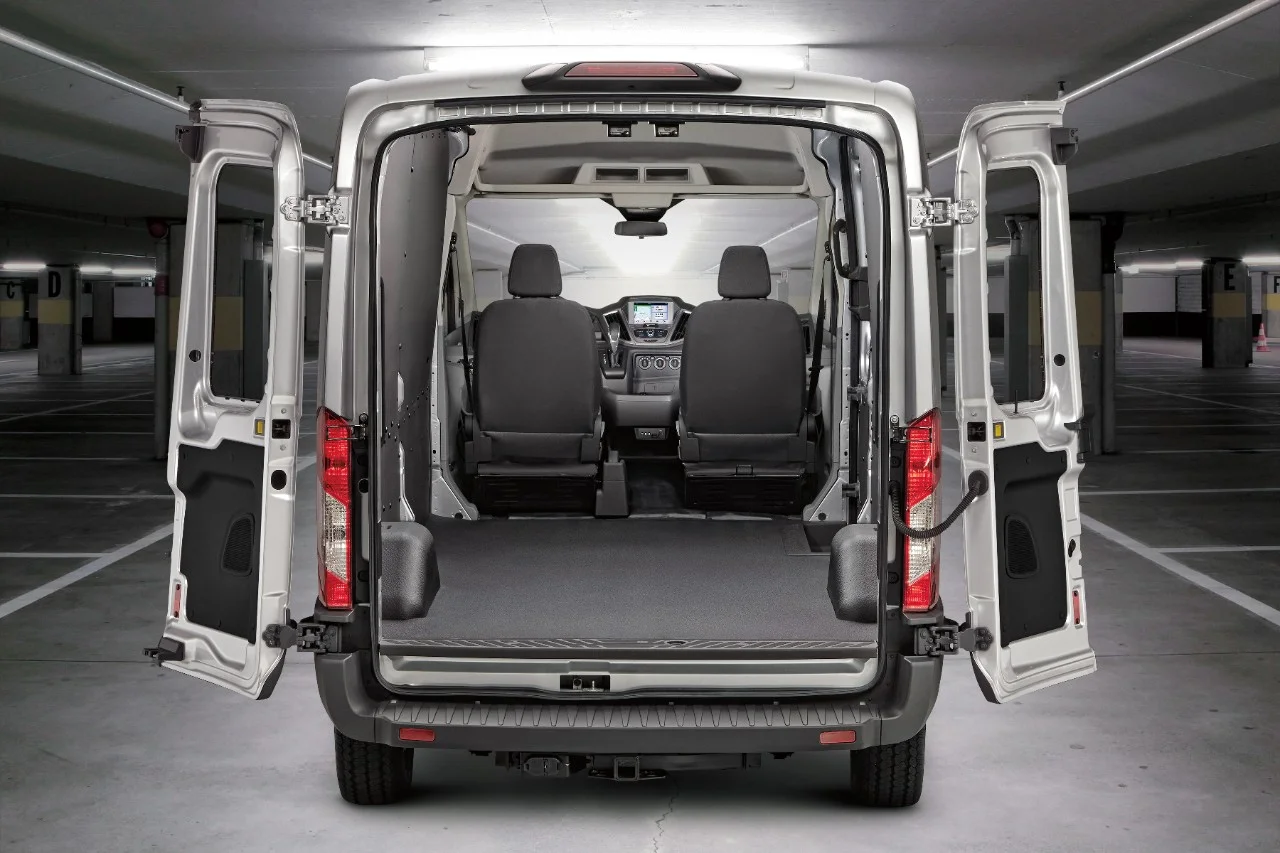 When it comes to vans, Ford offers incredible configuration options. The Transit 350 is available with two wheelbases, three body lengths, three roof heights, three engines, and as either a multi-row Passenger Wagon or a utilitarian cargo Van. There's also a seemingly never-ending list of options that can be tinkered with on the configurator website. If this machine is bought for personal use, there's a high chance that the customer may put together a one:one configuration without much effort.
The first leg of the trip was finished, and it was time to move Sis out of her downtown Chicago apartment. This turned into another exercise of navigating through the city's labyrinth of alleyways, which thanks to all of the sensory equipment, was basically like navigating any other large modern vehicle.
Loading up the Ford Transit 350 was a demonstration of why it's priced like a Mercedes-Benz Sprinter van and above the less sophisticated Chevrolet Express and Nissan NV. Its modernized design is optimized for hours of labor.
The barn doors swing beyond 180 degrees to reveal a cavernous 357 cubic feet of cargo space that allows for even people of six-feet tall to stand straight up as they effortlessly move in and out thanks to its low step-in height. Ford officially marks it at just under 29 inches, but thanks to a cut out step on the rear bumper, the effort involved is almost like any other set of stairs. The retracting step assist below the sliding door meant the same for anybody entering starboard.
With everything loaded up and strapped in, it was time to trek the I-94 corridor back home. The added payload retuned big dividends in terms of ride quality, and what was once an unladen truck protesting nearly every bump and imperfection on the road was now pacified thanks to loaded springs. And so it went, for another 300 miles or so. The Ford Transit 350 may not be the cheapest cargo van out there, but thanks to its stellar powertrain, sophisticated driving behavior, and tactical ergonomics, it's certainly worth the premium.