When Ford pulled the wraps off of the brand-new, 2019 Bullitt Mustang at the 2018 North American International Auto Show in Detroit, the automaker had some help. Molly McQueen, granddaughter of late actor Steve McQueen who starred in the 1968 film Bullitt, was on hand to help introduce the new car, and amazingly, so was the "original" Bullitt Mustang: the Highland Green 1968 Ford Mustang GT that served as the movie's hero car five decades ago.
Making that car's auto show appearance all the more remarkable is the fact that it was presumed lost or destroyed for several decades, right up until its owner, Sean Kiernan, decided to bring the car out of hiding for a mechanical restoration ahead of the film's 50th anniversary.
The car came into the Kiernans' possession in 1974, according to an article in Vanity Fair, when Sean's father Robert spotted the celebrity Mustang in a for-sale ad in Road & Track. At $6,000, the asking price wasn't cheap, but Robert Kiernan bought it nonetheless, using it regularly and racking up around 30k additional miles on the odometer. The clutch wore out in 1980, a year before Sean was born, giving Robert a new priority.
All these years later, the car has been restored to running, driving condition, although the body has been left unrestored, exhibiting the patina of its decades of storage. The 1968 Ford Mustang GT Bullitt hero car is on display now at the North American International Auto Show, alongside its 2019-model-year descendant, and nearby in a glass case, a letter of authenticity from Warner Bros. and a 1977 letter penned by Steve McQueen, in which he attempts to buy the Mustang from the Kiernans.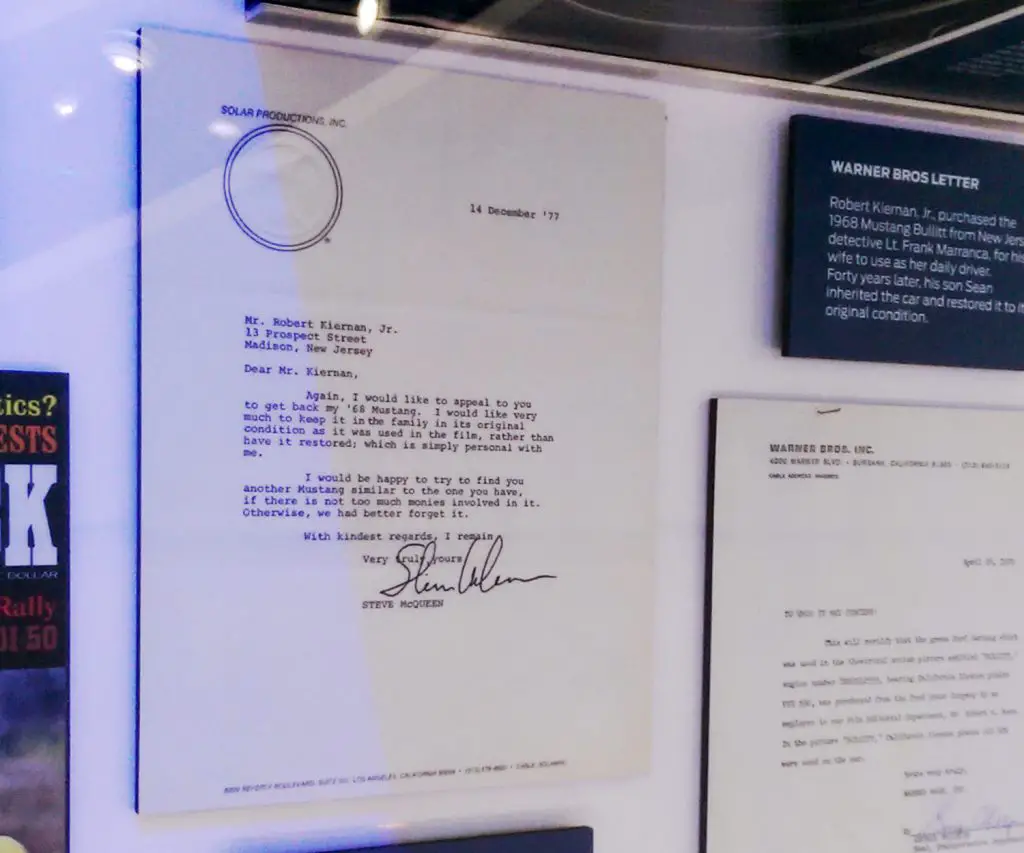 Robert Kiernan declined to sell the car then, and his son Sean has no plans to sell the car now, despite it being valued at $3 to $5 million.
"I feel it's almost a dedication to dad," he told Vanity Fair. "It's a dedication to the movie as well. But when I see my car, I see my dad."
A documentary film about the 1968 Bullitt Mustang entitled "Little Pieces: The Untold Story of the Bullitt Mustang" is in the works, from the Historic Vehicle Association. You can see a trailer above, and if you happen to visit the North American International Auto Show, make a point of stopping by the Ford stand to see the storied movie car for yourself.