Ford Motor Company has revamped the Ford Edge for the 2019 model year, bestowing upon the mid-size crossover a fresh new face, a bevy of new high-tech features both standard and optional, and in an unprecedented move, a sporty ST model designed and engineered with the cooperation of Ford's dedicated performance division. The facelift constitutes the current, second-generation Ford Edge's first since its launch for 2015.
Styling
While the 2019 Ford Edge looks unmistakably Edge, the changes to the front-end styling are rather dramatic. According to the vehicle's Design Manager, Steve Gilmore, giving the crossover a more "confident appearance" was a guiding objective. The grille is taller, wider, and deeper than that on the outgoing crossover, although it doesn't look disproportionately huge thanks to the fact that there's now some separation between it and the headlamps. Speaking of, the overall shaped of those lights is more angular and aggressive than on the crossover's predecessor. LED bulbs come standard on higher trim levels, and are available on the base model as an option.
The hood is a brand-new stamping, and in trying to grace the CUV with still more confidence, the team has kept it taller and more prominent tracing forward from the A-pillar. The rear liftgate is also a new stamping, and features a gloss black center panel that's likely charm some and repulse others.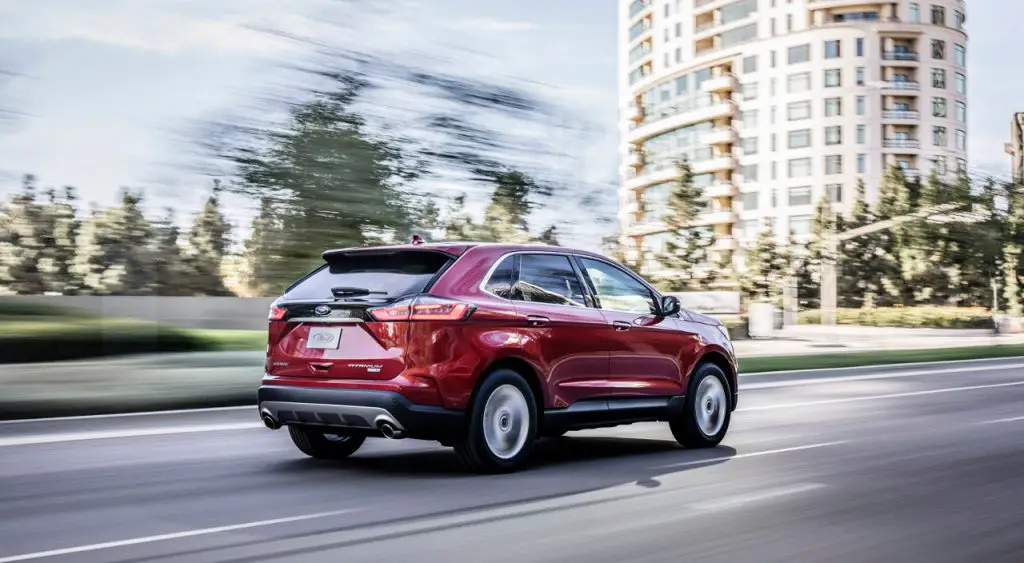 Beside "confidence," if there was another guiding principle for the design team, it was likely freedom of choice; the 2019 Ford Edge will be available with four new exterior colors and four new wheel designs from launch, while the interior will offer three different palettes.
As for the new ST model, it's a bit less juvenile than we've come to expect from anything wearing that badge. It gets a unique black mesh upper grille with an ST emblem adorning the lower right corner, and a gaping lower grille. The body color is also extended further down on the front and sides of the vehicle. If you want a set of red-painted brake calipers – as you should, given that it's an ST – you'll have to pay for an optional performance brake upgrade.
Sadly, the spoiler is exactly the same as on the regular models.
Mechanicals
Where the new, 2019 Ford Edge ST truly sets itself apart is in the engine department; while the regular models all make do with a standard 2.0-liter EcoBoost I4 with up to 250 horsepower and 275 lb-ft of torque, the ST gets the most potent V6 available in its class: a 335-horsepower, 380-lb-ft EcoBoost V6 displacing 2.7 liters. Whether ST or no, all 2019 Ford Edge models will ship with a newly-developed 8-speed automatic transmission, with either front- or all-wheel-drive. (AWD is standard on the ST.)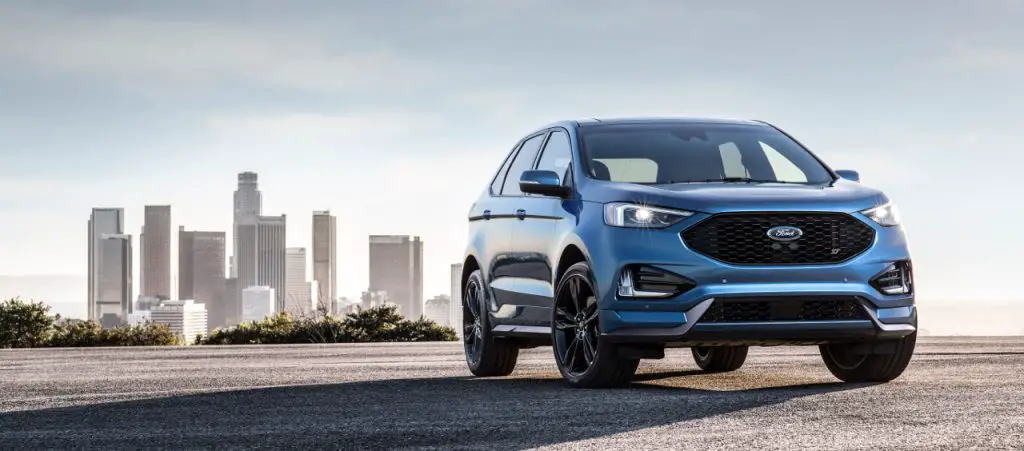 Also shared between all models is a standard Auto Start-Stop system.
The performance enhancements don't stop with the engine, however; as Ford Edge Vehicle Engineering Manager Jonathan Crocker told us, a vehicle has to meet certain acceleration, handling, and braking targets in order to earn the illustrious ST badge. To that end, even the standard brakes represent a sizable improvement over the ordinary models, with far bigger rotors out back. An optional performance brake upgrade builds upon that even further. The suspension, meanwhile, has been upgraded with a higher spring rate and increased damper stiffness for improved cornering.
What's more, the standard ST wheels are 20-inch units, with an available 21-inch upgrade that brings with it Pirelli summer performance tires. And to let drivers take full advantage of the performance equipment, the 2019 Ford Edge ST has been fitted with two different levels of ESC-off. The first is sort of a "relaxed" mode, as Crocker calls it, allowing for some hoonery before the electronic nannies kick in, while the second defeats the system even further, although roll control is always on.
Technology
Finally, perhaps the area with the largest amount of change, there's the high-tech features. An embedded modem comes standard on all 2019 Ford Edge models, meaning it gets onboard 4G LTE access and a built-in mobile WiFi hotspot that can support up to ten devices. The modem also means there will be expanded functionality for customers who use Amazon's Alexa voice service; owners will be able to access their vehicles remotely using Alexa to do things like lock or unlock the doors, start the engine, and check the fuel level.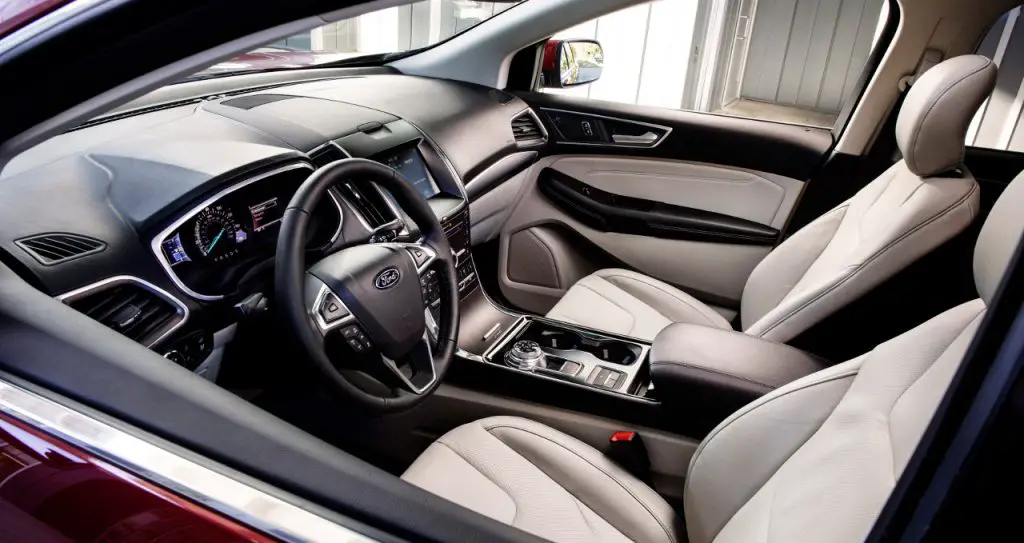 On top of that, there's a veritable multitude of standard and optional active driver assist technologies. Standard assists include hill start assist, Blind Spot Information System (BLIS) with Cross Traffic Alert, automatic high beams, lane keeping system, Forward Collision Warning with brake support, Pre-Collision Assist with Pedestrian Detection, and for the first time in any Ford vehicle, Post-Collision Braking. Optional driver assists include Enhanced Active Park Assist, Adaptive Cruise Control with Stop-and-Go and Lane Centering, and Evasive Steering Assist.
That last system, also brand-new to Ford, is of particular interest; if the vehicle detects that it's coming up on an obstacle where an evasive steering maneuver is warranted, it will administer a warning, reduce steering effort in the appropriate direction, and automatically provide maximum yaw damping and stability control to support a quick, sudden evasive maneuver.
---
The timing of the Ford Edge's refresh is shrewd; the automaker is just coming off its best year ever for crossover/SUV sales, and the Edge performed particularly well in the showroom in 2017, enjoying its best full-year sales since its 2006 introduction with 142,603 units shipping in the US. True Ford Performance fans might be put off by the automaker's decision to do away with the "Sport" trim level and replace it with the all-new ST, but the average Edge customer isn't likely to mind – and in fact, might even prefer it.
The refreshed, 2019 Ford Edge will be available this year starting in the late summer.