Ford today unveiled its first-ever ST-badged crossover model: the 2019 Ford Edge ST. It replaces the potent Edge Sport in the lineup, with the same familiar 2.7-liter EcoBoost V6 now making 335 horsepower and 380 lb-ft of torque, compared to the 315 horse and 350 lb-ft in the Sport. It also features upgraded braking equipment compared to the standard Edge, a sport-tuned suspension with firmer springs and more damping, and a stability control system with two different levels of "off-ness".
Where it differs most from the ST-branded Ford's of the past is in its sole available transmission – a brand-new 8-speed automatic, shared with the rest of the 2019 Edge lineup – and its standard all-wheel-drive. Jonathan Crocker, the Vehicle Engineering Manager for the 2019 Ford Edge, explains that the first-ever Edge ST isn't a "narrow-use" performance vehicle made for the "weekend warrior," like the STs of the past. Rather, it was built to satisfy the performance-hungry crossover buyer who wants access to impressive performance every day of the week, rain or shine, whether commuting to work or taking the family on vacation.
Granted, one can easily commute and vacation with the Focus ST, but we'll set that aside for now.
But Ford, by applying an ST badge to its new high-performance version of the 2019 Edge, has raised an interesting question: Is vehicle performance truly the only essential character quality of an ST, or has the badge come to stand for something more?
What's In A Name?
"ST" stands for "Sport Technologies," and in the present day, it's come to be associated with small, engaging, sporty performance hatchbacks like the Ford Fiesta ST, Ford Focus ST, and… that's it. The European market has a whole range of "ST-Line" models available to them: vehicles that are given spunky, ST-like styling, and perhaps a few suspension upgrades. Why call these models "ST-Line" and not "ST"? Presumably so as to avoid diluting the brand.
Of course, those cars all fall short of the eminent "ST" designation on performance, which the 2019 Ford Edge ST has very little risk of doing. We expect 0 to 60 mph to come in the low-5-second range, and Crocker tells us that the Ford Performance division, which helped develop the vehicle, has stringent braking and handling requirements that must be met in order for something to wear the badge.
But there's something else that's come to define the ST range, apart from the presence of a manual transmission: a certain aesthetic. Stylistically, the Focus ST is the automotive equivalent of a backwards baseball cap: loud, juvenile, and perhaps a bit obnoxious. The Fiesta ST is every bit as much a wild child. Both have big, protruding rear spoilers; aggressive, gaping front ends; and quite often, violent splashes of color in the interior.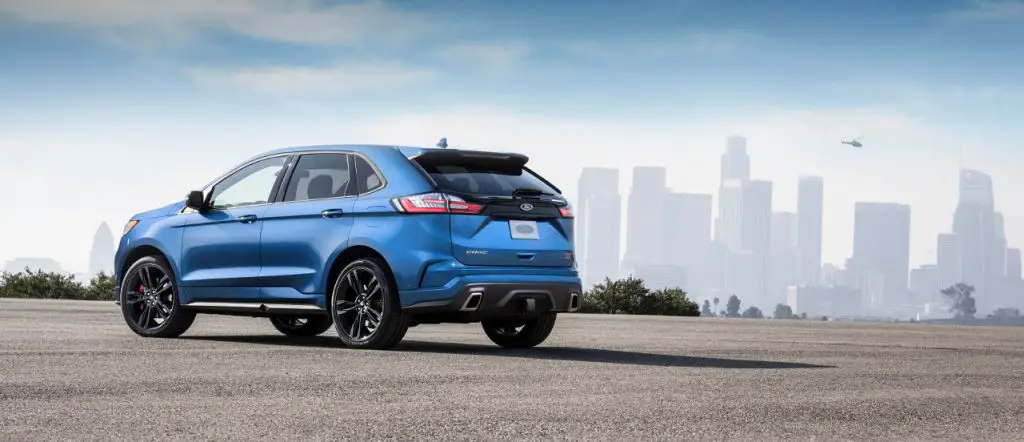 The Ford Edge ST, meanwhile, has none of that. It gets the same pedestrian spoiler that's found on the more basic Edge models, the same gloss black panel on the liftgate, and up front, an upper grille that's no bigger or more aggressive-looking than on those CUVs. The lower grille is marginally bigger, lending it a bit of, erm, "edginess," but otherwise, it's all grown-up – subdued, even. In all fairness to a vehicle we haven't driven yet, if appearances are any indication, it seems unlikely to pack the same zany, screw-loose sense of excitement.
The standard brake calipers aren't even painted red; you have to splurge on a performance brake upgrade package to get those.
---
We want to like the all-new, 2019 Ford Edge ST – we really do. If readily-available, affordable performance vehicles are to survive as a growing number of consumers select crossovers and SUVs over cars, brands like Ford's ST will have to translate to bigger vehicles, and sell in respectable volumes.
Sadly, though, it doesn't seem as though Ford has made the same earnest attempt to create a fun, engaging performance crossover like, say, Nissan did with the Juke Nismo. That small, nimble little CUV does offer an optional manual transmission, and the red door mirror caps suggest that, like the Fiesta ST and Focus ST, it's a vehicle that doesn't take itself all too seriously. By contrast, the Ford Edge ST seems a bit half-hearted and restrained.
Hopefully, a test drive is all it takes to prove us wrong.