When the Ford Mustang GT debuted the Blue Oval's new 5.0L "Coyote" V8 engine for 2011, the powerplant represented a big leap forward for the pony car. Previously, the car had gotten by with a version of Ford's 4.6L Modular V8, but the new Coyote had four valves per cylinder to the 4.6's three, helping to boost both specific and total power output considerably.
With the release of the 2018 Ford Mustang GT, we're now in the era of the dual-injected, third-generation Coyote, but that doesn't mean that the lights are out for earlier iterations. In fact, Corsa Performance just announced a new set of catless long-tube exhaust headers for the 2011-2014 Ford Mustang GT, which can improve power and torque output even further by facilitating more efficient exhaust scavenging. Together with Corsa's off-road x-pipe, the earliest examples of the Mustang's 5.0L Coyote can make an extra 31 horsepower and 23 torque, the company says.
In theory, that's enough to puff up the 2011-'14 Mustang GT from 412 to 443 horsepower, making it more powerful than the 2015-'17 model. Torque swells from 390 lb-ft to 412.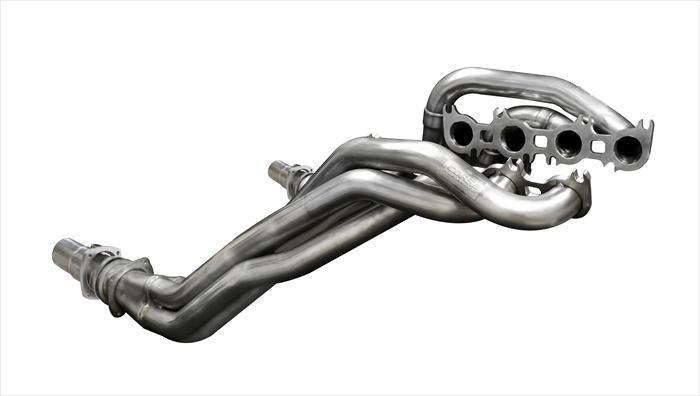 Unfortunately, depending on which state you live in, the Corsa Performance catless long-tube headers and off-road x-pipe might be off the table; neither product is legal for sale in California or other CARB states. Even if you're outside CARB's reach, both components are intended "for offroad use only," meaning they're meant for race cars and track-day toys that won't be driven on the street.
Nor are Corsa's new exhaust parts for the 2011-'14 Ford Mustang GT what we would call "cheap." The long-tube headers are listed on Corsa's website right now with a price tag of $1,416.95, and the x-pipe will set you back another $607.95. Granted, for the price, you're getting some beautiful, well-built parts. The headers, which come with a limited lifetime warranty, are made from 304 Stainless Steel and boast precise, laser-cut flanges. They'd look good under any hood.
For more on Corsa Performance's new catless long-tube headers for the 2011-'14 Ford Mustang GT, visit CorsaPerformance.com.