The legendary 24 Hours of Le Mans endurance road race is just around the corner, and the Ford GT supercar – Ford's modern-day analogue to the original Le Mans-winning GT40 of the 1960s – is preparing to battle for victory for the third consecutive year. The mid-engine, carbon-fiber supercar won the race in the GTE-Pro class back in 2016, on the 50th anniversary of the GT40's first win, but failed to replicate that result the following year, settling instead for second place.
The 2018 running of the Le Mans endurance race will pose the toughest challenge yet for the Ford GT program, as the GTE-Pro class has grown to include 17 superb GT cars and 51 world-class drivers. As in past years, Ford will campaign all four of its race-spec GTs in the all-important race, as racing team owner Chip Ganassi puts it all on the line to bring home a trophy.
"The Le Mans 24 Hours is one of those races that you have circled on the calendar," Ganassi says. "It has everything. It's on an historic track in France, it is an endurance race and it is one of the most spectacular events in the world. When you win a race like Le Mans, you know you have accomplished something. It is multiple drivers, crew members and the right manufacturer all coming together. I can't wait to get back there to compete for another win."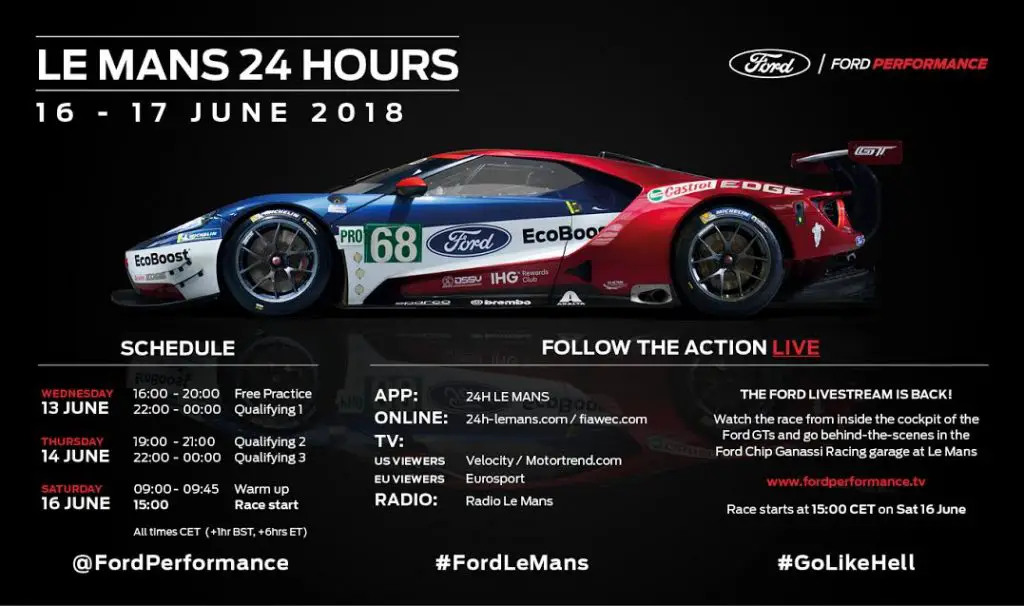 Ford will send a total of twelve drivers to this year's Le Mans race – three per car. Ford GT No. 66 drivers Stefan Mücke, Olivier Pla, and Billy Johnson have had a rough time at Le Mans the past two years, but with a win at Belgium's Spa Francorchamps – the first round of the FIA World Endurance Championship – already under their belts this season, their fortunes are looking up. The No. 67 car, which achieved the Ford GT's best 2017 Le Mans result (second place), will be driven by Andy Priaulx and Harry Tincknell like last year, but IndyCar driver Tony Kanaan will replace fellow Brazilian driver Pipo Derani as the car's third pilot.
The 2016 Le Mans-winning crew of Joey Hand, Sébastien Bourdais, and Dirk Müller will again pilot the No. 68 Ford GT this year, hoping for a second win. And the No. 69 car, which made history by winning Le Mans back in 2016, will again be driven by Ryan Briscoe, Richard Westbrook, and Scott Dixon – the same trio of drivers that delivered the Ford GT's first win of 2018 at the Rolex 24 at Daytona.