The 104-year-old former train station that Ford Motor Company bought in Detroit's historic Corktown neighborhood set the automaker back a total of $90 million, according to a disclosure on Detroit's property sales history page, uncovered by Crain's Detroit Business. At that price, Ford paid $150 per square foot for the 600,000-square-foot Michigan Central Station – a tremendous rate for a decrepit building that was planned for demolition as recently as 2009.
"DAMN!!!!!" said Dennis Bernard – Founder and President of local commercial mortgage banking firm Bernard Financial Group – in an email to Crain's. He was evidently surprised by the cost.
The exact price tag of Michigan Central Station has been the subject of curiosity from pundits and those working in commercial real estate for some time. Ford sees the iconic landmark and other hip locations like it as important tools with which to lure talented young employees away from competing automakers and tech companies in Silicon Valley. It will serve as the central focus for a new Ford Motor Company campus in Detroit, which will be paid for – at least in part – with some of the money that the automaker had intended to invest into completely revitalizing its Dearborn campus.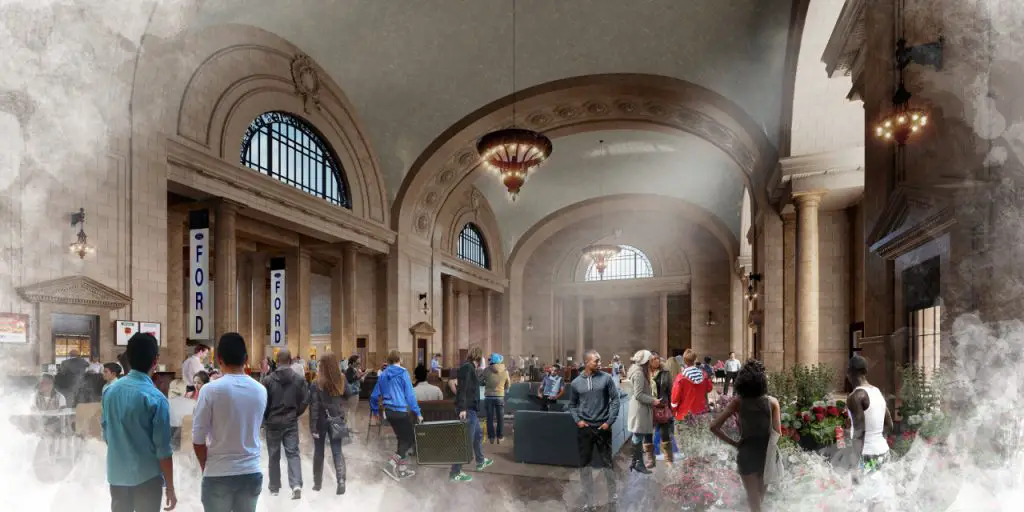 Ford closed the deal to purchase Michigan Central Station from the prominent Maroun family in May of this year. According to Crain's, the building is expected to house some 313,000 square feet of office space, 60,000 square feet of event space, 43,000 square feet of commercial space, and 42,000 square feet of residential space, split up into about 40 units. Rehabilitating and building out the former train station will first involve sealing it against the elements, drying it out, and replacing its many windows with something more period-correct.
The nearby former Detroit Public Schools book depository is expected to be turned into 205,000 additional square feet of office space, along with 20,000 square feet of commercial space.