Such is the popularity of the latest-generation Ford GT supercar that Ford Motor Company has made the decision to extend its production plans yet again, tapping Canada's Multimatic to produce an extra 350 examples beyond its previously-planned 1,000-unit run. This is, in fact, the second time that Ford has extended its production plans for the Ford GT; initially, the automaker planned a run of just 500 units, announcing in August, 2016 that it would extend production over another two years.
The initial 2016 decision to extend production was made partly to "satisfy more of [Ford's] most loyal [brand] ambassadors," according to then-Ford Performance Global Director Dave Pericak. And partly, it was made so that Ford could keep the Ford GT racing in the North American IMSA SportsCar Championship and global FIA World Endurance Championship for an extra two years.
So, does this second extension mean that Ford Performance is looking to extend its Ford GT racing program yet again? That much is unclear. We reached out to Matt Leaver of Ford Performance Communications by email, who said only: "We have no news to report on the Ford GT racing [program] at this time."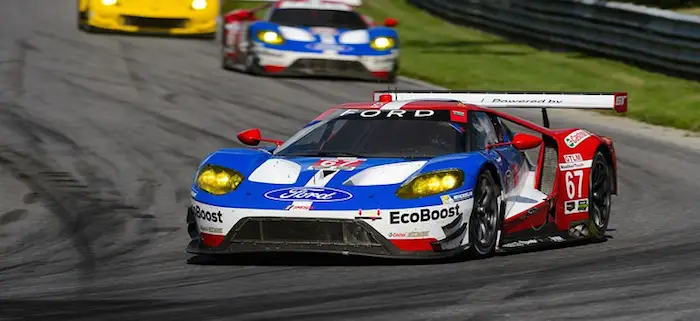 About The Ford GT
The second-generation Ford GT is a high-powered, rear-mid-engined supercar, developed primarily with the goal of winning the famous 24 Hours of Le Mans endurance race in 2016 – the 50th anniversary of the Ford GT40's first win. It did that, besting the competition in the LMGTE-Pro class to claim first and third on the podium.
The current Ford GT is powered by a twin-turbocharged, 3.5-liter EcoBoost V6 honed over years of racing in the Ford EcoBoost/Riley Daytona Prototype race car in the IMSA SportsCar Championship. It develops a whopping 647 horsepower in street spec, sent to the rear wheels through a seven-speed, dual-clutch transmission, and powering the supercar to a top speed of 216 miles per hour, with 0-to-60-mph acceleration in the 3-second range.
Due to the model's exclusivity and large price tag (around $450k U.S.), Ford has been selective with regard to just who it will sell its latest GT supercar to, requiring all prospective buyers to submit applications meant to assess whether they would act as good ambassadors for the brand. As a result, some high-profile celebrities and automotive VIPs have ended up with examples of the Ford GT, including Jay Leno, John Hennessey, and YouTuber Shmee150.