American rally driver and Gymkhana star Ken Block has a new toy to toss around in his upcoming Gymkhana Ten stunt driving video: a 1977 Ford F-150 named "Hoonitruck". Like all of Block's recent Gymkhana cars, it's packed with excessive horsepower – 914 horses' worth, to be exact – and built to take a thrashing.
That power comes from a 3.5-liter, twin-turbo EcoBoost V6, giving the Hoonitruck something critical in common with the Le Mans-winning Ford GT supercar, but that's not its only tie to the racing world. It's also equipped with a "rally-bred AWD system", a bed-mounted fuel cell, and it boasts a rather racy-looking cage. The truck rolls on 20-inch Fifteen52 "Turbomac HD" wheels with Toyo Tires Proxes ST III rubber, and packs a mean set of Wilwood brakes with massive slotted rotors.
All chassis, bodywork, and fabrication was handled by Detroit Speed in Mooresville, North Carolina, with aesthetic direction coming from Block's Hoonigan crew.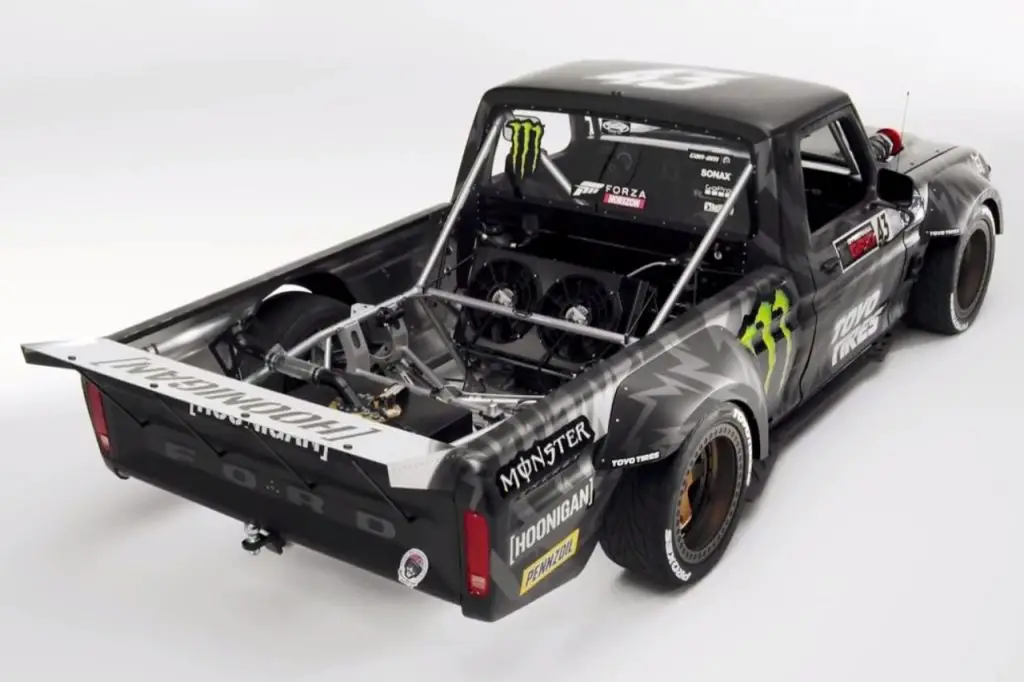 Ken Block's choice of a 1977 Ford F-150 is, in part, simply due to his love of Ford trucks, he says, and partly an homage to his late father. His father had a Ford F-150 of the same vintage, which Block says he learned to drive on at the tender age of 15.
"This project has been in the works for about 2 years," Ken Block says. "I'm beyond pleased with how it turned out, it's simply one of the most badass and unique vehicles I've seen in a long time and I think it compliments my Hoonicorn [Mustang] perfectly. It's also crazy to be throwing something around that's this size when doing Gymkhana-style driving. But, it looks absolutely wild on camera, and that was our goal from the start.
"I can't wait for the fans to be able to see it in action, I think they're gonna love it!"
Gymkhana Ten will launch alongside the Gymkhana Files as an eight-part series on Amazon Prime November 16th. We'll be waiting with bated breath to see how it's turned out.