We've all seen cars lap the Nurburgring quickly. It's not such an impressive feat anymore – give anything sticky tires, a fancy electronic differential and a fearless German driver and it will probably navigate the 12.9-mile 'Green Hell' rather quickly.
Ford Performance and professional drifter Vaughn Gittin Jr. must have thought the same thing, because rather than just driving around the world-famous German circuit, the American driver has drifted it. Yep, the entire thing. All 12.9-miles of it – Karussel and all.
"The Nordschleife is one of, if not, the most iconic track in the world and I have been in love with the danger and folklore of the famous Green Hell at the Nürburgring since I can remember," Gittin Jr. explained. "I finally went there in person in 2013 and it was then that I made a promise to myself that one day I would return to drift it in its entirety. Drifting the Nürburgring represents the ultimate challenge to me: it is something that many questioned whether it would be possible and whether the car and driver could do it and come out in one piece. Something inside of me had to take this on to find out."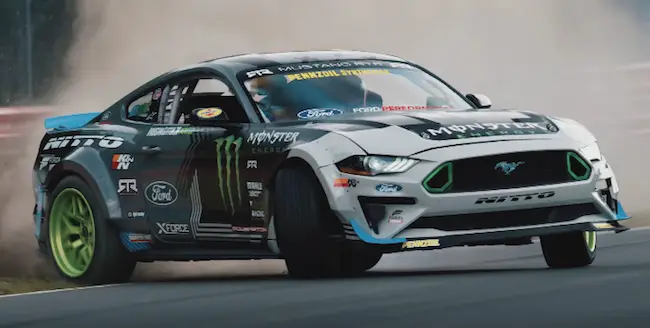 Gittin Jr.'s feat is certainly impressive, but he couldn't have done it without the proper machinery. His drift-spec Mustang RTR features a 5.0-liter V8 with a Vortech supercharger putting out somewhere between 700 hp and 900 hp, which is paired with a 6-speed sequential gearbox from PPG Performance. Surprisingly, Gittin was on road-legal NT555 G2 tires for the record-breaking run, although they didn't hold up for the entire lap.
"Everything changes when you're going sideways at those speeds," he said. "When we stopped for the first tire change I was elated. I had to catch my breath, which is something I have never experienced behind the wheel since I was a rookie in Formula Drift."
Check out the hair-raising drift run in the video embedded above.