American's love trucks and no matter if you live in an urban setting or out in the country somewhere, drive a few miles and the Ford F-150 will be spied cruising the streets somewhere. Ford's venerable F-150 is the best selling vehicle of any kind in the entire country, making it a common site in the U.S., which can be a problem for buyers who want a truck and also have the need to stand out in a crowd. This is where Roush comes in with the 2019 Roush F-150. Roush is a name more commonly associated with hopped-up Ford Mustangs, such as the 710 horsepower Jackhammer Mustang. Roush has been massaging Ford trucks from mild builds, like this Roush F-150, to wild rides like its 2018 Roush F-150 SC packing a supercharger and 650 horsepower.
The 2019 Roush F-150 certainly lands on the modest side compared to the F-150 SC as the former lacks a supercharger and is more off-road oriented. The truck is built on either an F-150 XLT or Lariat Supercrew 4WD and can be had with any engine that Ford offers. Factory Ford engine offerings include a base 3.3L Ti-VCT V6 engine or optional 2.7L EcoBoost V6, high-output 3.5L V6 EcoBoost, or 5.0L Ti-VCT V8. Roush fits its beefed-up truck with its dual tip cat-back Performance Exhaust System as standard with its premium Active Exhaust system as an option.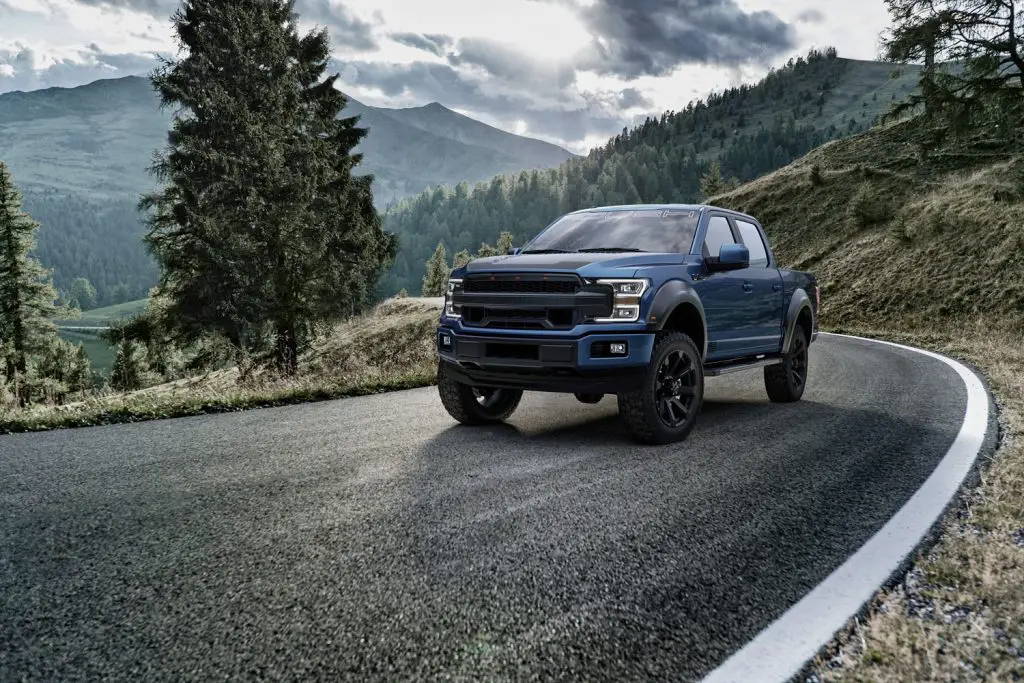 Roush's Active Exhaust system is a neat bit of kit as it has active valves controlled via a mobile app or console mounted switch to vary the noise depending on your situation. When owners need to slink out of the house without making any ruckus, the exhaust has a quiet mode, and when you want to rouse the neighborhood, the loud mode is a flip of a switch away. The app also allows the user to customize settings to their tastes based on rpm, vehicle speed, and accelerator position. The ability to customize the sound at those three settings should mean drivers can kill any exhaust drone that might annoy on long highway rides.
Roush also turns its hand to making the 4×4 truck's suspension performance better, giving enhanced comfort on the road and improved performance off the road. Fox 2.0 suspension is leveraged for extra suspension travel and provides a two-inch front lift for leveling the truck out. Rolling stock features 20-inch Roush wheels wrapped in General Grabber ATX LT305/55R20 all-terrain tires for improved performance on and off-road. Suspension, exhaust, wheels, and tires aren't the only tweaks made to the 2019 Roush F-150; Roush also fits the truck with a slew of aesthetic modifications to make it stand out on the road. These modifications include a Roush signature front grille with accent lighting, fender flares with accent lighting, front bumper cover, and a square "R" hitch cover.
Options for visual upgrades include a Roush Soft Tonneau Cover by ExTang and several Roush graphics packages. Inside the truck, tweaks include molded floor liners by WeatherTech and a serialized console badge. Buyers wanting to go all out inside the truck can add an optional black and carbon leather seat upgrade, console vault, and off-road utility kit. All this Roush goodness comes at a cost; the Roush F-150 starts at $13,450 over the factory 2019 F-150 price, which is already a bit heady these days. A base model 4×4 F-150 XLT with the 5.5-foot bed, no options, and the standard V6 will set you back $43,669 according to Ford's configurator. Building a Roush truck on that base Ford will clobber your wallet to the tune of $57,119. Roush's configurator is live to allow you to build your dream F-150 package.
Stay tuned for Ford Authority for more Ford F-series news.