Some folks have given up the tradition of going Christmas tree hunting, opting for an artificial tree from a box store instead of going out and cutting down the real thing. This saves you the hassle of the driving out into the county (usually during a snowstorm) and you don't have to constantly vacuum up needles throughout the holidays, but you have to admit, there's something special about a real christmas tree and its piney scent.
Five-time Lucas Oil Off-Road champion Kyle LeDuc seems to agree with us. The Pro 4 class racing driver has teamed up with his sponsors over ay Toyo Tires to put together a holiday video that has us thinking back to the days before artificial trees were even a thing.
In the video, LeDuc goes to a christmas tree farm, picks himself out a real christmas tree and straps it to the roof of his truck – similar to many other Americans. What sets LeDuc apart is his truck. This isn't any normal Ford F-150 LeDuc is driving – its his 900 hp Pro 4 racing truck. He then races home in true Lucas Oil Off-Road Series style, throwing up dirt rooster tails as he drifts and jumps his way home.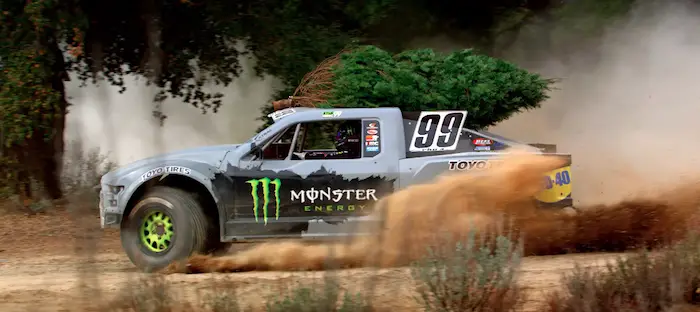 If you're wondering, a Pro 4 truck is the top class in the Lucas Oil Off-Road Series. They typically make 700hp-900 hp in race spec and have four-wheel drive, of course. They feature bodies modelled after real-world production pickup trucks, with LeDuc's truck being a Ford F-150.
While the trucks are good for racing – they aren't so good for christmas tree delivery. As you'll see after watching the video, a 900 hp race truck running at full title through a desert is enough to turn your Christmas tree into a pile of sticks and pine needles. Looks like Kyle is headed back to the Christmas tree farm.
Happy holidays, Ford fans!