Ford Motor Company has filed applications to register Mach E and Mach-E as trademarks with the United States Patent and Trademark Office (USPTO), Ford Authority has discovered.
Filed on November 26th, 2018, the applications specify that the marks will be used in conjunction with the following goods and services category: "Motor vehicles, namely, electric vehicles, passenger automobiles, trucks, sport utility vehicles, off-road vehicles, and structural parts, fittings, and badges therefor; metal license plate frames."
| Trademark | Filing Date | USPTO Serial Number |
| --- | --- | --- |
| Mach E | November 26, 2018 | 88205023 |
| Mach-E | November 26, 2018 | 88205681 |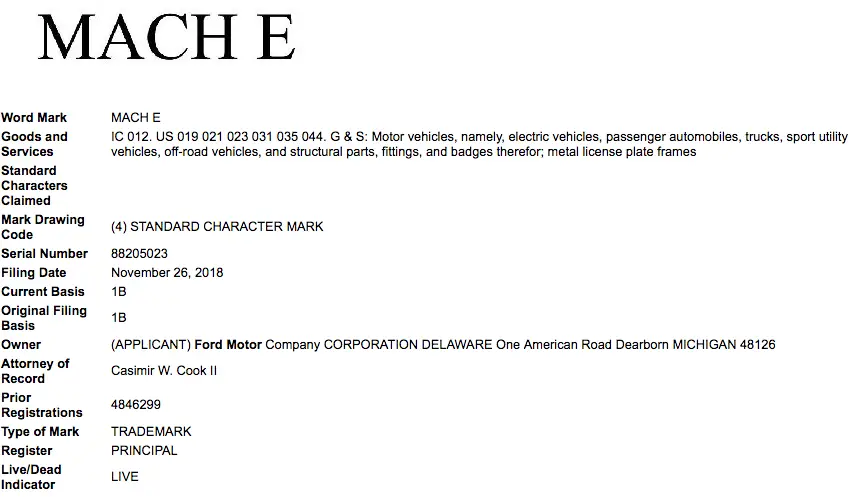 The Ford Authority Take
Based on this trademark filing, it would appear that Ford is planning on using the Mach E or Mach-E moniker, probably to name the high-performance derivatives of its upcoming electric vehicles. The name builds on the well-known and (generally) well-respected Mach moniker that Ford used in the past. For instance, we can imagine the Mach E name being applied to various future Ford models.
Back in May, we shared a list of confirmed future Ford electric vehicles and electrified variants. The list includes various hybrid models, as well as two crossovers. The first is an unnamed electric crossover with a 300-mile range, while the second is an unnamed, performance-oriented crossover.
Stay tuned to Ford Authority as we learn more, as well as for more Ford news coverage.