Ford has filed to reserve the 'Thunder' name with the United States Patent and Trademark
Office, registering it for use on "motor vehicles," and related parts, according to the filing.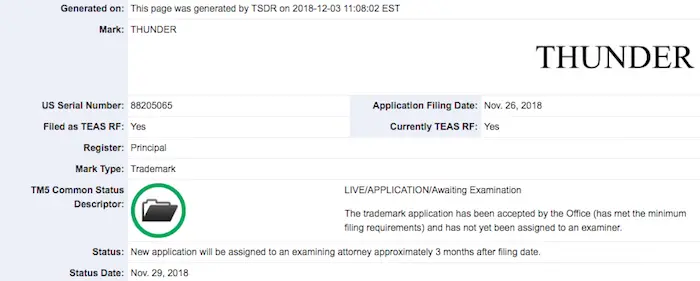 Ford filed to reserve the 'Thunder' name on November 21st, 2018, so this is a relatively recent filing from the company. We could see it appear on a concept vehicle sometime in 2019, perhaps, or even on a production car sometime after.
The Ford Authority Take
We all remember the Thunderbird, so it's fascinating to see Ford take an interest in a similar name – even if it's been shortened down to just 'Thunder'.
Ford also linked to its filing for the Thunderbird name and the Thunderbird logo under the 'related properties information' tab in the trademark application. This isn't a sign that the 'Thunder' name is any way related to the Thunderbird, but again, it serves as reminder that Ford has a history with 'Thunder'.
Additionally, we dug up a trademark application that Ford had filed with the European Intellectual Property Organization for the 'Ranger Thunder' name last month. We suspect the Ranger Thunder name is reserved for a special edition version of the European-spec Ranger pickup. Ford once used the 'Thunder' name for a trim level of the global spec third-generation Ranger, so it would make sense. Perhaps this US filing could be related to the Ranger in some way as well.
The Thunder trademark application comes just after we discovered another interesting trademark filing from the brand for 'Mach-E'. We suspect that 'Mach-E' will be the name of the automaker's forthcoming Mustang-inspired electric performance crossover. Ford had originally intended to call the vehicle the Mach 1, but went back on that decision following a negative reaction from customers and fans of the brand. 'Mach-E' is a good middle ground, fulfilling Ford's desire to give the crossover the  'Mach' moniker without desecrating the storied Mach 1 name.
(source: USPTO]