Ford Performance had a big year in 2018, with Joey Logano winning the Monster Energy NASCAR Cup Series and the automaker also rolling out a new-for-2019 NASCAR Mustang race car body.
To celebrate its successful year, Ford called up Logano and Formula Drift Champion Vaughn Gittin Jr. for some smoky, tandem drifts on the 'Roval' infield road course at Charlotte Motor Speedway. Gittin was in his specially prepared Formula Drift Ford Mustang GT, while Logano was in the new NASCAR Mustang – marking the first time to the new race car has been captured running on video.
"Drifting door-to-door in the new Roval infield at Charlotte Motor Speedway with Joey behind wheel of the new 2019 NASCAR Mustang was a wild and fun experience", Gittin Jr. said. "I have never seen a driver from another [racing] discipline take to drifting like Joey did. After a bit of instruction he was linking turns and I was comfortable to get super close. A true Fun-Haver at heart, Joey's smile from ear-to-ear said it all for me!"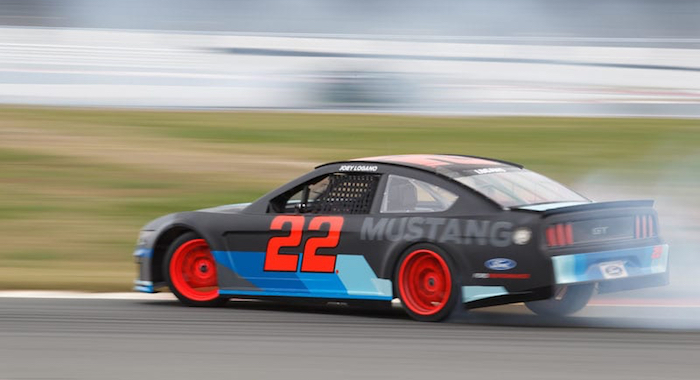 "This was a really fun way to be welcomed into the Mustang family," Logano added. "I'm looking forward to doing more Mustang burnouts and donuts on the way to victory lane next year!"
Interestingly, Ford had to swap out the NASCAR-spec wheels and tires on the Cup Series Mustang out for something a bit more drift appropriate. The flexible sidewall and soft nature of the racing tires wouldn't have mixed well with the heat and lateral forces generated by drifting, so the NASCAR Mustang is equipped with larger alloy wheels in the video. They aren't just any alloys, either – they are a pair of RTR wheels from Gittin's own Mustang-obsessed tuning brand, RTR vehicles.
Check out the tandem drift video below. It may be the only time you'll see a NASCAR Cup Series car get completely sideways in tandem with a Formula Drift car, so if you're a motorsports fan, you won't want to miss it.