Ford fans recently got their first look at the NASCAR Mustang in action when the American automaker released a video of the 2018 NASCAR Cup Series champion Joey Logano drifting it at the Charlotte Roval.
In that video, Logano was drifting his new ride alongside Vaughn Gittin Jr., who was piloting his wild-sounding Formula Drift Mustang. It was quite the sight to behold – after all, the NASCAR Mustang isn't really made for drifting. Sure, Ford put some larger wheels and lower profile tires on the Cup Series car  and made Logano's job a little bit easier, but the driving on display in the video was definitely impressive.
Now Ford has released a video going behind the scenes with the Ford Performance crew as they shot the video. The video shows the team converging at the road course at Charlottle Motor Speedway, going over some story board ideas and then going out getting some shots. It's interesting to see two pros like Gittin Jr. and Logano do what they do best and work together and it's also cool to see how excited they are when the footage turns out.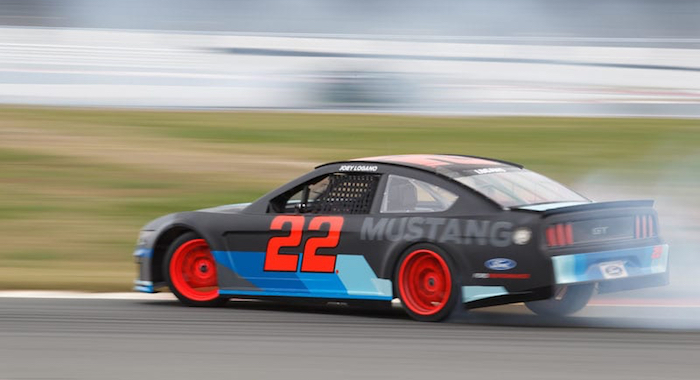 "Drifting door-to-door in the new Roval infield at Charlotte Motor Speedway with Joey behind wheel of the new 2019 NASCAR Mustang was a wild and fun experience", Gittin Jr. said. "I have never seen a driver from another [racing] discipline take to drifting like Joey did. After a bit of instruction he was linking turns and I was comfortable to get super close. A true Fun-Haver at heart, Joey's smile from ear-to-ear said it all for me!"
"This was a really fun way to be welcomed into the Mustang family," Logano added. "I'm looking forward to doing more Mustang burnouts and donuts on the way to victory lane next year!"
Be sure to check out the behind the scenes footage of the tandem drift video below. The NASCAR Mustang will enter its first series race for points when the green flag for the Daytona 500 falls on February 17th, 2019.