We've had a few days to watch and re-watch Gymkhana 10, Ken Block's latest tire slaying film. And you have too, apparently. At the time of this writing, Gymkhana 10 has over 7 million views after just four days on YouTube. The film features five cars in five locations and after watching several times, we want to break down each Ford that appears in the film. We should also discuss the numerous cameos, and our favorite moments from the 19 minute film.
All Of  The Cars Of Gymkhana 10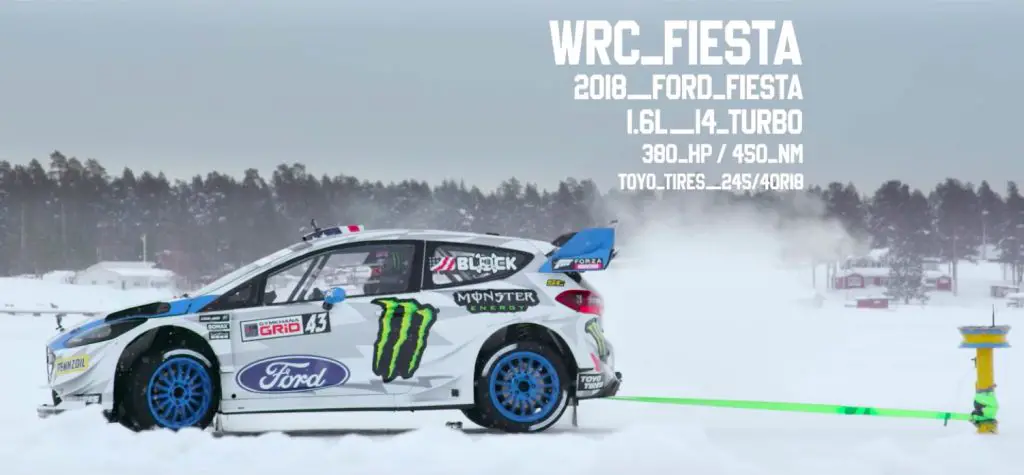 The film begins in Sweden with Block in his 2018 WRC Fiesta packing a 380 horsepower  1.6-liter turbocharged four-cylinder. Arguably some of the best jumps of the film happen as Block hangs on for grip along a snow and ice covered body of water. The wide open, bright shots are something new compared to previous Gymkhana films. Driving on ice and snow is a new look, and it looks very good. Slow motion shots allow viewers to watch as the Fiesta launches snow into another dimension all while barely avoiding obstacles strategically placed throughout shots.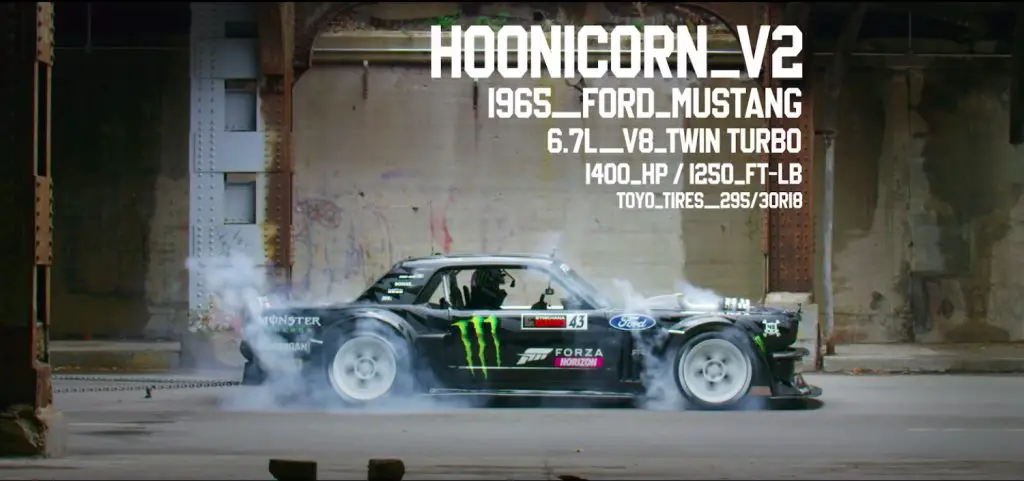 Next, we see Block in the Hooincorn V2, which for those of you unfamiliar with his previous videos, is a 1965 Mustang equipped with a massive 6.7-liter twin-turbocharged V8. He destroys many tires around the streets of Detroit quite easily thanks to 1400 horsepower and 1250 lb-ft of torque and a sequential transmission driving all four wheels. It's a car that needs little explanation. It's fast, loud, and outright entertaining to watch.
The third car to appear is Block's 2017 Focus RS RX with 650 horsepower from a 2.0-liter Ecoboost four-cylinder. He slides it around the narrow streets of Guanajuato, Mexico and even takes out a few piñatas during a high-speed power slide. The Focus is a bit larger than the WRC Fiesta, but Block has no trouble maintaining control as he squeezes around corners and somehow avoids a row of motorcycles while drifting around a hairpin.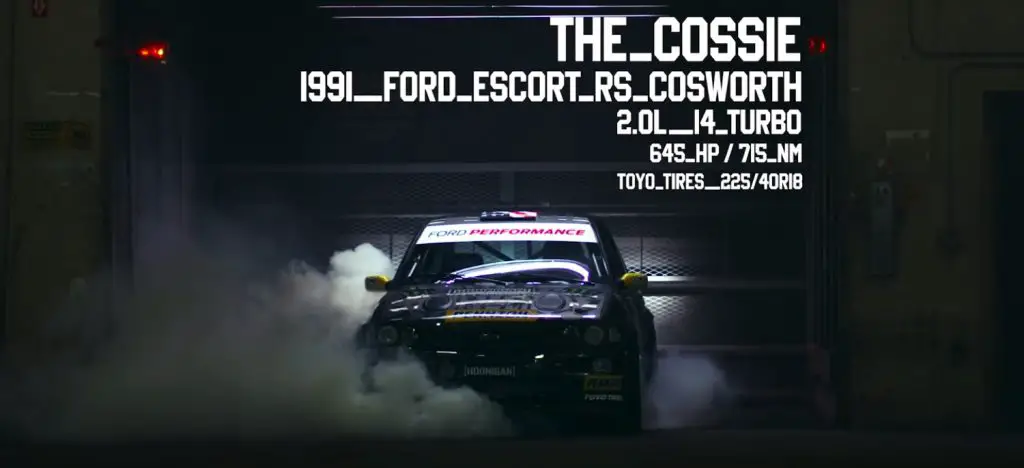 The fourth car brings back all of the 90s feels. Dubbed 'The Cossie', Block's 1991 Ford Escort RS Cosworth is shown sliding, jumping, and drifting with and without tires. You read that right, half of the time The Cossie is on camera, there are no tires mounted to the Fifteen 52 wheels. When you combine 645 horsepower from a turbocharged four-cylinder and all-wheel-drive you get one of two things: lots of tire smoke, or lots of sparks. It makes for some mind-blowing slow motion camera shots that are unique to Gymkhana 10.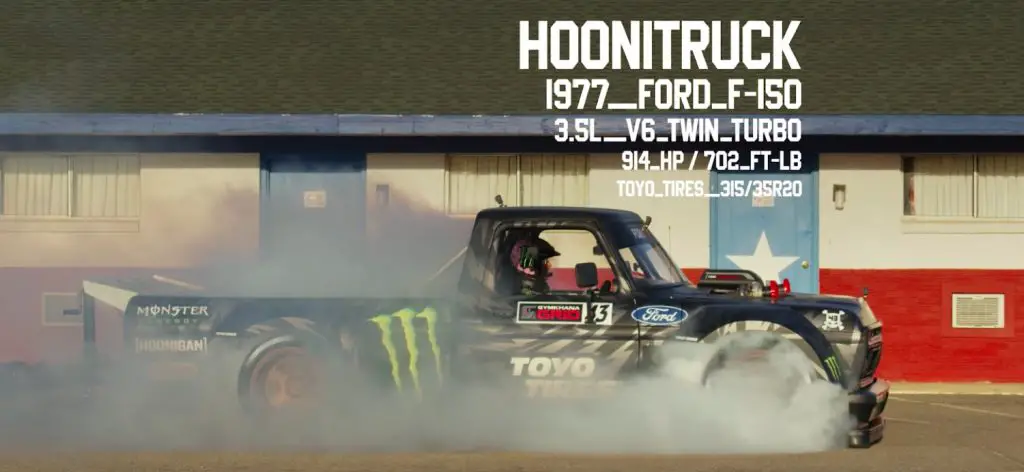 The final car, new for Gymkhana 10—but not a secret to Ken Block fans, is the Hoonitruck. Essentially, it's a 1977 Ford F-150 with a 3.5-liter twin-turbocharged V6 from a Ford GT race car. It pumps out 914 horsepower and 702 lb-ft of torque, while 315 section Toyo Tires explode into smoke with the slightest application of throttle. The truck combines 70s cool with modern performance and looks menacing as it ravages its way along Route 66 in Shamrock, Texas.
The Cameos
There are lots of cameos in Gymkhana 10, including a teaser at the conclusion of the film that should make for some amazing future content from Hoonigan. Just over three minutes into the film, Oliver Solberg, a 16-year-old Nordic RX Champion enters in his silver Fiesta. He is shown tandem drifting with Block around a pool of icy water, meanwhile a man is swimming inside of said pool. It makes for one of the more hilarious shots of the film, and shows off the skills of Soldberg quite impressively.
Next we see Rob Dyrdek, a long-time friend of Block's enter the film at the 12 minute mark. He's stuffed into a tiny go-kart version of the Escort RS Cosworth that Block is driving. Block proceeds to drift circles around Dyrdek with and without tires mounted on the car.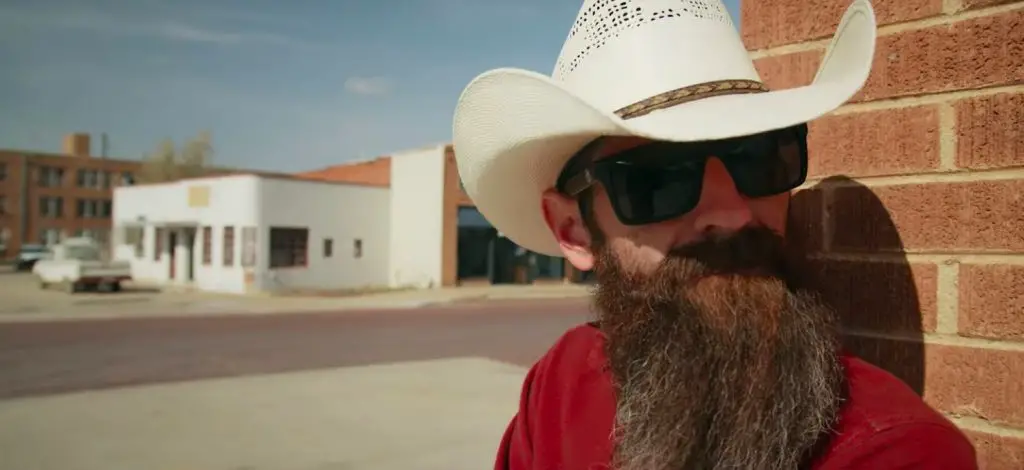 The third cameo, and one that's easy to miss comes nearly 15 minutes into the film. As Block begins his stint in the Hoonitruck, we see him driving along Route 66 in Shamrock, Texas while a distinctly familiar bearded man stands outside of a building. It's Aaron Kaufman, formerly the lead mechanic at Gas Monkey Garage, and now on his own program: Shifting Gears with Aaron Kaufman. Kaufman is a Texas native and F-100 enthusiast, so it is fitting that he shows up in this scene.
Finally, at the conclusion of the film we see number 199 aka Travis Pastrana come into frame. Pastrana rides in on his signature yellow motocross bike, but it gets interesting as he parks his bike and hops into Block's Hoonitruck. Pastrana starts the truck and 'to be continued' flashes on the screen. It was a great way to end the film and gets us excited for a future video.
Our Favorite Moments From Gymkhana 10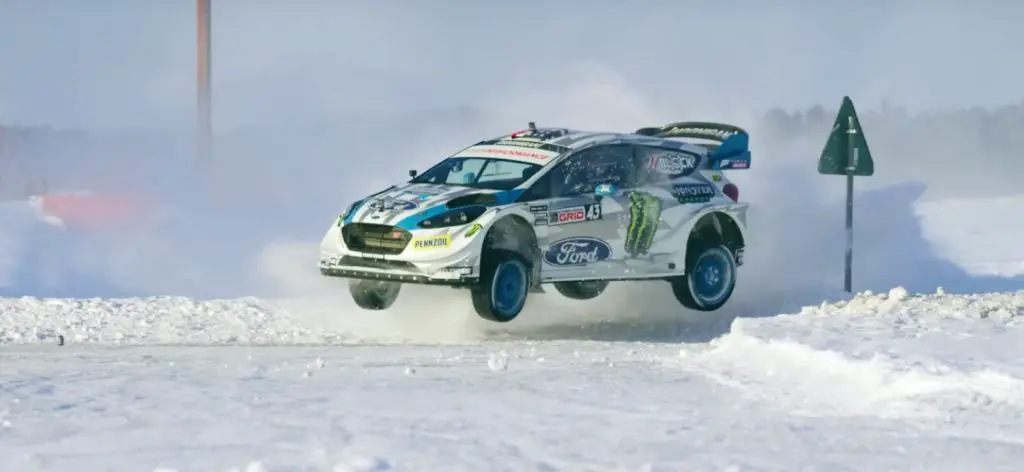 2:35-2:45 Block jumps the Fiesta WRC twice, the second time getting so sideways we wonder how he manages a smooth recovery.
3:09 Oliver Solberg, a 16-year-old Nordic RX Champion in a silver Fiesta tandem drifts with Block around a pool of icy water, meanwhile a man is swimming inside of said pool.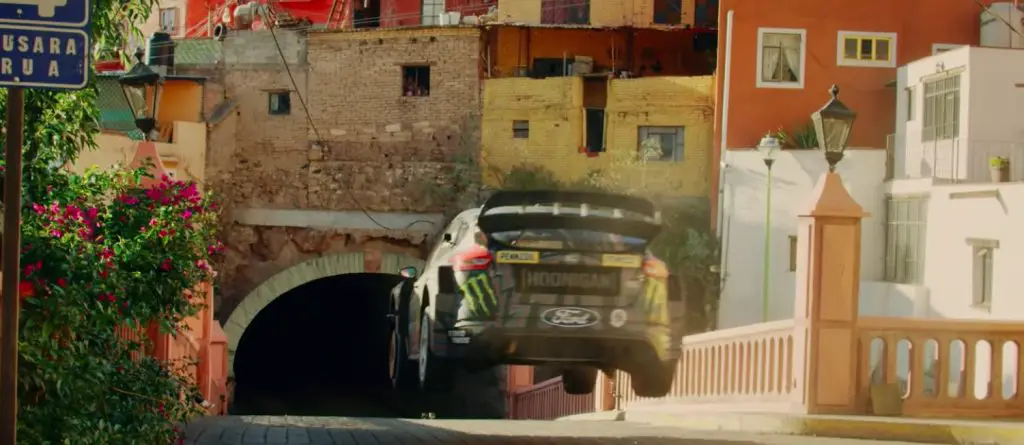 8:50 Block performs a massive jump while driving the Focus RS RX in Guanajuato, Mexico.
9:25 Block side swipes some piñata in Mexico in the Focus RS RX.
9:48 Block somehow misses a row of motorcycles parked in a marketplace in Mexico while drifting around a super tight hairpin.
12:06 Rob Dyrdek enters in a go-kart version of the RS Cosworth and Block drifts around him while Dyrdek performs a mini burnout.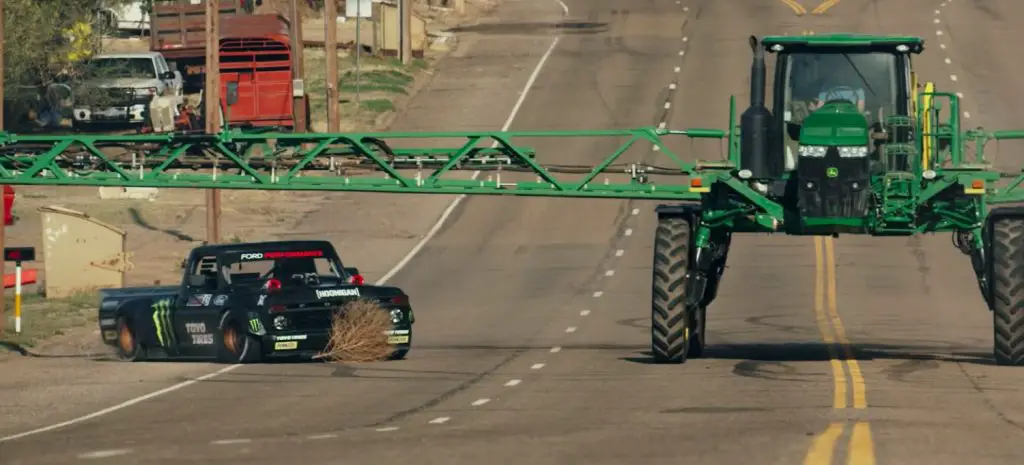 13:20 Block drifts the Hoonitruck through a gas station on Route 66, then moments later he drives under and around a massive John Deere farming combine.
14:48 Aaron Kaufman cameo.
18:30 Travis Pastrana cameo with 'to be continued' flashed on the screen as he starts up the Hoonitruck.
What are your favorite moments of Gymkhana 10? What is your favorite Ford that Block drives? Let us know in the comments so we can, you know, rewatch the film again. If you've read this far and still haven't watched Gymkhana 10, you should probably go do that now. You'll thank us later.