Ford NASCAR drivers, country music stars and famed tuners took their visions and created a varied collection of 2018 SEMA F-Series pickups. Get ready to go off-roading, tailgating, or do some heavy-duty camping. Here are the seven F-Series trucks that Ford brought to SEMA: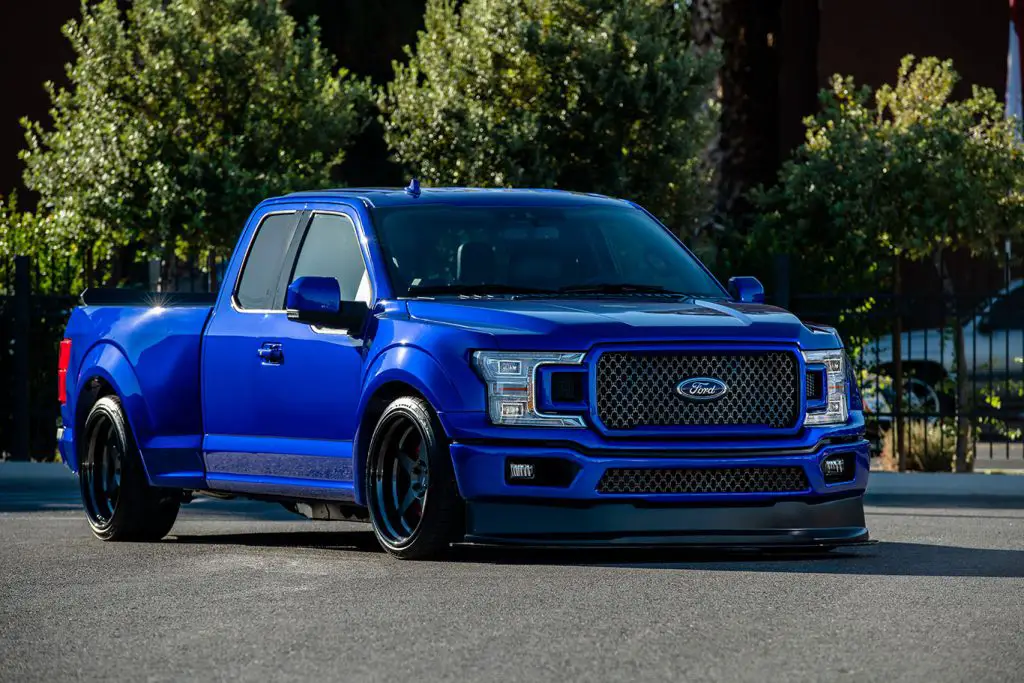 1. Kurt Busch and ZB Customs F-150 Lariat Sport
NASCAR great Kurt Busch and tuners ZB Customs came together to design their 2018 SEMA F-Series pickup. It's a 2018 Ford F-150 Lariat Sport 4×2 SuperCab. Besides pushing out 1000 horsepower, this SEMA F-Series pickup has a force-fed 5.0-liter Ford V8, On3 twin turbochargers, JE forged pistons, Ford Performance forged rotating assembly, oil pan and pump and a side-exit exhaust.
2. Brantley Gilbert and SpeedKore's Pro-Touring Edition
Country star Brantley Gilbert and SpeedKore Performance Group's 2018 F-150 XLT short-bed pickup has ultra-performance pro-touring truck credentials with the base 5.0-liter twin-cam V8 with Ford Performance supercharger, cold-air intake, side-exit exhaust, MaxTrac Suspension front lowering spindles, Crown three-inch lowering springs and Brembo eight-piston big brakes. A SpeedKore specialty, carbon fiber features prominently in this build in the front fenders, splitter, taillight panel, matching exhaust tips and interior highlights.
3. Gen-2 Full-Race Motorsports 'Freak-O-Boost'
The Full-Race Motorsports' Gen-2 "Freak-O-Boost" 2018 SEMA F-Series pickup starts with Ford's 3.5-liter EcoBoost V6 engine with Full-Race twin turbo upgrade, CARB approved intercooler, cold-air intake, charge pipes and cat-back exhaust. The F-150 wears Fiberwerx 4.5-inch wide body fenders and bedsides, Rogue Racing front/rear Enforcer bumpers, Ford Performance side steps and Maxxis RAZR MT tires.
4. Transfer Flow Family Adventure Pickup
California-based Transfer Flow's F-150 adventure truck uses the all-new 3.0-liter Ford Power Stroke diesel and adds off-road suspension, powertrain and accessory upgrades. Also included are Fab Fours Vengeance front and rear bumpers and roof rack, Yakima kayak rack, a Transfer Flow 50-gallon fuel tank and 40-gallon in-bed auxiliary toolbox combo with refueling kit and movie projector screen inset.
5. Extang Teams With Community College Students
Michigan-based Extang Truck Bed Covers enlisted the help of Washtenaw Community College's Custom Cars and Concepts program for their 2018 SEMA F-Series. They built a custom 2019 Ford F-350 Super Duty Lariat. The tailgate truck features a slide-out game table, cooler, BBQ grill and large-screen OLED television and sound system.
6. Wilderness Collective Off-road Adventure 2019 F-250 Super Duty
Wilderness Collective, a moto tours company, uses its off-road experience to design its vision of the ultimate adventure Ford F-250 Super Duty pickup. The build includes a full-guard heavy-duty front bumper, M12 winch and rear ascent bumper from WARN Industries plus a cab and bed rack, rooftop tent, cargo system from Frontrunner, and RIGID light bar spotlight and floods. Inside, the truck features a full recovery kit from WARN and a Rugged Radios communications system.
7. DeBerti Design F-250 Super Duty Transformer Work Truck
This F-250 Super Duty 4×4's 6.7-liter Power Stroke diesel has been modified with the addition of a twin-turbo kit from Midwest Diesel & Auto and Fleece Performance Engineering. It features a No Limit Fabrication air-to-liquid intercooler, EGR kit and cold-air intake, and is finished off with a performance diesel tailpipe from Ford Performance. This work truck is good for 900 horsepower.