The second generation Ford F-150 Raptor is an amazing truck on and off-road right from the factory. Despite pumping out 450 horsepower from the twin-turbocharged EcoBoost V6, some people believe that the standard Raptor needs more potency, and two more cylinders. Enter Hennessey Performance, and their V8-swapped Ford F-150 VelociRaptor.
If you don't know the name by now, Hennessey is a Texas-based tuner that will transform your Ford, or Chevy, or pretty much anything with an engine, into a high-output monster. They have also managed to make regular vehicles like the 2018 Lincoln Navigator, not-so regular, after boosting the standard engine to make 600 horsepower.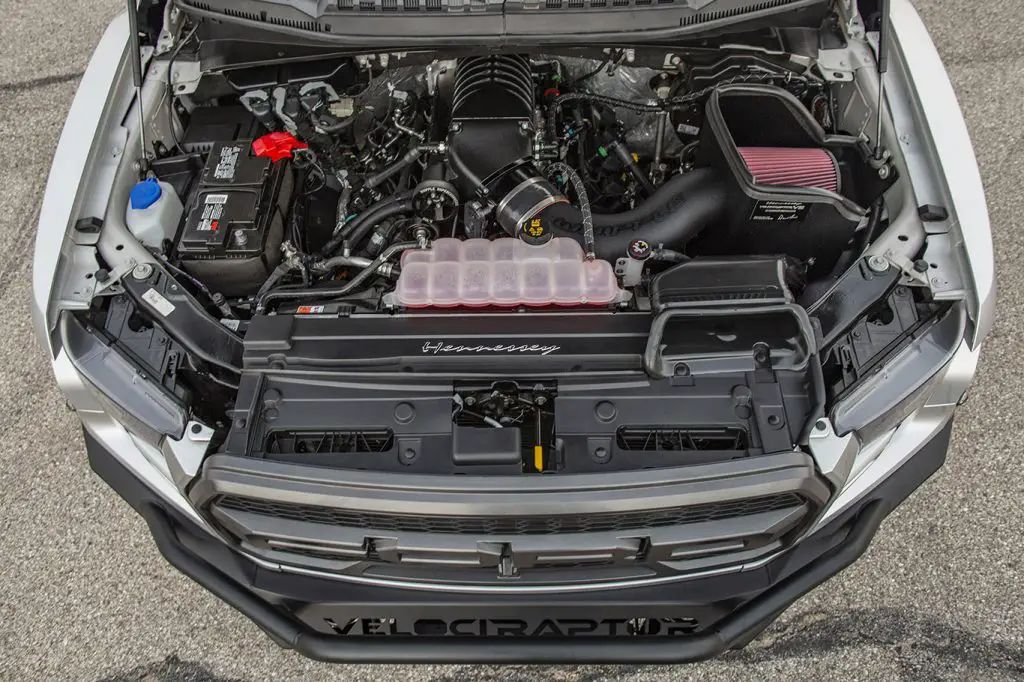 Hennessey took this 2018 Ford F-150 Raptor, ripped out the EcoBoost V6 and swapped in a brand-new 5.0-liter Coyote V8 engine. As if that wasn't enough, Hennessey went a step further and supercharged the V8, creating the VelociRaptor. The VelociRaptor V8 conversion is a pretty standard engine swap, as they retain the Ford 10-speed automatic transmission, Ford wiring harnesses, and ECU. Once the V8 is installed, Hennessey cranks up the power to 758 horsepower thanks to the aforementioned  supercharger–a 2.9-liter unit that twists seven pounds of boost pressure. Hennessey says the VelociRaptor will do zero to 60 mph in 4.1 seconds.
Being able to say your truck has over 700 horsepower is pretty badass, but Hennessey wanted to find out how the new engine and blower combo impacted wheel horsepower. They threw it on their dyno and the swap resulted in 557 horsepower and 449 lb-ft of torque to the rear wheels.
Watch as the V8 powered VelociRaptor hits the dyno and delivers big power figures.