The debut of the new Ford Police Interceptor Utility has provided us with our best look yet at the new 2020 Ford Explorer.
The Police Interceptor Utility, which is based on the CD6 Explorer, has a "standard hybrid all-wheel-drive powertrain," with a 3.3-liter V6 engine. This will be one of three powertrains available in the Police Interceptor Utility, the other two being a 3.0-liter twin-turbo V6 and a 3.3-liter V6.
All three engines are paired with Ford's 10-speed automatic transmission and standard full-time all-wheel drive system with deep snow/sand traction modes. This engine/transmission combo may preview what's to come from the 2020 Ford Explorer, which will debut this year – potentially at the 2019 North American International Auto Show in Detroit next week.
Ford predicts the police-prepped Explorer with the hybrid powertrain will return an EPA-estimated fuel economy rating of 24 MPG combined – 41 percent better than the outgoing Police Interceptor Utility with the 3.7-liter V6. The automaker predicts the hybrid powertrain can save police departments between $3,500 and $5,700 per vehicle annually in fuel costs.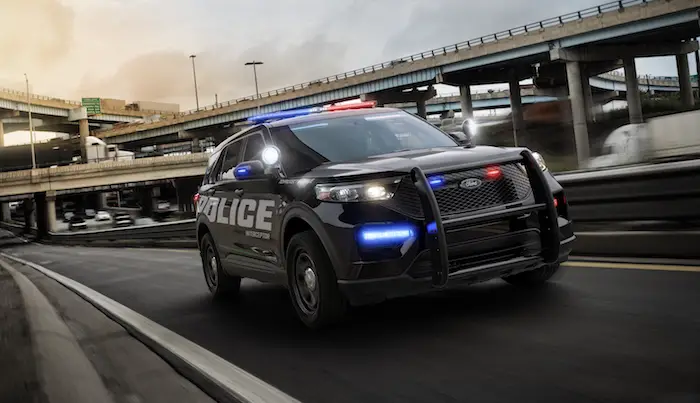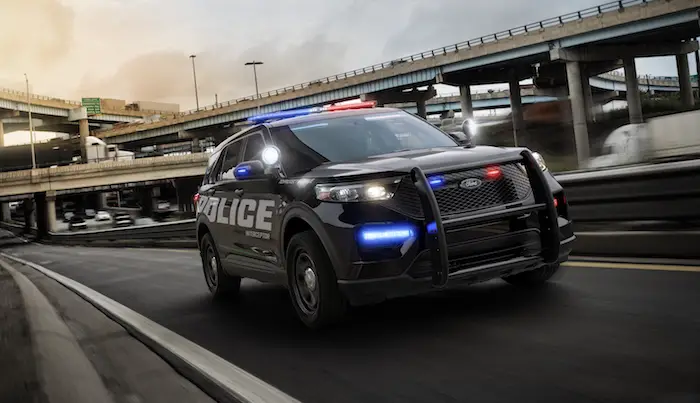 Performance is also important to the police, not just fuel economy. Ford thinks its new Explorer-based patrol vehicle is up to the task though. It recently teamed up with the Michigan State Police to put a variety of current-day police vehicles to the test and found the hybrid Police Interceptor Utility was the second fastest entry in multiple tests. The only vehicle to beat it was the 3.0-liter Police Interceptor Utility.
The hybrid Police Interceptor Utility features some police-specific technologies as well, such as 'Police Perimeter Alert', which uses sensors to monitor a 270-degree area around the vehicle, and available Rear Camera On-Demand.
The Ford Police Interceptor Utility will be available to North American police departments later this year or in early 2020. Look for the civilian-spec 2020 Ford Explorer to appear shortly as well.