If you are a fan of the previous generation Ford GT from the mid 2000's and have money burning a hole in your pocket, get down to the Barrett-Jackson auction in Scottsdale, Arizona later this month. The auction will have eight first-generation cars up for sale when it kicks off with some of them having been driven a bit, some being garage queens, and some having a bit of modification done to them. You won't need to fly a banner over Ford HQ to get permission to buy one of these last-gen cars, just bring your well-funded checkbook.
MotorTrend reckons with eight cars on offer at the auction with no reserve, someone wanting a Ford GT might get a bit of a bargain on one of the cars. One of the most interesting at the auction is a red with white stripe 2005 Ford GTX1 Roadster. The GTX1 is an aftermarket conversion that took a normal GT and hacked the roof off it to create a roadster meant to remind of the GT40 roadster prototype from the 1960s. The GTX-1 isn't a car made by some fly by night company; Ford supervised the production of the 100 GTX-1 Roadsters produced.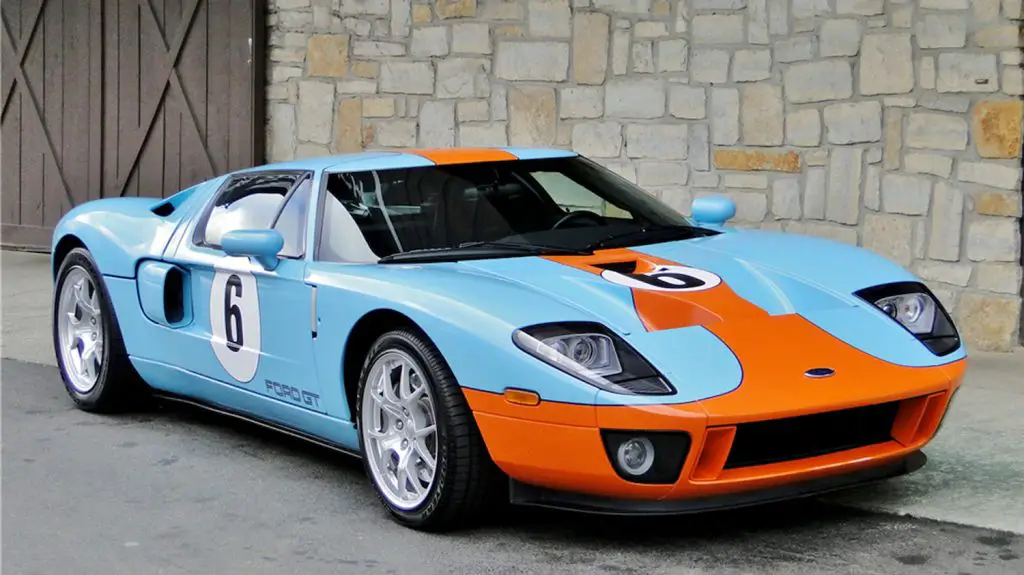 Those with tastes that are more for stock domestic exotics will need to have a hand ready to raise for one of the three Heritage Edition cars slathered in blue and orange paint in the iconic Gulf livery; only 343 Heritage Editions were made. One hero owner of a Heritage Edition car up for auction drove the car a bit with 3,092 miles on the clock. That higher mileage car was a Canadian delivery ride and includes window stickers in English and French. The other two Heritage Edition cars are lower miles and suited to storage with only 75 miles on one example and 288 miles on the other.
A pair of red paint with white stripe cars will be offered with a 2005 with only 52 miles and 2006 that has seen a bit of road time with 2,746 miles. On the modified GT front, a 2006 Tungsten Gray with no stripes and 607 miles on the odometer features an upgraded supercharger, and a white with blue stripe 2005 model that has been modified with side scoops and blue wheels, and a power bump to 850hp will both cross the auction block. That latter car has a carbon-fiber rear diffuser, Euro bumper conversion, and a reverse clamshell kit. There is no word on what any of these cars might bring when the auction kicks off January 15. A Ford dealer out of Illinois has a never titled 2005 Ford GT for $449,900 that has 104 miles on the clock, none of the cars at auction are likely to bring that kind of money.