We tend to see American V8s swapped into Japanese cars left and right, but it's pretty rare to see a motor swap in the opposite direction. However, your mind might change when you see this Ford Mustang packing a 2JZ straight-six from a fourth-generation Toyota Supra under the hood. According to The Smoking Tire's Zack Klapman, it's quite the riot to drive.
Purists from both Ford and Toyota camps will probably have hurt feelings after seeing this car, but that's okay. In fact, that might be what we enjoy most about it. Why the heck would you remove the V8 from a Ford Mustang for a turbo straight-six? Because you can. That's why. And this particular car is a complete package. Don't believe us? Just watch.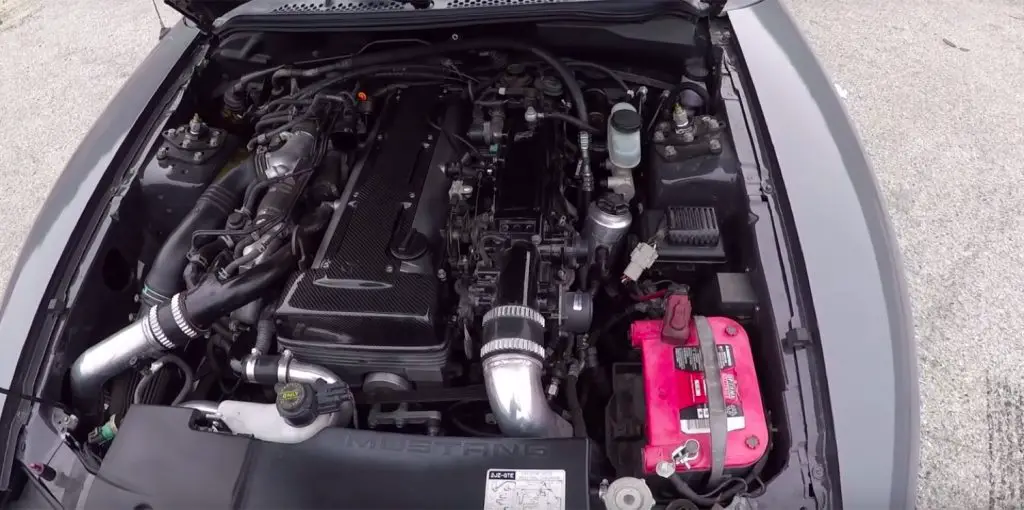 With an independent rear suspension and other supportive modifications, this particular 2JZ Mustang is a fully competent track car that's (according to Klapman) tons of fun behind the wheel. The owner, Stephen, put enough effort and attention to detail into the build that he managed to get the car street-legal in California. This is especially difficult with engine-swapped cars, and even more difficult to deal with California compliance.
The Smoking Tire YouTube channel also uploaded a second video where they went into detail about how the owner of this 2JZ Mustang managed to stuff the 2JZ into the engine bay, and more importantly how he managed to abide by the strict California emissions standards. If you like details, it's worth checking out.
This 2JZ Mustang seems like the ultimate custom Mustang build for anyone looking for something unique. If you pulled up to autocross in this thing, or just cars and coffee, you would turn a lot of heads. If the owner wants to throw the keys our way, we will not say 'no'.