We've already seen the Ford GT race car in action in 2019 at the Roar Before the 24 testing. Now, Ford Performance and Ford Chip Ganassi Racing will compete with two special liveries on their Ford GTs at the Rolex 24 at Daytona International Speedway, and look to defend as reigning Rolex 24 At Daytona champions. The race will take place January 26-27, 2019. Each of the liveries celebrate important moments in sports car racing history as IMSA kicks off its 50th anniversary season.
The No. 66 Ford GT of Joey Hand, Dirk Müller and Sébastien Bourdais will wear the colors of the Roush Racing Motorcraft Ford Mustang that John Jones, Wally Dallenbach Jr. and Doc Bundy drove to a GTO victory at the Rolex 24 At Daytona in 1985. Jones won the IMSA driver's championship title in the GTO category after dominating the competition in '85. The No. 67 Ford GT of Richard Westbrook, Ryan Briscoe and Scott Dixon will wear a throwback tribute to current race team partner Castrol. The iconic green and red stripes are accented by a Castrol Edge logo and adapted to the compliment the body lines of the Ford GT.
"We're excited to show off our Ford GTs in a new way, and at the same time join IMSA in celebrating its 50th anniversary," said Mark Rushbrook, global director, Ford Performance Motorsports. Following the Rolex 24, the Ford GTs will revert to their traditional red, white and blue liveries.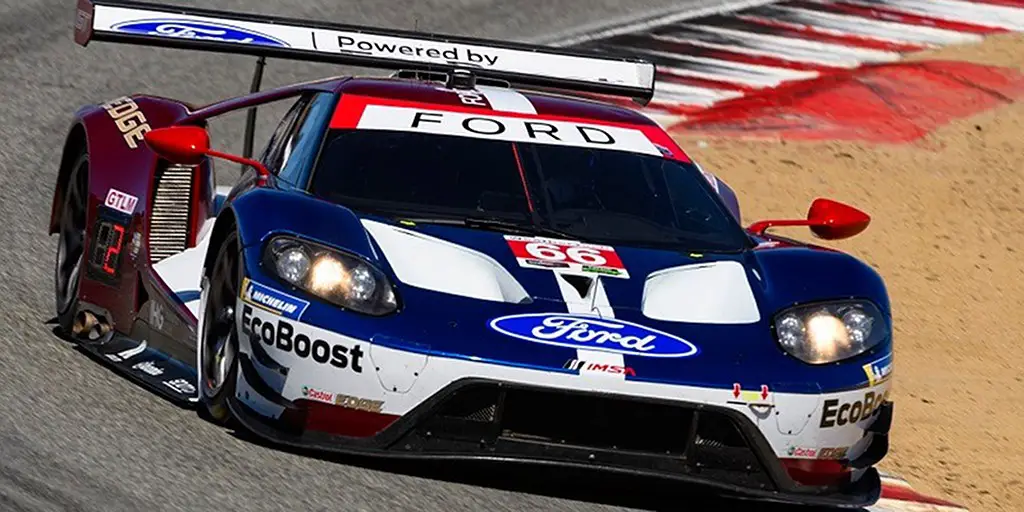 "I'm really excited and proud that Ford is doing something to celebrate the 50th anniversary of IMSA," Westbrook said. "Ford and Castrol had a lot of successful history in those years, so for the two to come together and do something as eye-catching as these new liveries, I'm going to be really proud driving that car. I've seen enough footage of cars in that livery going around Daytona before the bus stop chicane was put in, which was a very iconic period of IMSA racing, so to be in an iconic car in that livery trying to defend our title will be something really special."
Ford Chip Ganassi Racing has won the Rolex 24 GTLM title two years in a row, bringing the team's Rolex victory total to eight wins. In 2018, the No.'s 67 and 66 finished p1-2 for a double-podium at Daytona, after the No. 66 Ford GT drove to the win in 2017. Ford claimed the IMSA WeatherTech manufacturer's championship for GTLM at Petit Le Mans last year after Ford CGR earned five wins in the Ford GT race cars' third full year of competition.
Don't be discouraged if you don't see red, white, and blue on the podium at the Rolex 24 this year. If Ford and CGR get their way, it'll be red, white, and green instead. For more coverage of IMSA and the Rolex 24, subscribe to Ford Authority.