Ford is aiming to deploy cellular based vehicle-to-everything technology ,  or C-V2X as the automaker calls it,  in all of its new vehicle models in the United States beginning in 2022.
V2X is a budding technology that can enable wireless communication between objects. In the case of Ford, its 'C-V2X' technology means its future vehicles will be able to "talk" and "listen" to other V2X equipped vehicles, infrastructure and individuals, helping to make busy areas safer and less congested, it says.
"Planned alongside the rapidly building 5G cellular network, C-V2X enables direct communication between the connected devices, meaning a signal doesn't need to first travel to a cellular tower, allowing vehicles to quickly send and receive information," the automaker explained in a Medium post on the C-V2X technology. "Ultimately, it lets drivers know what's ahead of them even before they have to encounter it."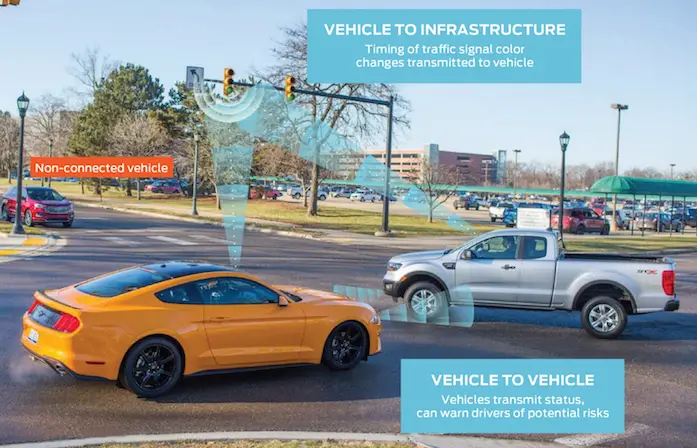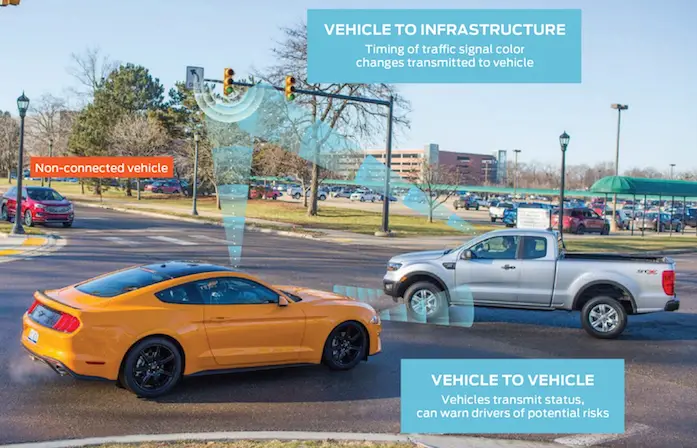 Ford envisions its C-V2X technology communicating with stop lights, traffic signs and other traffic infrastructure to give the driver a warning of what traffic signals or signs they may encounter. The technology could also enable in-car system that would be able to tell drivers which car was the right of way at a four-way stop, Ford explains, or provide more context regarding road construction and route navigation.
CV2-X is being planned alongside the rollout of the 5G network, which will enable direct communications between connected devices without having to ping the signal off of a nearby cellular tower, making for  quicker and more responsive exchanges of information. Also helping to enable this technology will be Ford's deployment of cellular connectivity in all of its cars by the end of this year, it says.
"Our move to deploy this technology builds on our prior commitment to equip every model we release in the United States with conventional cellular connectivity by the end of 2019," Ford explained in its Medium post. "C-V2X will work with Ford Co-Pilot360™, our advanced suite of driver-assist and safety features standard across North America on new passenger cars, SUVs and trucks, including F-150, going forward."
It unclear how much extra cost the addition of C-V2X technology will add to Ford's vehicles.