Call your banker and get ready to feel like Ken Block in this 1986 Ford RS200 Evolution. That's right, this one can be yours for a cool half-million, assuming someone else doesn't want it more. This RS200 Evolution is one of only 24, and if you've got enough courage you might be able to recreate the Group B action that made the '80s so iconic.
Next Thursday, January 17, 2019 this 1986 Ford RS200 Evolution will go on sale at RM Sotheby's in Arizona, and its desirability couldn't be higher. Often referred to as the golden era of rallying, Group B was a wild, wild time in automotive history. Loose regulations enabled some of the quickest, most powerful, and most sophisticated rally cars to compete on a single stage. This RS200 Evolution features a composite/fiberglass body styled by Filippo Sapino at the Ghia Design Studio. Formula 1 designer Tony Southgate designed the chassis along with former F1 engineer John Wheeler. The Ford RS200 features a mid-mounted Cosworth "BDT" engine, with the transmission located up front.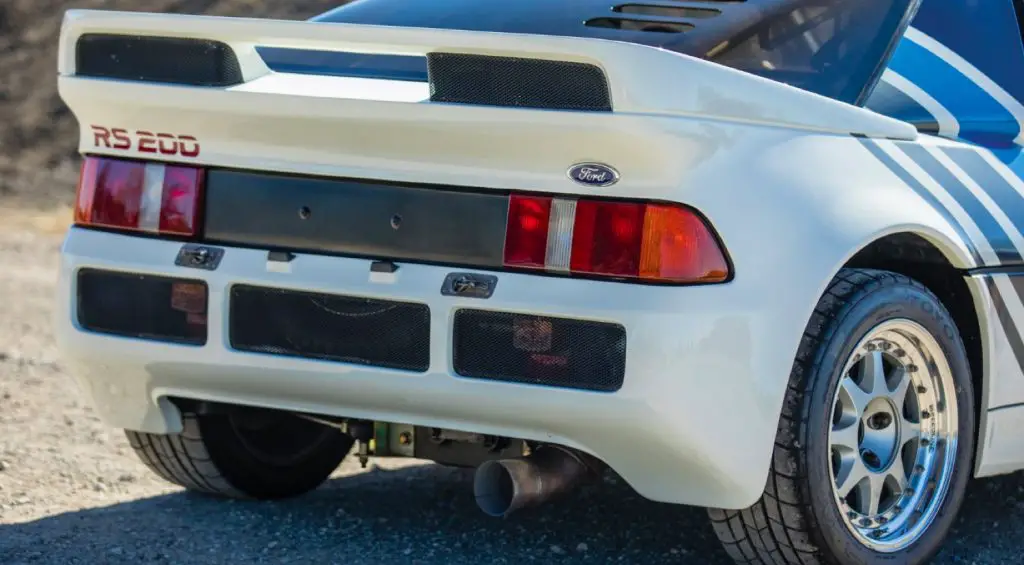 This particular Evolution is presented in the traditional Ford Works racing livery in white with blue stripes. The interior is trimmed by Tickford and features grey carpeting, door inserts, a Terraspeed speedometer, VDO instrumentation, a three-spoke red-rimmed steering wheel, and matching red Sparco bucket seats with four-point Sabelt harnesses. The main difference between this RS200 and a true Group B competition car is the interior. The front compartment of the RS200 offers storage space as well as accommodation for the factory tool kit, which remains intact.
The RS200 Evo received beefier suspension and brakes, as well as a larger 2.1-liter version of the Cosworth powerplant, among other updates. At full boost, the RS200 boasted 600 bhp and could sprint to 60 mph in just over three seconds. Look for lot number 135 and be prepared to pay between $500,000 and $700,000 – substantially more than a new Ford GT – for this unbelievable 1986 Ford RS200 Evolution.